What does it take to achieve continuous improvement in financial performance? With the Marketing Accountability Standards Board perfecting its Continuous Improvement in Return Assessment process, Jim Meier, Senior Director of Marketing Finance for MillerCoors, led a marketer panel discussion on the topic at the recent MASB Summer Summit in Boston.
Participants included Kelly Johnson, VP Advertising & Marketing Intelligence at ESPN; Peter Cushing, Associate Director, Global Enabling Analytics, at General Motors; Jeff Bezzo, Senior Director, FP&A for Global Brands at SC Johnson; and Emanuel De Luca, Manager of Analytics at SC Johnson's Global Media Measurement Center of Excellence.
Share your company's experiences with Continuous Improvement: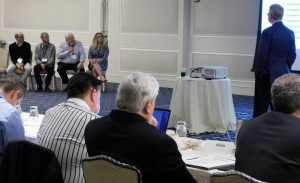 Bezzo: "Before you can even tackle this kind of survey, you need a partnership between the CFO and the CMO."
DeLuca: "We are pretty good with science and forecasting, but we don't have the governance in place that we should have in order to have a successful CIR, at this point."
Meier: "I started this discussion on Central Funding and migrated quickly into Common Rewards which led to Common Purpose, and none of that happens if I'm not in the room representing Finance – or it's unlikely to happen. And it's also unlikely to happen if other cross-functional partners aren't there, such as Sales, Strategy, or even Corporate Communications in some instances."
Johnson: "The language doesn't even stay the same within the Marketing Department, so how can it stay the same between Finance and Marketing. It's tough to talk about marketing driving the bottom line, because marketing is seen as a cost center."
Cushing: "The cross-functionality and the integration are central to all of this. We have cross-functional teams that are designed to solve a problem. It's a fairly standardized process. When you have a very siloed organization, models of stereotyping come into play, but that breaks down when everybody gets together and the common purpose becomes clearer. … In order to be in that Continuous Improvement arena, all these kinds of interactions need to be as much about idea creation as a catalyst for new thinking, because that's where progress comes from."
Meier: "Everybody needs to get an equal share of the voice. If Finance carries too much clout, then it could turn into cut-cut-cut. Then you're at profit maximization – not optimization. That might work for a quarter or two, but you're putting the brands at risk."
What would be the catalyst for your company? What's on your Wish List?
DeLuca: "Having a common purpose and getting closer with Finance in the early stages, instead of Finance coming in later and destroying the work that we did because we need to cut spending."
Bezzo: "More dynamic forecasting – Tool capabilities enabling forecasting at different product levels with the ability to rollup forecasts globally. What's really been difficult is trying to get a good forecast in the current economic environment. After what we've faced in the last two or three years with developing markets like Brazil declining and BREXIT impacts in Europe, we need to figure how to better forecast in an environment that's really up and down. Even weather patterns can have an effect on the seasonal parts of our business."
Johnson: "I would be after the common purpose, a common purpose throughout all of Marketing. …When you look at marketing as a cost, and not thinking about what it's actually bringing in, then that common purpose doesn't exist."