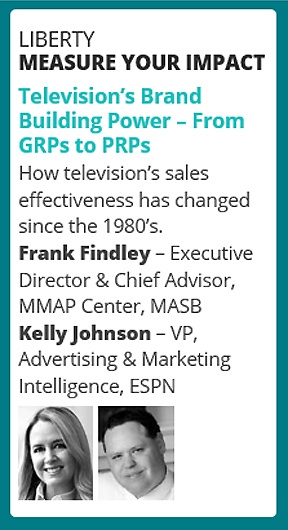 MASB Director Kelly Johnson of ESPN will join MASB Executive Director Frank Findley in presenting Television's Brand Building Power – From GRPs to PRPs at ARF Audience Measurement 2017, June 12-13 at the Hyatt Regency in Jersey City, NJ. They will address how television's sales effectiveness has changed since the 1980's.
A member of MASB's Continuous Improvement in Return Project team, Johnson is ESPN's Vice President of Advertising & Marketing Intelligence. She has been a key participant in ESPN's groundbreaking cross-media research initiatives over the past several years and was Grand Winner of the 2011 ARF Great Minds Award in the Rising Star category.
Radical changes continue to shape the media landscape. While much recent research has been conducted on the sales effectiveness of new platforms, less attention has been given to that media plan staple, television advertising. Is television as effective as it was in the 1980s? Or has its role diminished to the point of non-viability? And if still effective, how does it compare on a per-exposure delivery basis to other channel options available today?
The Deep Dive session is scheduled for Tuesday, June 13, 2:50 – 3:20 p.m. in the Hyatt's Liberty Room.