2018 Winter Board Meeting & Summit, Feb 22-23, New Orleans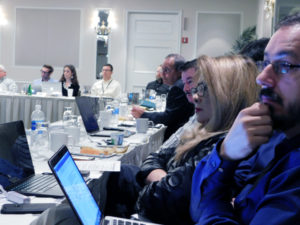 MASB is validating marketing's contribution to growth. Join key leaders and influencers as we put the marketing accountability spotlight on DIGITAL ADVERTISING and BRAND SPONSORSHIP METRICS, with reports on our innovative projects and the Forbes Marketing Accountability Initiative powered by MASB. Start your marketing accountability journey at Winter Summit.
Day 1 (Thursday):
FORBES NEW CMO MARKETING ACCOUNTABILITY REPORT 2017
Lays out Practical & Profitable Actions to Create More Value and finds MASB ready to serve
BENCHMARK COMPETENCY – THE MASB CIR ASSESSMENT
Overview of Continuous Improvement in Return process followed by panel of Marketer representatives who will share their experiences and progress on the marketing accountability journey.
ALIGNING THE ROLE OF CMO WITH VALUE CREATION
Applying the 13 Science and Governance components of the CIR Assessment.
QUANTIFYING THE CONTRIBUTION OF BRAND TO ENTERPRISE VALUE
Identifying the Drivers of Brand Preference/Choice and thus Brand Value.
INVESTING IN HIGH RETURN "NON-WORKING" MARKETING MEDIA
with all on cash basis marketing in non-working opportunities.
ESTABLISHING A CONSENSUS SCORECARD FOR SUCCESS (MASB CIR, IFR, BES)
PANEL: MOVING TO IMPROVED FINANCIAL REPORTING
Discussion on accounting for brand value and other intangible assets
KEYNOTE: MARKETING ACCOUNTABILITY IN A DIGITALLY DRIVEN WORLD
PANEL: DIGITAL "CROSSFIRE"
Discussion and debate on digital marketing contribution to business growth.
FINANCE IN MARKETING COURSE (FMC) PROJECT
Project Overview & Status, Q&A
Day 2 (Friday):
SPONSORSHIP ACCOUNTABILITY METRIC (SAM) PROJECT
Project Overview & Status, Q&A
SPONSORSHIP ACCOUNTABILITY
TBD
SPONSORSHIP ACCOUNTABILITY
TBD
MMAP METRIC CATALOG/MRC LEVERAGING AUDIT RESOURCES
Project Overview & Status, Q&A
COMMON LANGUAGE MARKETING DICTIONARY
Project Overview & Status, Q&A
When: February 22 (9 AM) – February 23 (Noon) including dinner Thursday evening
(AMA Academic Conference starts Friday, 12pm)
Where: The Sheraton Hotel, 500 Canal Street, New Orleans LA
To reserve your seat or inquire about the meeting registration fee, email karencrusco@theMASB.org
or frankfindley@theMASB.org.