Two marketing accountability pioneers were honored with MASB Trailblazer awards at the recent Winter Summit in Orlando.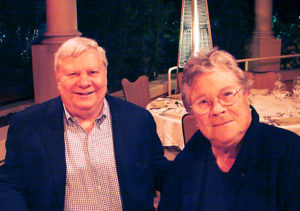 Meg Blair co-founded MASB, the Marketing Accountability Standards Board, and MAF, the Marketing Accountability Foundation, in 2007. She is retiring from her position as President/CEO of MASB but will continue as Chair of the Trustees. Her award was presented on behalf of the MAF Trustees by PepsiCo's Pam Forbus:
"There are a few people that come into your life who really have a profound impact and Meg is one of those for me. I appreciate her bold candor, her authentic leadership and the impact she has had on the industry."
Allan Kuse is founding Executive Director of MASB and Chief Advisor to the MMAP Center, which administers the Marketing Metric Audit Protocol. He is retiring from both positions next month. His award was presented on behalf of the MASB Board of Directors by Chair Dave Stewart:
"Meg is a true visionary, but true visionaries also need folks who help make it happen. Allan has quietly – but aggressively when necessary – assured that things get done, schedules are adhered to, slides are prepared, people are informed, and all the while contributing a great deal of expertise and wisdom."
Allan's successor has been recruited and will be announced soon.