Marketing accountability means linking marketing actions to financial performance in order to:
1) drive business growth through continuous improvement in Marketing ROI; and
2) enhance CMO effectiveness by proving the contribution of Marketing to enterprise value.
MASB, the Marketing Accountability Standards Board, draws on accountable marketing best practices to equip marketers with knowledge and resources.
TOOLS FOR BUSINESS GROWTH:
• MMAP Metric Catalog – The only independent, objective resource for assessing the validity of marketing metrics.
• Continuous Improvement in Return Assessment – Guiding business growth through 13 principles of Science and Governance.
• Finance in Marketing Executive Certification – Empowering marketers with the understanding of financial principles.
MASB members are a forward-thinking community of top-tier marketers, measurement providers, industry associations and business academics who are setting the agenda for the future of marketing through innovative research and standards-setting projects.
MASB is proud to have represented the U.S. in the development of new global standard ISO 20671 Brand Evaluation under the auspices of the American National Standards Institute (ANSI).
THE MASB MISSION
Establish marketing measurement and accountability standards across industry and domain for continuous improvement in financial performance and for the guidance and education of business decision-makers and users of performance and financial information.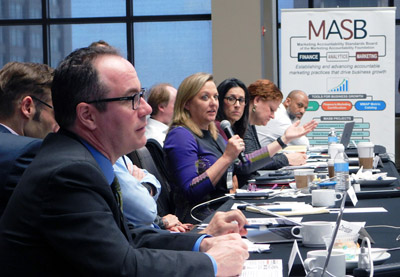 MASB EVENTS are unique opportunities for today's marketing, finance and data analytics thought leaders to share successes, collaborate on strategy and chart the course to accountable marketing.
Start your marketing accountability journey today!