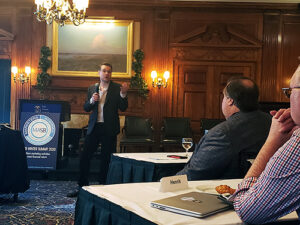 "MASB is the definitive word on proving the value of marketing – and managing it scientifically. It combines the best of academia, current operational best practice, and strategic experience to be the CMO's secret weapon in an ever-evolving marketing landscape. Couldn't encourage my marketing colleagues more to engage with this amazing group that's changed how I think about the discipline forever." – Will Thompson, Chief Strategy Officer, Forbes Ignite
---
Join our forward-thinking community of top-tier marketers, measurement providers, industry associations and business academics in setting the agenda for the future of Marketing.
REQUEST MEMBERSHIP INFORMATION
The Marketing Accountability Standards Board is a not-for-profit 501(c)(3) organization dedicated to establishing marketing measurement and accountability standards across industry and domain. MASB members are changing the way business is done by improving the effectiveness and efficiency of marketing activities, enabling continuous improvement in financial return over time, and enhancing the credibility of the marketing discipline.  Member Roster
Member Classifications
Membership in MASB is organization-based, and open to:
○ marketer companies                                                  ○ independent consultants
○ business schools                                                         ○ industry associations
○ media providers                                                          ○ media & ad agencies
○ measurement (modeling & software) providers
Member Benefits
In exchange for a minimal time commitment, MASB members are able to:
participate in leading-edge marketing & finance accountability teams
influence/shape our project agenda
apply learning to current efforts
access top marketing & finance scholars
access restricted website content (project updates, metric audits and special papers like the Financial Value of Brands Imperative)
demonstrate wisdom, vision & leadership in the business community
Our project teams hold monthly virtual meetings and winter and summer summits are held each year. Ideally, marketing, analytics and finance executives from your company will participate, as bringing finance, analytics and marketing together is what we're all about!
REQUEST MORE INFO
If you would like more information on MASB membership, email [email protected] or submit our CONTACT FORM.