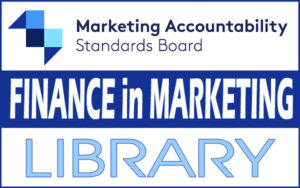 The MASB Finance in Marketing Library is a free, educational resource for marketing practitioners, students and teachers. Marketing videos and publications by top marketers and marketing researchers focus on the role of finance in marketing and marketing accountability – linking marketing actions to financial performance.
There are also many related links from our popular Universal Marketing Dictionary.
Submit your comments and suggestions for the library to [email protected].
Contributors
(not all inclusive and in no particular order)
David W. Stewart, Loyola Marymount University ○ Margaret Henderson Blair; MASB ○ Kevin Keller, Dartmouth College ○ Dominique Hanssens, UCLA ○ David Reibstein, Wharton ○ Stephen Diorio, Forbes CMO ○ Paul Farris, University of Virginia ○ Bobby Calder, Northwestern University ○ L. Anthony Pace, MASB ○ Neil Bendle, University of Georgia ○ Mike Wokosin, University of Iowa ○ Karen Ebben, Global Marketing Impact ○ Allan R. Kuse, MMAP Center ○ Ray Katz, Columbia University ○ Dan McCarthy, Emory University ○ Mansur Khamitov, Indiana University ○ James Gregory, The Conference Board ○ Frank Findley, MASB ○ Henrik Christensen ○ Joanna Seddon, Presciant ○ T. Bettina Cornwell, University of Oregon ○ Nikki Kyriakopoulus ○ Mansur Khamitov, Indiana University ○ Venky Shankar, Texas A&M University ○ Erich Decker-Hoppen, MASB
Please share this free, educational resource!