MASB Winter Summit 2020 takes place February 26 – 27 at the Union League Club, 38 E 37th St, Manhattan, New York, NY. The Summit runs Wednesday 1 PM to 6 PM followed by a dinner reception, and Thursday 8 AM to 4 PM.
This invitation-only event has become the most important annual gathering for experts driving the marketing accountability movement. Leading finance, analytics and marketing professionals from marketers, their suppliers, industry associations, and academia attend to network, get briefed on recent advances, and participate in shaping the future of accountable marketing.
The program features:
ANA Brand Value Survey Report

– Exclusive first look at research into brand valuation assessments among leading marketers

Spotlight Interview

– Christopher McDonough, Chief Brand and Sales Officer at L.L. Bean, on Curating a Legacy Customer Base While Transitioning to eCommerce

Sports Sponsorship Panel

– An inside view of the Super Bowl & upcoming Olympic Games
AI and the Magic Money-Making Machine Version 2.0 – Will Thompson, SVP Insights & Strategy at Forbes, reveals in-depth lessons on the application of AI to marketing

Customer Franchise

– How marketers view and report on the health of their base

Digital Accountability Panel

– Has the industry truly made progress?

Spotlight Presentation

–  Tal Chalozin of Innovid on Measuring TV, Video, Display and Social on a Single Platform

MASB Best Practices Benchmarking

– Stories from the field on this new offering

MASB/ISO Standards

– Guidance for Conducting Brand Evaluations

Spotlight Presentation

– Jeff Greenfield, C3 Metrics Chief Attribution Officer, on making Marketing Work Better Through Cross-Platform Advertising Attribution

Networking lunch, breakfast, reception, and dinner
If you would like to receive an invitation, please email events@themasb.org or submit our REGISTRATION FORM.
---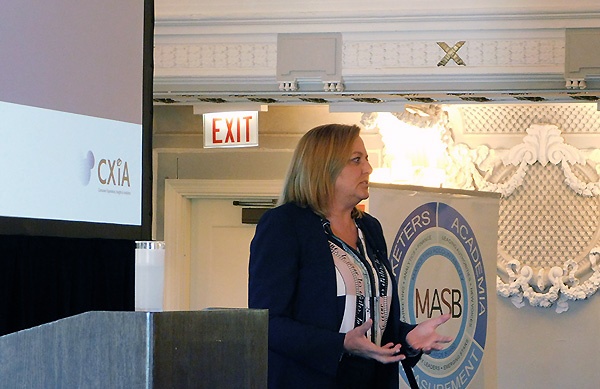 About MASB Summits
Biannual MASB Board Meeting & Summit events are held each February and August for 1-1/2 days (one full day with reception & dinner followed by a morning program that ends at noon). They are unique opportunities for today's Marketing, Finance and Data Analytics thought leaders to share successes, collaborate on strategy and chart the course to accountable marketing. We're validating Marketing's contribution to growth with some of the greatest minds in the industry today. Join key leaders and influencers in charting the future of business at one of our upcoming events.
For more information, contact events@themasb.org.
SUMMIT NEWS         PAST SUMMIT OVERVIEWS