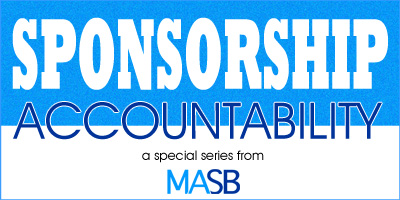 Part 1 provides an overview of the current state of sponsorship use and management.
Part 2 explores the long-term nature of sponsorship relationships and the resulting importance of fit between properties and brands.
Part 3 establishes the importance of developing the business case for sponsorship as well as contractual considerations.
Part 4 sets forth best practices in sponsorship stewardship and activation.
Part 5 provides an examination of the measurement of sponsorships.
Part 6 explores eSports as a fit for a brand's sponsorship portfolio.
Part 7 addresses the COVID-19 pandemic and complements the previous installment on eSports.
Part 8 examines the role social media plays in managing and measuring sponsorships.
Part 9 reviews the emerging opportunity brought about by student-athlete "rights to publicity" decisions.
Part 10 looks at what we learned from the first year of college athlete sponsorship.
Few marketing activities garner as much excitement and inspiration as sponsorships. When we're experiencing an exhilarating moment during a concert or witnessing a momentous achievement by an athlete, a sponsorship is often involved. Sponsorships are woven into our culture and are integral to supporting some of the most memorable moments in the human experience.
CURRENT STATE – DEFINITION
What is a sponsorship? A "sponsorship" refers to a cash or in-kind fee paid by a sponsor to a property or entity (e.g., a sports, entertainment, or non-profit event or organization) in return for access to the exploitable marketing potential associated with that property/entity. (marketing-dictionary.com)
SPONSORSHIP EVOLUTION
Marketers' use of sponsorships has evolved over the past decade or so. While sponsorship was once considered an activation tactic, it has become a strategy to influence specific kinds of consumers as brands support the sports, entertainment and causes important to those consumers.
This is clearly reflected in spending on sponsorships. In 2018, global sponsorship reached an estimated $66B, up 74% since 2007.[1, 2]  North America has consistently accounted for the largest share of global sponsorship spending, with $24B attributable to the region in 2018.[1]  For context, 2018 projected growth in North American sponsorship spend at +4.5% outpaced other marketing elements, e.g. advertising +3.4% and promotions +3.5%. [1]
What's driving the move to a more strategic sponsorship focus?
Increased media fragmentation and the resulting difficulty in achieving audience reach make sponsorship and its associated media more attractive. As brands seek to create relationships with audiences expected to have a larger share of their business in the future, multi-year commitments are made to develop and sustain these long-term relationships. For this reason, sponsorships themselves can outlast even other historically longer term tactics such as advertising and promotional campaigns.
Inevitably, the term of such a commitment can extend well beyond the tenure of brand executives involved with initiating the deal. Major sponsorship relationships now often stretch into decades supported by multi-year contracts. For example, nearly 60% of current leaguewide NFL sponsors have over six years of tenure, and over 30% have a decade or more with the longest being 40 years.[3]  Given this, is it any wonder why properties often strive to give first and best access to their existing sponsors?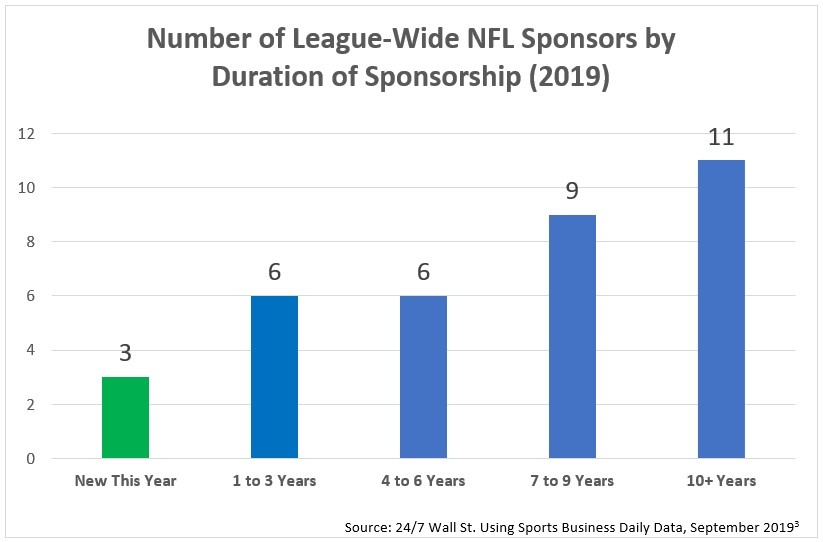 THE ACCOUNTABILITY IMPERATIVE
Sponsorship history is filled with examples of deals of debatable marketing value, forced relationships, and limited ability to determine business impact. Media exposure and equivalency were the norm for determining relative value and still dominate most sponsorship reporting. While bottom-of-the-purchase-funnel measures (sales) seem easiest, they often overstate the impact of sponsorship due to the implicit assumption only sponsorship resulted in the sale, without regard to the spending and influence of non-sponsorship activities (ex: advertising, price promotions, etc.) that occurred simultaneously.
This has meant that for many marketers, accountability based on the business impact of mid-funnel Return-On-Objectives (ROO) measures has remained elusive. Further, there is growing interest in understanding more than the return or business impact of a single sponsorship. An emerging interest among marketers is how best to manage a portfolio of sponsorships.
Many marketers now find themselves on an analytics and insights journey. Moving from media equivalency to understanding how sponsorships help create quality impressions and support mid-funnel marketing objectives is an active project for most. And a very few are even now actively putting in place comparative financial attribution systems. This in turn is requiring a movement from reliance only on property-provided data to incorporating independently verified, third-party data into sponsorship processes.
Three Stages of Sponsorship Accountability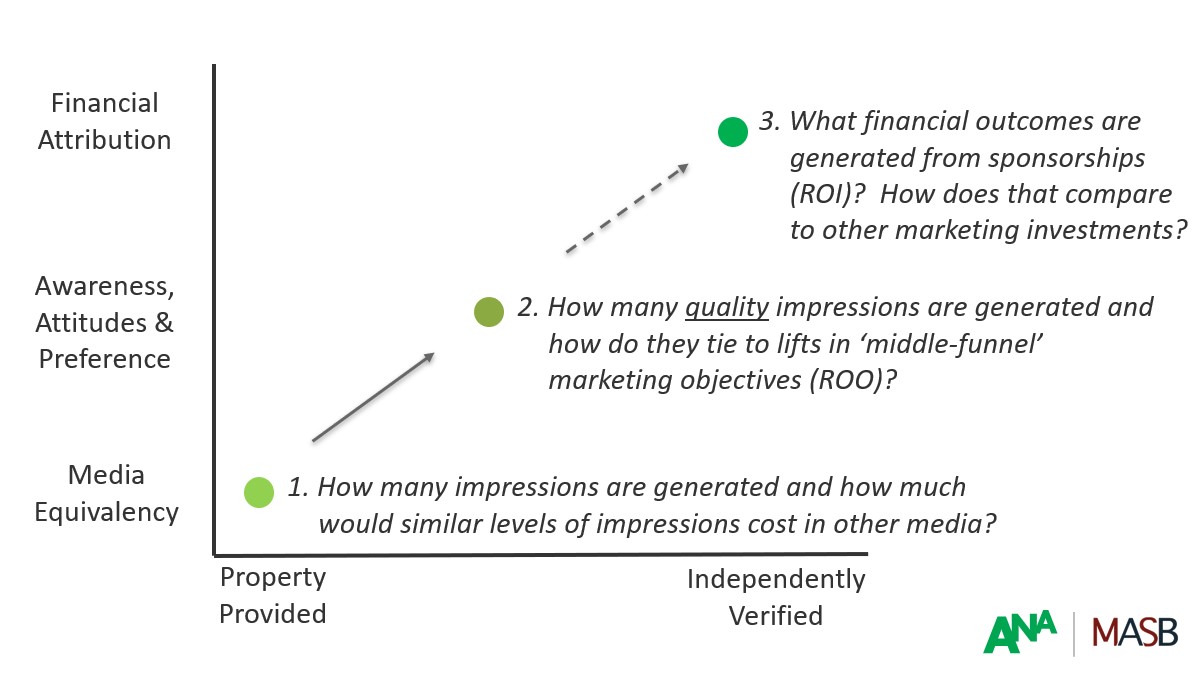 In this series of articles, MASB, the Marketing Accountability Standards Board, will share recommendations to improve the accountability of sponsorships, identifying practices across this continuum that improve value. This includes a measurement approach that is independent, objective and marketer directed, along with guidance on mid-funnel ROO measures that make quantification attainable. Installments in the series will be released every Wednesday through November 23 at Noon Eastern Time at themasb.org. They will cover:
• Strategy and Brand Fit
• Business Case & Contractual Considerations
• Activation & Stewardship
• Measurement
In closing, we at MASB feel that Accountability should be embraced, not feared. A more thoughtful assessment is more likely to aid in the demonstration of what value was achieved. Fear of Non-Renewal, or as we refer to it – FONR – is reduced with such an approach.
---
References
[1] Signs Point To Healthy Sponsorship Spending In 2018, ESP Properties, LLC (Jan 2018)
[2] Mixed Bag: Sponsorship Spending To Surge In '08, But Not Everyone Will Benefit, IEG, LLC (Dec 2007)
[3] MASB analysis of data in These Are the Sponsors of the NFL's 100th Anniversary, Douglas A. McIntyre; 24/7 Wall St. (Sep 12, 2019)
---
About the Authors

Tony Pace is President/CEO of MASB. He brings extensive experience from across the marketing spectrum, in roles of increasing responsibility at advertising agencies and as a marketing leader. At Young & Rubicam and McCann-Erickson, he led brands such as KFC, Coca-Cola and Capital One. In addition to his client leadership responsibilities, Tony oversaw both revenue generation and P/L responsibility as General Manager of McCann Southwest and co-founder of Momentum, IPG's global experiential marketing firm. As CMO of Subway, he grew that brand to #2 in market share in the U.S. and #1 in locations worldwide. During his tenure, Subway's brand value, as tracked by Millward Brown's Brand Z assessment, rose from unranked to #40 (over $22 billion). Tony's goal with MASB is to raise the profile and influence of the organization to the benefit of the marketing community. He earned his undergraduate degree at the University of Notre Dame and MBA in Finance from The Wharton School at the University of Pennsylvania

Karen Ebben, MASB Director, is President of Global Marketing Impact, LLC. An award-winning Fortune 100 Marketing and Advertising executive with 20+ years of global analytics, research & consumer insights experience, she is a consultant specializing in improving marketing effectiveness. Previously, she was Director of Global Advertising & Marketing Effectiveness for General Motors, where she accelerated improvements in marketing accountability. Her work has earned Cannes, AME, DMA and Effie recognition. Karen's sponsorship experiences span negotiation, strategy, activation & measurement of Olympics, Golf, Fashion Week, Motorsports, Disney Test Track and other entertainment and cause related venues. She co-leads MASB's Sponsorship Accountability Metrics (SAM) and Marketing Metric Catalog (MMC) initiatives.

Henrik Christensen, MASB Advisor, is the former VP Global Insights, Foresight and Analytics at Molson Coors where he led a team that created enterprise-wide capabilities on advanced analytics, shopper and consumer insights. Key responsibilities included global insights partnerships, consumer/sales testing tools, marketing mix modeling and other advanced analytics. He stewarded Molson Coors' global insights and analytics ambition and was a member of its enterprise growth team. He's a member of MASB's Sponsorship Accountability Metrics (SAM) team and drives best practices in sponsorship from inception of strategy to implementation of measurement protocols.
MASB Sponsorship Accountability Series edited by Frank Findley and Erich Decker-Hoppen