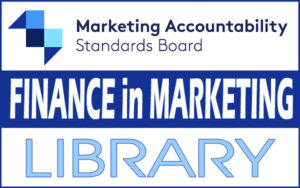 PUBLICATIONS
Forbes: Demystifying The Science Underlying Brand Positioning • Diorio • Aug 2022
ISO Focus: What's in a Brand? featuring Bobby Calder • Calder Mar/Apr 2020
Forbes: The Financial Power of Brand Preference • Diorio Jan 2019
Newswire: Definition of 'Brand' Continues to Evolve • Decker-Hoppen Sep 2018
MASB: Why is Brand Missing from Boardroom Discussions? • Aug 2017
Ad Age: One Marketing Metric to Rule Them All? • Neff  Nov 2015   PDF
JBM: A Case for Brands as Assets • Sinclair & Keller May/Jun 2014
---
Universal Marketing Dictionary
brand  |  brand equity  |  brand image  |  brand name  |  brand preference  |  brand purpose  |  brand strength  |  brand value
---
VIDEOS
Brand Valuation or Brand Evaluation: What's the Difference?

MASB Director of Communication Erich Decker-Hoppen uses the Common Language Marketing Dictionary to define the two terms behind the ISO's global brand standards – and introduces a new, improved term for one of them.

A Practitioner's View of Brand Valuation

Joanna Seddon, former President of Global Brand Consulting at Ogilvy and Chair of the AMA Marketing Hall of Fame, discusses how brand creates value and offers a new way of looking at the financial valuation of brands.

MARKETING DICTIONARY: Local, Regional and Region Brand

When is a brand "local" versus "regional"? When is it a "region brand?" MASB Director of Communication Erich Decker-Hoppen draws on the Common Language Marketing Dictionary for the answers.

MARKETING DICTIONARY: Brand Purpose

What is brand purpose and why is it a brand's "North Star?" Indiana University Assistant Professor of Marketing Mansur Khamitov explains!

Five Compelling Reasons for Brand Preference

MASB Executive Director Frank Findley recommends the Brand Preference marketing metric for linking marketing activities to financial results – otherwise known as marketing accountability.

What Is a Brand?

Dartmouth College Marketing Professor Kevin Lane Keller explains the difference between a "brand" and a "Brand."

Accounting for Brands

Dartmouth College Marketing professor Kevin Lane Keller discusses "The Moribund Effect," a financial accounting issue that makes it difficult to evaluate acquired brands.

What Is an Intangible Asset?

University of Georgia Marketing Professor Neil Bendle defines "intangible asset" and compares it to tangible assets.

Managing Intangible Assets for Value Creation

Dr. Jim Gregory, Senior Fellow at The Conference Board, gives his perspective on valuing brands and other assets we cannot touch.
These and many more videos can also be viewed directly on YouTube's MASB Channel.
Please share this free, educational resource!