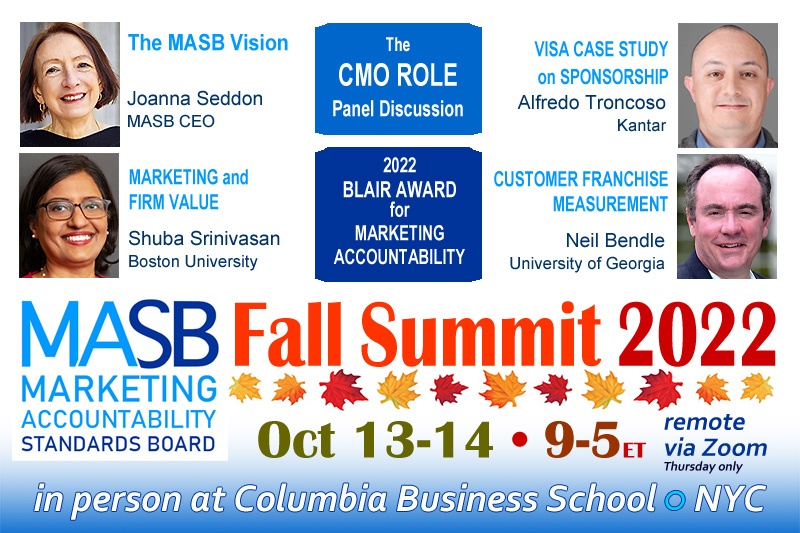 Please join us for an exciting and thought-provoking program at MASB Fall Summit 2022, Thursday & Friday, October 13-14. We will be launching the new MASB brand and vision, sharing some powerful marketing content, presenting an important emerging issue, and discussing the role of the CMO. It takes place at Columbia Business School's new Manhattanville Campus in New York City. Attendance via Zoom is available Thursday only. Request your invitation today from [email protected].
REMOTE SCHEDULE
October 13, 9 AM – 5 PM ET (with lunch break)
IN-PERSON SCHEDULE
October 13, 9 AM – 5 PM ET (with lunch)
Cocktails & Dinner
October 14, 9 AM – NOON ET
---
PROGRAM
---
Thursday
THE MASB VISION
Joanna Seddon, MASB CEO
MASB's recently appointed CEO, Joanna Seddon, presents the MASB vision: Elevating CMOs to their rightful place in the boardroom by making marketing accountable.
SPONSORSHIP ACCOUNTABILITY METRICS: Project Report
A joint endeavor by MASB and the ANA (Association of National Advertisers) launched to determine sponsorship contribution to brand and business. This update will include announcement of upcoming compilation of MASB published knowledge on the topic, the ultimate 'Road Map' for sponsorship measurement and brand portfolio optimization.
VISA CASE STUDY on SPONSORSHIP MEASUREMENT
Alfredo Troncoso, Kantar
Measuring and quantifying the contribution that sponsorship programs have on brand building (ROO) and the financial value they drive (ROI), has become a critical need for brands so they can optimize their different sponsorship and partnership programs and enhance their execution in the marketplace. Visa has partnered with Kantar to measure the brand impact and financial value of key sponsorship programs like the NFL, Tokyo Summer Olympics, and Beijing Winter Olympics. Lessons learned will not only cover how each program contributes to the Visa brand and business but also the incrementality in impact from the brand's continuous investment in different properties.
MARGARET H. BLAIR AWARD for MARKETING ACCOUNTABILITY
Presented to marketing executives or academics that have implemented the principles of marketing accountability to: 1) drive business growth through continuous improvement in Marketing ROI, and 2) prove the contribution of Marketing to enterprise value. This year the award will be presented to two deserving recipients!
MARKETING and FIRM VALUE
Shuba Srinivasan, Boston University
From the recent paper, "Marketing and Firm Value: Metrics, methods, findings, and future directions," Dr. Srinivasan discusses reinvigorating the accountability functions of marketing through a lens of firm value as key driver. Srinivasan and co-author Dominique M Hanssens (UCLA), first frame the important research questions on marketing and firm value and review the important investor response metrics and relevant analytical models as they relate to marketing. Next, they summarize the empirical findings to date on how marketing creates shareholder value, including the impact of brand equity, customer equity, customer satisfaction, research and development and product quality, and specific marketing-mix actions. In addition, they review emerging findings on biases in investor response to marketing actions.
COMMON LANGUAGE MARKETING DICTIONARY: Project Report
Because a singular authority for marketing terms and definitions encourages trust and collaboration, marketing's top industry associations, leading academics and subject matter experts collaborate to produce the free educational resource, marketing-dictionary.org. In this report, the trends in the most accessed terms and growth of usage will be given.
FINANCIAL VALUE OF BRANDS/ISO BRAND STANDARDS: Project Reports
Frank Findley, MASB Executive Director
Since growth is measured in financial terms, the strength of brands and the resulting customer franchise must also be expressed and analyzed in financial terms.
TONY PACE REMEMBERED
Ray Katz, Columbia Business School
Honoring the marketing and media industry stalwart and former president and CEO of MASB.
Friday
THE CMO ROLE: Panel Discussion
Karen Ebben, Global Marketing Impact and Guest Marketing Executives
Marketing drives growth. It is the engine of the demand chain. It brings in the money. It is marketing that CEOs need most, but respect least. Why? Because the CMO's crucial role in driving growth has not been well demonstrated. With the transformation of marketing's role, companies will unleash new sources of growth.
MASB COMMUNICATION: Working Session
Joanna Seddon, MASB CEO
MASB's CEO, Joanna Seddon, will present MASB's latest communication plan for elevating the role of the CMO to its rightful place in the boardroom through advancements in marketing accountability. All MASB members are encouraged to participate in this discussion.
Emerging Issue
CUSTOMER FRANCHISE MEASUREMENT
Neil Bendle, University of Georgia
Despite the attention recently paid to customer levels by companies like Netflix and Disney, no clear, standardized approach exists for measuring and reporting customer franchise strength. We will discuss proposed steps CMOs and their marketing teams can take for internal & external reporting.