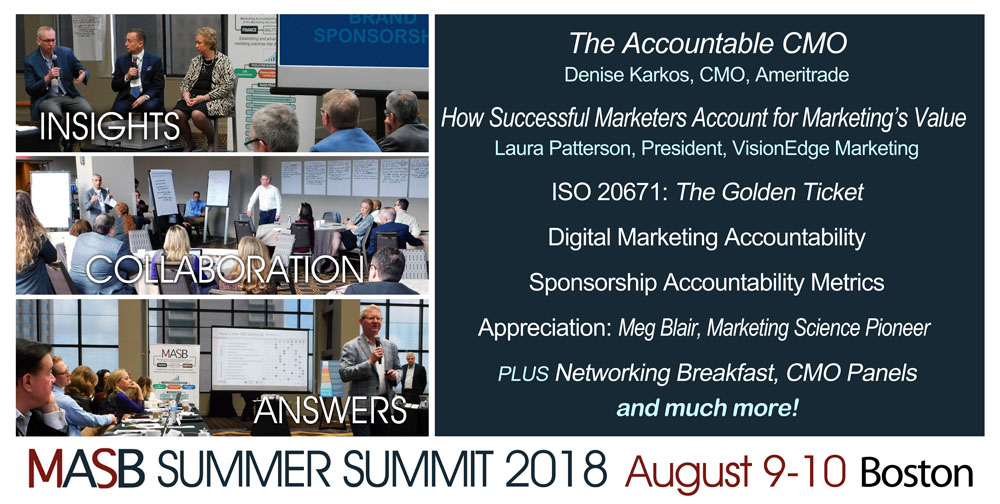 MASB is powering The Forbes Marketing Accountability Initiative to validate marketing's contribution to growth. Marketing practitioners, academics and measurement experts are gathering to collaborate with peers and receive briefings on standards-setting projects, marketing research and education programs.
The MASB 2018 Summer Board Meeting & Summit will be held at The Colonnade Hotel, 120 Huntington Ave, Boston MA 02116, 8 AM – 5 PM Thursday, August 9 (with dinner afterward), and 8 AM – Noon on Friday, August 10.
To request an invitation, use the link below or email [email protected]. Reduced-rate hotel rooms are available through July 25!
---
SUMMIT OVERVIEW
(subject to change)
Day 1 (Thursday)
NEW ISO STANDARD 20671– MARKETERS' GOLDEN TICKET
FEATURED INTERVIEW: THE ACCOUNTABLE CMO
Denise Karkos, CMO, TD Ameritrade
HOW SUCCESSFUL MARKETERS ACCOUNT FOR MARKETING'S VALUE
Laura Patterson, President, VisionEdge Marketing
MEMBER SPOTLIGHT: TBA
DIGITAL MARKETING ACCOUNTABILITY
Charles Cantu, Digital Marketing Guru
COMMON LANGUAGE MARKETING DICTIONARY REPORT
MEMBER SPOTLIGHT: TBA
PANEL: EMERGING STANDARDS – ISO, SASB & LES
FINANCE IN MARKETING COURSE PROJECT REPORT
Neil Bendle, Associate Professor, Ivey Business School
PANEL: BOSTON CMOs & MARKETING LEADERS
PROGRESS ON THE MARKETING ACCOUNTABILITY JOURNEY
Tony Pace, MASB President/CEO
IN APPRECIATION: MEG HENDERSON BLAIR, MARKETING SCIENCE PIONEER 
Day 2 (Friday)
NETWORKING BREAKFAST with CMO PANEL
(hosted by the Forbes Marketing Accountability Initiative powered by MASB)
MMAP METRIC CATALOG PROJECT REPORT
Karen Ebben, Global Marketing Impact
MMAP AUDIT RESULTS: KANTAR MILLWARD BROWN
SPONSORSHIP ACCOUNTABILITY METRICS PROJECT REPORT
Karen Ebben, Global Marketing Impact
SPONSORSHIP METRICS OVERVIEW
CONTINUOUS IMPROVEMENT IN RETURN PROJECT REPORT
MEMBER SPOTLIGHT: TBA
SAMPLE QUALITY
Mark Your Calendar
MASB WINTER SUMMIT 2019 • Feb 26–27 SAN DIEGO