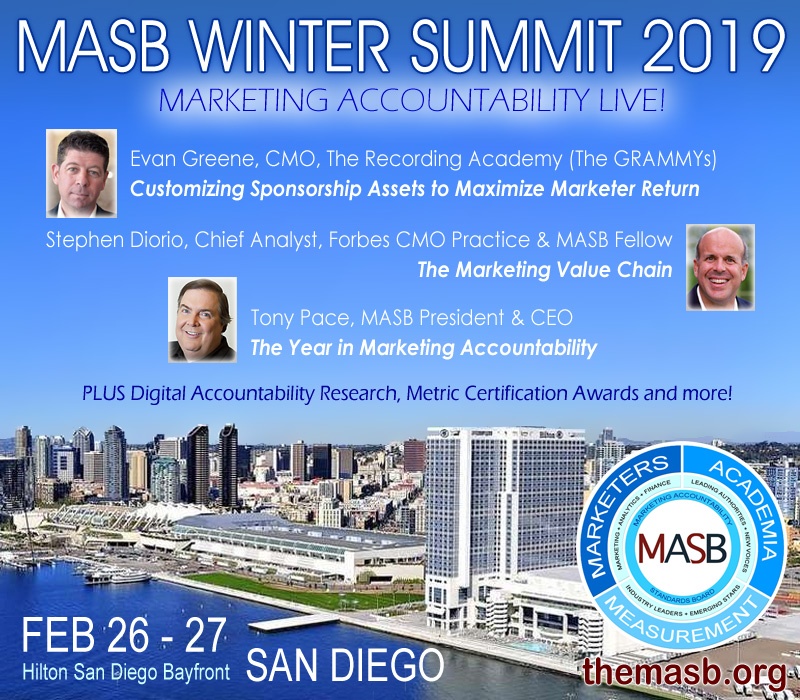 We're heading to sunny San Diego February 26-27 for MASB Winter Summit 2019, with compelling speakers on key marketing topics, including:
Evan Greene, CMO of The Recording Academy (The GRAMMYs)
Customizing Sponsorship Assets to Maximize Marketer Return
Stephen Diorio, Chief Analyst, Forbes CMO Practice & MASB Fellow
The Marketing Value Chain
Tony Pace, MASB President & CEO
The Year in Marketing Accountability
MASB WINTER SUMMIT 2019 PROGRAM
The 2019 MASB Winter Board Meeting and Summit will be held at the Hilton San Diego Bayfront, 1 Park Boulevard, San Diego; Tuesday, February 26, 7:30 am – 6:00 pm with dinner afterward, and Wednesday, February 27, 8:00 am – Noon. This event is being held in conjunction with the ANA Brand Masters Conference, which commences on Wednesday. Attendees of the MASB event can attend the ANA event for a significantly discounted rate.
For more information or to request an invitation, contact [email protected].