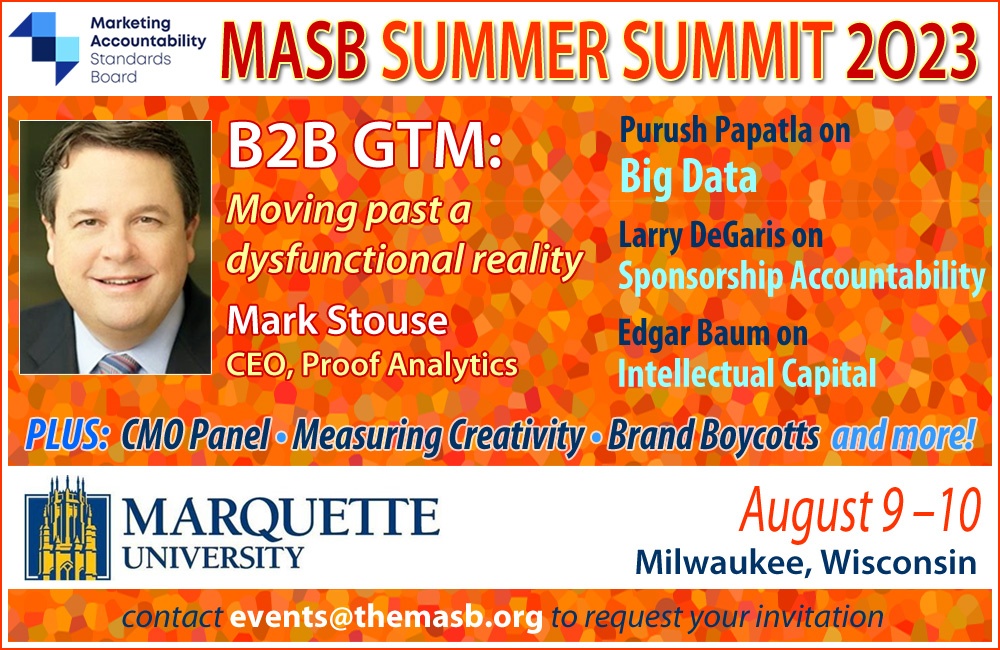 Mark Stouse, CEO of Proof Analytics, believes, "The future of B2B GTM is rooted in increasingly T-shaped leadership, meaning a strong and permanent move away from function-first leaders to those who see GTM functions from a business-first and customer-first perspective."
Join Mark and all the marketing accountability leaders at MASB SUMMER SUMMIT 2023, August 9-10 at Marquette University in Milwaukee, Wisconsin. Wednesday, August 9, 9 AM – 5 PM plus cocktails/dinner; Thursday, August 10, 9 AM – Noon. Request your invitation from [email protected].
PROVING MARKETING'S ECONOMIC IMPACT
B2B GTM: Moving past a dysfunctional reality
Mark Stouse, CEO, Proof Analytics
Big Data: Future or Folly?
Purush Papatla, Northwestern Mutual Data Science Institute Professor of Marketing, University of Wisconsin-Milwaukee
Sponsorship Accountability: The Power of Synergy
Larry DeGaris, Executive Director, Medill Spiegel Research Center, Northwestern University
Intellectual Capital in the Boardroom
Edgar Baum, CEO, Avasta
The Truth About Brand Boycotts
Jim Meier, retired finance executive, MASB Trustee
Margaret H. Blair Award for Marketing Accountability
PLUS CMO Panel • Measuring Creativity and more!
• • •
Schedule TBA. Program subject to change.
Request your invitation from [email protected].