With its Common Language Marketing Dictionary (marketing-dictionary.org) continuing to grow steadily in usage, MASB, the Marketing Accountability Standards Board, is launching the FINANCE in MARKETING Video Library, with segments recorded by some of the top minds in marketing research and measurement today.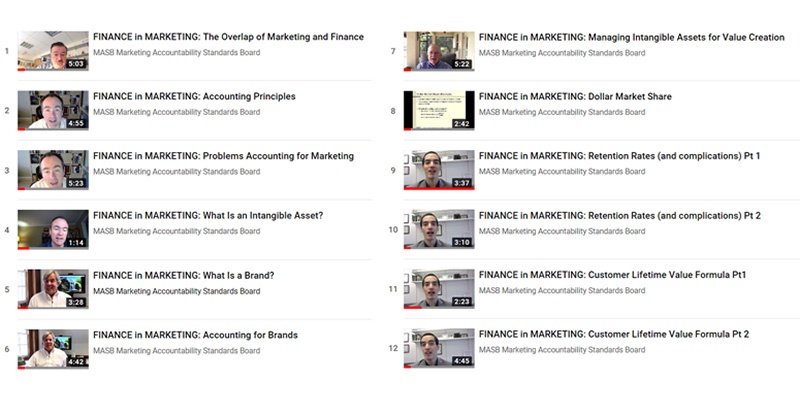 MASB is developing the Finance in Marketing Course to make it easy for instructors to teach the application of financial principles and metrics to marketing students by providing both tools and an approach for teaching financial principles in a marketing context.
The video library is a work in progress, but the initial offering includes:
David W. Stewart, PhD, President's Chair in Marketing and Law at Loyola Marymount University, on The Overlap of Marketing and Finance
Neil Bendle, Associate Professor of Marketing at Ivey Business School, on Accounting Principles, Problems Accounting for Marketing and What Is an Intangible Asset?
Kevin Keller, E. B. Osborn Professor of Marketing at Dartmouth University's Tuck School of Business, on What Is a Brand? and Accounting for Brands
James R. Gregory, PhD, Senior Fellow at The Conference Board, on Managing Intangible Assets for Value Creation
Daniel McCarthy, Assistant Professor of Marketing at Emory University's Goizueta Business School on Retention Rates (and complications) and Customer Lifetime Value
Be sure to bookmark the FINANCE in MARKETING Video Library, another free educational resource from MASB!