The recently released ISO 20671 Brand Evaluation standard puts forth a "rigorous framework and set of principles" for regular brand evaluation reporting. Included in the list of example financial metrics is return on brand and marketing investments. Yet no details on best practices for reporting such metrics are included.  This can lead to ambiguity given the variety of ways in which brand or marketing ROI can be calculated, interpreted and acted upon.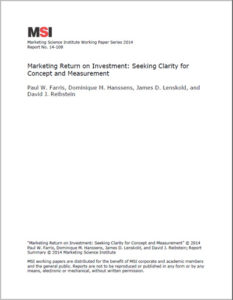 The Marketing Science Institute, a MASB member, released a working paper which can help. Authors and regular MASB contributors Paul Farris, Dominique Hanssens, James Lenskold and David Reibstein reveal the three most problematic variations in the use of MROI: calculation method, scope and granularity of calculations, and measuring at different levels of the market response curve. They then recommend a practical format for MROI estimates that is most useful and transparent.
Marketing Return on Investment: Seeking Clarity for Concept and Measurement is available free for download from MSI.
The Marketing Accountability Standards Board is proud to have represented the U.S. in the development of ISO 20671 under the auspices of the American National Standards Institute (ANSI). MASB continues to participate in the development of global marketing standards. Visit themasb.org for more information.