Loyola Marymount University Professor of Marketing Emeritus David W. Stewart received the 2021 Margaret H. Blair Award for Marketing Accountability, presented annually by MASB to a marketing executive or academic who has implemented the principles of marketing accountability to 1) drive business growth through continuous improvement in Marketing ROI, and 2) prove the contribution of Marketing to enterprise value.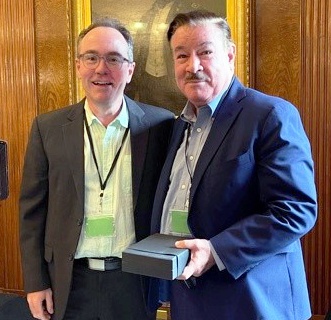 The award was presented by Neil Bendle, University of Georgia Associate Professor of Marketing and MASB Advisory Council Chair, during MASB Fall Summit 2021, Nov. 11 in New York City.
"I've enjoyed working with Dave and am pleased and excited to have learned from him over the years," said Bendle. "He is one of the key figures in bringing accountability to marketing."
Besides being founding and current chair of the Marketing Accountability Standards Board, Stewart has made copious contributions to the literature on accountable marketing – linking marketing actions to financial performance. He has authored or co-authored more than 300 publications and 20 books, helping lay the foundation for modern thinking on the collection and use of marketing metrics. His works include:
Analysis of the Impact of Executional Factors on Advertising Performance (JAR 1985) established scientific approach to validated advertising content analysis
Focus Group Theory and Practice (Sage 1990-2015) became and remains the definitive guide to the organization and handling of focus groups
Marketing Accountability: Linking Marketing Actions to Financial Results (JBR 2009) was among the earliest to call on the marketing discipline to be accountable, link its contributions to financial performance, and assert the value it contributes to the firm
Effectiveness and Efficiency of TV's Brand-Building Power: A Historical Review (JAR 2020) proved the effectiveness of a major advertising channel over more than thirty years and suggests practical actions to sustain this into the future [awarded ARF Great Mind Best Practioner Paper]
Also known for generously supporting others working in the field, Stewart has:
helped raise the quality of industry research as an article reviewer, editorial board member, and Editor of several major journals including the Journal of Marketing, the Journal of the Academy of Marketing Science, and the Journal of Public Policy and Marketing
represented the United States in the development of the first international standard for brand evaluation
created avenues for marketing professionals to effectively collaborate as President of the Academic Council of the American Marketing Association, Chairman of the Section on Statistics in Marketing of the American Statistical Association, and Founding Chair of MASB
maintained direct consultancy for numerous brands seeking improvement in marketing returns
Regarding Stewart's leadership in MASB, President/CEO Tony Pace said, "Dave is without question always there and he always has something to add to the conversation, a slight redirect that makes it better, and I can't tell you how valuable that is."
Stewart will remain active in his role as MASB Chair and Marketing Accountability Foundation trustee, pursuing the mission of establishing and advancing accountable marketing practices that drive brand and business growth by linking marketing activities to financial outcomes.