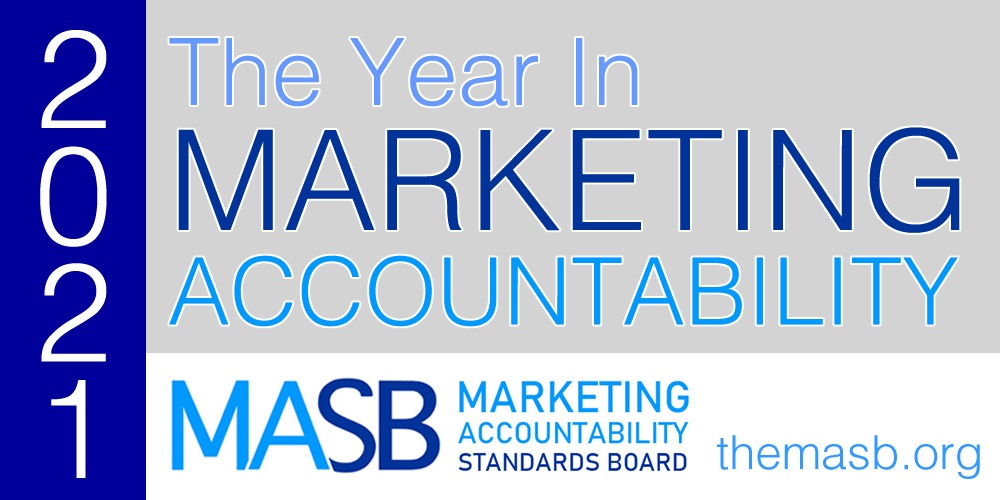 With a focus on sponsorship and digital marketing accountability, 2021 was another productive one for MASB and its project teams, delivering on the goal of accelerating the acceptance and application of accountable marketing practices to promote both individual enterprise and overall economic growth.
HONORS
Loyola Marymount University Professor of Marketing Emeritus David W. Stewart received the 2021 Margaret H. Blair Award for Marketing Accountability, presented annually by MASB to a marketing executive or academic who has implemented the principles of marketing accountability to 1) drive business growth through continuous improvement in Marketing ROI, and 2) prove the contribution of Marketing to enterprise value. Stewart remains active in his roles as MASB Chair and Marketing Accountability Foundation trustee.
Effectiveness and Efficiency of TV's Brand-Building Power: A Historical Review — Why the Persuasion Rating Point (PRP) Is a More Accurate Metric than the GRP (Journal of Advertising Research, Dec. 2020) received the 2021 ARF Great Mind Award for Best Practitioner Paper. Written by MASB members David W. Stewart, Kelly Johnson, Douglas Crang and Frank Findley, it examines the effectiveness of TV advertising and changes in television-audience response in the U.S. since the 1980s.
MEDIA
MASB's online Common Language Marketing Dictionary marked its 10-year anniversary. With the guidance of its esteemed co-chairs and the dedication of its project team, the lexicon has grown to more than 1,800 cross-referenced marketing terms and definitions and is achieving more than 40,000 monthly pageviews organically – without paid promotion.
MASB brought together four distinguished authors and two dozen contributors to publish The Financial Value of Brands Imperative: Why Brands Must Be Valued in Financial Terms. The authors, which represent both industry and academia, recommend that brand-centric enterprises develop an internal process to annually measure, explain and report FVB to the executive level, even in the absence of any external regulatory or accounting requirements.
MASB President/CEO Tony Pace contributed his perspective to several articles on sports sponsorship and the Olympics, including the AdAge article, 5 Things Brands Should Know to Prepare for the Olympics, which was reprinted by publications around the world.
What Is a Brand? was the first video from the FINANCE in MARKETING Library to reach 1,000 views. Dartmouth College's Kevin Lane Keller explains the difference between a "brand" and a "Brand."
MASB Chair Dave Stewart and former MASB Executive Director Allan Kuse collected the key works of MASB co-founder and advertising R&D pioneer Meg Blair in Master of Marketing Measurement: Margaret Henderson Blair on Marketing Accountability, published by Cambridge Scholars.
EVENTS
Despite the continuing challenges brought by the Covid-19 pandemic, we held remote MASB Winter Summit sessions via Zoom on February 25 and April 8 followed by a hybrid MASB Fall Summit held November 11 at the Union League Club in New York City and also via Zoom.
MASB Spring Summit 2022 is taking place April 7 in New York City. Program TBA. Request an invitation from [email protected].
Many winter and fall summit sessions are available for viewing on the MASB Channel, including:
Sponsorship & Mega Events in the Pandemic: Super Bowl LV & Daytona 500

MASB President/CEO Tony Pace leads the discussion with Dan Donnelly of Fox Sports, Norris Scott of FuturesSport and Ray Katz of Collegiate Sports Management Group.

Marketing in the Age of A.I. with Will Thompson

A customer-centric approach to artificial intelligence in marketing is discussed by MASB President/CEO Tony Pace and Will Thompson, Chief Strategy Officer at Forbes Ignite.

Targeting Without Cookies

MASB Digital Marketing Accountability Project members explore digital targeting in light of the upcoming phase-out of third party cookies.

CMO Role, Deliverables and Tenure

MASB President/CEO Tony Pace discusses the evolving role of Chief Marketing Officer with Stephen Diorio of The Revenue Enablement Institute
Make 2022 the year your organization joins our forward-thinking community of top-tier marketers, measurement providers, industry associations and business academics in setting the agenda for the future of Marketing!  REQUEST MEMBERSHIP INFORMATION