While MASB's BIV Project team has worked over the past several years to establish generally accepted Brand Investment & Valuation standards, a parallel effort has been happening globally through the International Organization for Standardization (ISO). Now the Marketing Accountability Standards Board is making a direct contribution to international standards as a participant in ISO's Brand Evaluation Project.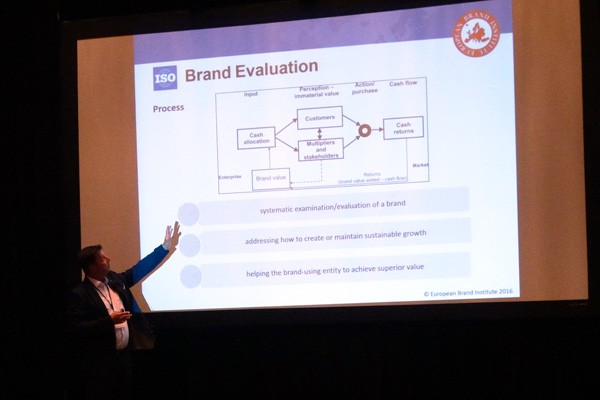 At MASB Summer Summit 2016 in Atlanta, Gerhard Hrebicek of the European Brand Institute explained how the project came to be. "We established the first brand evaluation standard in 2006 in Austria, and actually it was based on my PhD. I was a brand manager myself – for ski bindings."
Based on his PhD, the Austrian Standards Institute asked Hrebicek to develop a standard on brand valuation, and he formed a committee to complete the task. In 2010, the ISO undertook the expansion of the project to an international context. Development resulted in a meta-standard to allow for existing brand valuation practices to remain valid.
"Within the standard you should be able to define your own brand evaluation system," said Hrebicek.
In 2013, ISO established a permanent technical committee, TC289, Brand Evaluation, to establish standards for branding, brand management and brand reporting. The U.S. is represented in ISO by ANSI, the American National Standards Institute, but no U.S. stakeholders had stepped forward with an interest in participating in TC289 upon its formation. Earlier this year, MASB joined ANSI and now leads the ANSI-accredited U.S. Technical Advisory Group (TAG) that represents the U.S. on TC 289. Today, the U.S. is one of 11 participating countries on the committee; an additional 24 countries are formally observing the effort.
"MASB is far ahead of what many company representatives are coming forward with as brand management standards…"
– Edgar Baum
The technical committee is chaired by Bobby Calder, professor of marketing and psychology at Kellogg School of Management, Northwestern University. He sees a definite place for MASB on the team. "It seems to me there's a very natural connection around the BIV Project, not in terms of a specific indicator or set of indicators, but the logic you have around a process of connecting specific indicators to market performance and then to financial metrics is – as a larger framework – something the international committee could very much use."
MASB's participation is being organized and managed through its new Brand Evaluation Standards Project Team, led by MASB Chair David Stewart of Loyola Marymount University and Frank Findley of MSW•ARS Research. MASB Advisor John Willard is serving as TAG Administrator.
"The response has been really fantastic from the ISO group," said Findley, who met with the committee in Cancun, Mexico, in May. "They really value the input that MASB is bringing."
MASB Advisor Edgar Baum of Strata Insights, who represents the Standards Council of Canada on TC289, emphasized that MASB has a lot to bring to the table. "MASB is far ahead of what many company representatives are coming forward with as brand management standards, and the MMAP protocol is way more sophisticated, transparent and usable than anything else being used anywhere right now."
To inform international standards, the BES Project Team also intends to share knowledge from the Common Language Marketing Dictionary, Marketing Metric Audit Protocol (MMAP), and other MASB projects.