L. Anthony "Tony" Pace, marketing and advertising executive, died on February 8th, 2022, at the age of 64.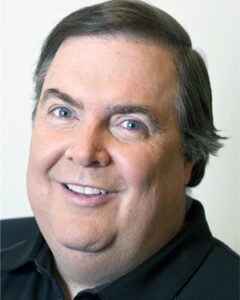 The eldest child of Leonard and Maureen Pace, Tony was born on August 3, 1957, and grew up in Cranford and Summit, New Jersey. From a young age, Tony was deeply interested in sports. He played baseball and football, and was a keen fan of golf, hockey, and basketball. While in grammar school, Tony began reading a daily newspaper, with a specific focus on sports stories and statistics. His delight in athletic achievement—the dramatic stories of brilliant wins and astonishing stats—became a lifelong passion. As a high school student at the Delbarton School, Tony further explored his love of sports on the field playing Varsity Baseball, on the page as the Sports Editor for the Delbarton Courier, and in the classroom, where he built up a significant body of knowledge and was duly recognized as a recipient of the school's History Award.
After Delbarton, Tony attended the University of Notre Dame to study the (General) Program of Liberal Studies and Economics. He loved working as a WSND Broadcaster and as a writer for the Notre Dame Observer, starting as sports reporter and eventually becoming the Editor-in-Chief.
Following Notre Dame, Tony earned his MBA in Finance at The Wharton School. While at Wharton, he played rugby and served as the Editor of the Wharton Journal. During his time in Philadelphia, Tony decided that advertising and marketing would provide him with a professional arena that engaged his passion for writing and sports.
In his 40-year career, Tony held executive roles at Young & Rubicam and McCann Erickson, served as the Chief Marketing Officer for Subway, and built the marketing consultancy, Cerebral Graffiti. No matter his title, Tony believed that integrity, capability, competition, and compassion were essential ingredients for delivering outstanding results for clients. His leadership was recognized by, and extended to, the entire industry: He led the Marketing Accountability Standards Board and chaired the Association of National Advertisers, and epitomized excellence in marketing and advertising.
For all his success, Tony's most important role was that of husband and father. At Y&R, Tony met his workmate, Ellen Hyde, who became his soulmate. After years of friendship, they fell in love, and were married in 1999. Tony and Ellen welcomed their twins, Elizabeth "Liz" and Leonardo "Leo" Pace, in 2002. Tony was a fierce and proud supporter of his children's passions: film for Liz, and hockey for Leo. He consistently cheered them on at their events, and always encouraged them to work their hardest and follow their dreams.
Nothing brought Tony more joy than being with his wife, their children, and, more recently, their new puppy (and 3rd child) Winnie. Many of their fondest memories were watching sporting events, and his love for the New York Rangers, Knicks, Yankees, Jets, and Giants were passed down to his children. Tony also took great pleasure bringing friends and family to Baltusrol Golf Club and The Union League Club, where he was a devoted member. The family also enjoyed spending time together on Long Beach Island, traveling around the globe, and attending unforgettable live events including the Olympics, as well as numerous Super Bowls, Bruce Springsteen concerts, and, closer to home, SNL tapings.
Tony is survived by his wife Ellen, daughter Liz and son Leo, dog Winnie, his mother Maureen Pace, siblings Susan Gilbert (Douglas), Daniel Pace (Anna), Thomas Pace (Colleen), Macaire Pace (Charles Owen), Cathleen Lazor (Peter) and Ellen's siblings Rev. Robert Hyde, Alison Purvis (Ian Hill), Anne Carson (Jack), and Bill Hyde, as well as many nieces, nephews, cousins, aunts, uncles and other family. Tony was preceded in death by his beloved father, Leonard. The two are together once again, enjoying the Tagliolini con Tartufo Bianco (white truffle) from Da Ivo and talking about sports.
Visitation will be held from 4-7pm on Wednesday, February 16, 2022, at Gannon Funeral Home, which is located at 152 East 28th Street, New York, NY 10016. A Mass of Christian Burial will be held at 10:30am on Thursday, February 17, 2022 at Church of Our Saviour, located at 59 Park Avenue, New York, NY 10016. Interment will be private.  For more information please visit: www.gannonfuneralhome.com
If you wish to make a memorial contribution, the family suggests you consider Mothers Against Drunk Driving (madd.org).
Comments and remembrances are being added to the MASB LinkedIn Company Page post:
https://www.linkedin.com/feed/update/urn:li:activity:6897218021014822913