Published Tributes:
New York Times: L. Anthony Pace Obituary • Feb 2022
Sports Business Journal: Marketing and Sponsorship: 'Tony liked the sizzle, but he demanded the steak.' • Lefton • Feb 2022
Wall Street Journal: Subway Marketing Chief Promoted the $5 Footlong • Hagerty • Feb 2022
Variety: Tony Pace, Former Subway Ad Executive Who Pushed TV Networks to Make 'Brand Memories,' Dies at 64 • Steinberg • Feb 2022
MediaPost: The Ad Industry Lost a Legend and the ANA Lost a Friend • Duggan • Feb 2022
Association of National Advertisers: Among his many career accomplishments, the former Subway CMO helped the ANA navigate the release of our transformative media transparency report in 2016. "Without his forceful presence and great courage, our job at bringing forward this critical industry moment would have been challenging," said ANA CEO Bob Liodice. "He made a huge difference for us and played a key role in reinforcing the ANA's position as a leading voice in the marketing industry."
"Tony was an outstanding leader, not only as a brilliant chief marketing officer, but as a courageous chair of the ANA during a turbulent time in our industry," added Marc Pritchard, current ANA chair and chief brand officer at P&G. "It was a true privilege to work alongside Tony, together with the ANA and the ANA Board, and I'm thankful for his tremendous leadership. But beyond the lasting contributions he made to our industry, Tony was a good human being. I will miss him."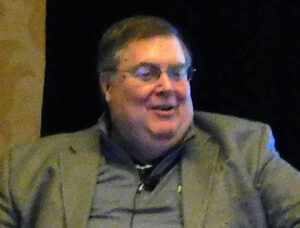 Excerpts from Social Media:
[Add your comments and remembrances to the MASB LinkedIn Company Page post]
Scott McDonald, President & CEO, Advertising Research Foundation, "Tony embodied marketing accountability and transparency. He set an example for us all and will be deeply missed."
David Haigh, CEO, Brand Finance: "Tony was a great guy who brought down to earth common sense to MASB and ISO. I will miss his sense of humour and love of rugby."
Stephen Diorio, Managing Director at The Revenue Enablement Institute and MASB Fellow: "Tony Pace was a good man, good parent, and a good friend. This is a very sad day. He made his mark on so many people. My prayers are with his family."
Vithala R. Rao, Professor of Marketing Emeritus, Cornell University: "I have known Tony Pace since I joined MASB some five years back. I found him highly insightful and knowledgeable of the issues, very lively in meetings, highly committed to the mission of MASB, and excellent in conducting interviews. This unfortunate accident robbed him from his family and MASB. This event shows the uncertainties of life. We all will miss him and his guidance."
Purush Papatla, Northwestern Mutual Data Science Institute Co-Director and Professor of Marketing at University of Wisconsin-Milwaukee : "I will always remember him as a smart, engaged, and witty guy. He had strong opinions but was also very open to hearing others' views and changing his own if he was convinced. We lost a good person and a passionate advocate of Marketing and Marketing Accountability."
Don Sexton, Professor of Marketing at Columbia Business School: "Tony was very smart, enormously able, and a most decent man. I am glad that I had the chance to know him as a friend."
Karen Ebben, Founder, Global Marketing Impact: "Having known Tony for many years, I have much respect and admiration for his thought leadership and willingness to tackle tough, often ambiguous issues. I also thoroughly enjoyed collaborating with him in solving some of those issues. It is rare indeed to have the privilege of working with someone genuinely focused on understanding all dimensions of emerging marketing issues as well as providing actionable solutions to them. That in addition to being a kind, appreciative colleague."
Jim Meier, retired finance executive: "My friendship with Tony began when he became involved with MASB and I was still with MillerCoors. Most recently, we worked together closely on the Financial Value of Brands, a topic about which we both shared great passion. I will fondly remember our professional interactions, and perhaps even more so, our friendly conversations and debates about college basketball."
Art Klein, Partner, Co-President at MSW Research: "I had the opportunity to work with Tony over the years. I always enjoyed his company and our conversations."
Tom Gruca, George Daly Professor of Marketing, University of Iowa Tippie College of Business: "I will miss his leadership, vision, and humor at the MASB meetings."
Allan Kuse, retired MASB Executive Director: "Tony was a great asset to MASB and will be missed."
Edgar Baum, Founder & CEO of Avasta: "Tony was a champion for people to deliver their expertise."
Will Thompson, Chief Strategy Officer, Forbes Ignite: "Tony was a truly amazing human being; a mentor and a friend. He always gave it to you straight because he really cared. I was fortunate to collaborate with him for many years. Tony never gave up on what he believed in and never shied away from fighting the good fight when that's what it took. Those of us who knew and loved him were incredibly fortunate. I'll miss our breakfasts, rambling intellectual discussions and really everything about him."
Bruce Rogers, Forbes Senior Contributor: "He was colorful, smart, a force for marketing integrity and most of all a very decent man and friend."
Randall Beard, independent director, advisor, board member: "Tony was a great advocate for accountability in Marketing, and more than that, just a really nice guy."
Brett Werner, President at MikeWorldWide: "I have been fortunate to have worked with lots of CMOs, but Pace was one of the boldest. As CMO of Subway, he was not afraid to take risks and loved to live in culture. Tony also put a capital G in the word Guerilla Marketing. Working for Tony wasn't always easy, but it was fun, and he respected excellence. I also witnessed how many times Tony helped people professionally and personally."
Paul Bamundo, Head of Global Sponsorship, Brand and Event Marketing at DXC Technology: "I am not sure I can truly express how important Tony Pace has been to me, my career, my family and to all the lives he has touched. I first met him back in the summer of 2008 when I was working at the National Basketball Association on the Global Marketing Partnerships team for Mark Tatum and Frank Nakano. The agency client rep for my partner at State Farm Ray Katz told me the CMO of Subway asked him for three good candidates to consider hiring to start a sports marketing discipline for the brand. Ray called me to tell me this and he said the only name he gave to Tony was mine. Extremely flattered, I met Tony at The Union League Club in August 2008 during the Beijing Olympics. Michael Phelps was in the midst of a record-setting performance, and we discussed plans to sign him as an endorser for the brand. I knew Michael was represented by Peter Carlisle from Octagon and I gave that information to Tony. Over the next several weeks, we negotiated the contract that would be the beginnings of our "Famous Fan" strategy. The rest, as they say, is history. There will never be another like you, Tony."
Jenny Rooney, Co-Founder, Black Glass CMO House: "A gift of my work has always been meeting and talking to people and learning more about them and, if I'm lucky, creating a friendship with them. That was the case with Tony Pace. I'll remember him as always kind to and supportive of me and always happy about his work. That's evident in this 2012 video. This and others—at Forbes events, at Notre Dame collaborations and others (and, coincidentally, that he lived on the same street as my mom and stepdad in NJ)—are memories I'm grateful for."
Rob Bronfeld, Senior Vice President of PR and Comms at 160over90: "Tony was larger than life. He revolutionized how marketing was done during his time at Subway.  I used to think it was amusing that people were scared of Tony. He wanted to push people to do their best. And he respected people that didn't/would never settle. He wanted us to go head-to-head with him on things to make all of us better. To be a part of Tony's inner circle, which I felt (whether it was true or not) I was fortunate to be a part of – was a privilege and needed to be earned. He taught me so much but most of all always taught me to come to every meeting with an opinion/POV and never settle for whats in front of you."
Douglas Wood, lawyer and novelist: "In the more than 45 years I've had the honor to represent marketers and marketing organizations, I've met many of the icons of the industry. And among those, Tony was special. His courage and leadership as a CMO was not simply among the greatest. It was transformative. His integrity and desire to reveal the truth about even the most sensitive secrets of the advertising ecosystem knew no bounds. He knew that truth, no matter how ugly it might be, was the only way to begin to heal.
"Perhaps one of the best examples occurred during his Chairmanship of the ANA. Without his support and drive, the ANA would never have succeeded in its 2016 investigation of the media buying supply chain. In partnership with K2 Intelligence and Ebiquity, Tony and the ANA led the industry through what is perhaps the most enlightening moment in Madison Avenue history with the lifting of a curtain long kept down. For those of us privileged to work with him then, we witnessed his commitment to the truth first-hand despite serious personal threats from those who feared that bright sunshine on the industry would reveal what many wanted to keep hidden. Tony wasn't paid to be ANA's Chair. But that didn't matter. He feared no one. Despite the headwinds against him, Tony turned the media buying business on its head, improving the knowledge marketers had of their investments. I credit Tony for beginning the journey that continues to this day to bring transparency, accountability, and measurement to the billions of dollars spent annually by marketers, big and small.
"But Tony's legacy is a lot more than his impact on media buying. He understood marketing principles to their core. I was privileged to represent him when he was Subway's CMO and to support him as a Board member and Chair of the ANA. Over those many years, he unselfishly served the industry. Always calm and focused, it was clear he cared most about the companies he led and the people he knew. He cared about making a difference. He cared about integrity. He cared about innovation. He cared about growth. He didn't tolerate sycophants or those who made promises that weren't kept.
"And lastly, he became my friend. We shared stories about our families and careers, at times over a drink. What I will miss most about Tony are those moments when he took off his hat of leadership and we swapped stories and shared personal moments about our families and the many characters he and I met during our careers."