THE SITUATION: In early April, transgender social media influencer Dylan Mulvaney released March Madness-related, sponsored Instagram posts promoting Bud Light that were immediately met by a wave of criticism within social media.
MEDIA RESPONSE: Within days, the news media was heavily covering the "Bud Light Boycott" story, mostly downplaying the likelihood of significant monetary impact. We disagreed!
OUR PREDICTIONS THEN: Our May 10 briefing, Bud Light 'Boycott' May Not End, Here Is Why,  assessed that Bud Light's travails were not a consequence of a traditional boycott. Rather, Bud Light faced a much more permanent "brand divorce," with previously loyal consumers changing brand preference away from Bud Light.
We reiterated this in the July 26 briefing, Bud Light "Brand Divorce" Continues – with no end in sight and also at MASB Summer Summit 2023 in August: The Truth About Brand Boycotts.
OUR PREDICTIONS NOW: What might we expect looking forward through the balance of the calendar year now that the key summer selling season is behind us?
In short, MASB sees little upside on the near-term horizon for Bud Light. The MASB Brand Investment & Valuation (BIV) model [Exhibit A] has guided our perspective to this point and will continue to do so. What do we know about these critical BIV components since our last briefing in late July?
Exhibit A: MASB Brand Investment & Valuation Model (2021)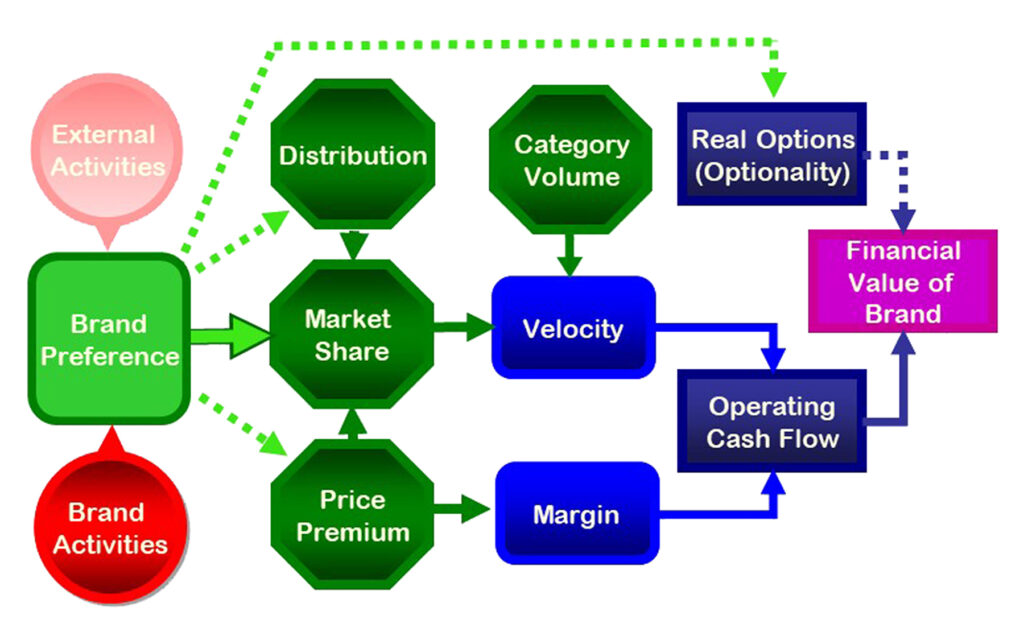 With respect to Market Share, we noted on July 26 that Bud Light share losses had most significantly benefitted its largest competitors in the low-calorie segment, Coors Light and Miller Lite. During AB InBev's Aug. 3 analyst call following the release of its second-quarter financial results, CEO Michel Doukeris stated that in the U.S., total beer industry share declined by 520 bps to 36.9%. This is a stunning decline in an industry that typically sees relatively slow and modest market-share changes.
Updated Exhibit B below shows the weekly dollar-sales declines since early April which, at best, are only very slightly moderating.
Exhibit B
In contrast, the press release for Molson Coors' second-quarter financial results stated that it had achieved its best quarterly U.S. brand volume trend since the formation of the MillerCoors Joint Venture, with Coors Light, Miller Lite, and Coors Banquet all growing volume double-digits.
In July, we cited the existing $15 rebate program as demonstrating the polar opposite of Price Premium. We now know that another extensive $15-rebate program ran from Aug. 23 to Sep. 6, spanning across Bud Light, Budweiser, Budweiser Select, and Budweiser Select 55.  Again, such activity is not representative of a brand with strong preference, and it can actually contribute to a further decline in brand preference due to a "cheapening" of the brand in consumers' minds. There are reports of frustration among those who redeemed the rebates as the reimbursement came in the form of a virtual card which was difficult to use. [1]
Frankly, we remain a bit perplexed by AB InBev's second quarter revenue metrics in the U.S. which suggest that rebate redemptions were minimal in the second quarter. We'll watch for any deviation in the third quarter.
Relating to Distribution, we suggested that "Bud Light's misfortunes will likely be amplified by a fuller-scale fall reset of distribution points in the larger-scale off-premise trade." Molson Coors in its quarterly earnings call commentary suggested that some off-premise retailers had moved up their shelf resets to fall. Furthermore, their commentary cited gains of over 12,000 on-premise tap handles in the second quarter; again, presumably a largely 1-for-1 swap to the detriment of Bud Light.
In terms of Optionality, we asked, "Will Modelo capitalize in some way on optionality?" While we see no evidence of that yet, perhaps another foreign competitor, Heineken, is entering the fray with its new offering, Heineken Silver, with a rumored $100 million in marketing support, including a significant sampling program. [2]
While we still believe it to be conceivable for Bud Light to stage a recovery, we will re-state that, "time is running out for the brand team to rebuild positive associations for the brand and reverse the downward spiral."
A critical element to the BIV model is that the combination of External Activities and Brand Activities, for better or worse, drives Brand Preference." We opined specifically that "any Bud Light recovery will require significant positive influences from both external activities and brand activities."
External Activities include competitor activities. We previously mentioned the Heineken Silver competitive activity. Additionally, Molson Coors indicated in their second quarter prepared comments that marketing spending would be up $100 million from 2022 in the back six months of the calendar year. We believe it is reasonable to presume that most of that $100 million will be spent on Coors Light and Miller Lite in the U.S.
CONCLUSION: While Bud Light has ramped up Brand Activities in the form of strong media spending, we doubt that all of this nets out significantly enough in Bud Light's favor.
All things considered, a continuation of the brand divorce over the near term seems most likely.
---
References
[1] Sean McDonnell, Bud Light rebate? How to spend the virtual card (and make split payments on Amazon); Cleveland.com, Jul. 26, 2023.
[2] Brian Sozzi, Bud Light sales are still stale;  Yahoo! Finance, Aug. 15, 2023.
The Authors

Frank Findley is a data scientist and Executive Director of MASB where he represents the U.S. in the creation of international (ISO) marketing standards. His previous work at ARS group, comScore, and MSW Research resulted in improvements to ad testing, tracking, media planning, and competitive intelligence systems. He is a coinventor of the patented Outlook media planner. His research has appeared in publications including the Journal of Advertising Research, Quirk's, Forbes, and the books Accountable Marketing (Routledge, 2016) and Master of Marketing Measurement: Margaret Henderson Blair on Marketing Accountability (Cambridge Scholars, 2021). He was presented the 2021 ARF Great Minds Award for Best Practitioner Paper. He is a regular speaker at conferences and a participant on marketing industry boards.

Jim Meier served as MASB Director (2013-2018) and was appointed Trustee and Treasurer of the Marketing Accountability Foundation in 2019. He graduated from Marquette University in 1984 with a Bachelor's degree in Accounting. After eight years as an auditor with Ernst & Young, he spent 26 years with Philip Morris, Miller Brewing Company and MillerCoors in financial support roles across Corporate Financial Services, Sales, Integrated Supply Chain, and Marketing. In his final role, VP Commercial Finance, Jim reported directly to the CFO and on a dotted-line basis to the CMO and CSO. He was closely involved with annual marketing spending allocation, on-going assessment of marketing mix modeling, and application of ROMI principles in both the Marketing and Sales divisions. Most recently, Jim has been engaged in assisting startup companies connected with a venture capital fund.
About MASB
The Marketing Accountability Standards Board is the acknowledged expert body on the topics of brand evaluation, brand valuation, and marketing return on investment. ANSI, the American National Standards Institute, has designated MASB to serve as the U.S. representative to the ISO technical committee charged with setting global standards on such matters. MASB's game-changing initiatives are elevating the CMO to their rightful place in the boardroom by making marketing accountable.