The movement for accountable marketing gained significant momentum this past year due to the joint efforts of the Marketing Accountability Standards Board, The Forbes Marketing Accountability Initiative powered by MASB and many other organizations.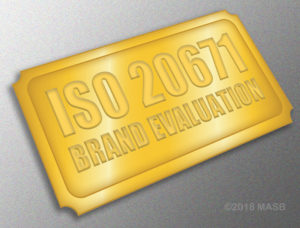 MASB represented the U.S. in the development of a new global standard for brand evaluation, ISO 20671, which recognizes that a brand's primary purpose is to increase total business value, reduce risk, and extend the sustainable existence of the brand-owning entity. For brand owners, this is a "Golden Ticket," a globally applicable and accepted approach to monitoring brands. MASB added a section on the impact of tax rate changes on brand value to its previously released white paper, Applying the Brand Investment & Valuation Model.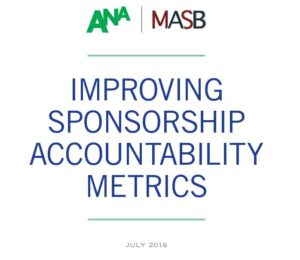 MASB and the ANA (Association of National Advertisers) have teamed up for the Sponsorship Accountability Metrics Project to address the lack of identified metrics that tie to sponsorship's contribution to brand and business outcomes. Initial findings from the ANA Sponsorship Measurement Survey were presented at MASB Winter Summit and the ANA Advertising Financial Management conference.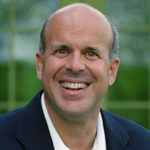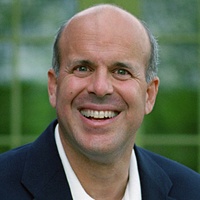 The Forbes Marketing Accountability Report showed that the contribution of marketing to enterprise value in an intangible, digitally-driven economy is significant – often more than 50 percent. Stephen Diorio, Chief Analyst of Forbes CMO Practice, presented the findings at several Forbes and MASB events. In 2018, Diorio also published the following articles in Forbes:
Government Oversight Won't Make Marketing More Accountable – Oct 2018
Why Investors Need Better Measures and Reporting… (with Neil Bendle) – June 2018
New Global Standards For Reporting Brand Value Can Help CEOs… – May 2018
Marketers Need to Measure Twice Cut Once – Apr 2018
Taking the Risk Out Of The High Stakes Sponsorship Game – Feb 2018
In recognition of his commitment, his progress and his collaboration across the marketing sphere, Diorio was appointed MASB Fellow. He will focus on several research initiatives, including the newly formed Digital Accountability Research Project.
Monthly users of the Common Language Marketing Dictionary website surpassed 13,000, making this free educational resource the definitive source for marketing terms and definitions. The site was redesigned and relaunched with new features and has grown to include more than 1,700 edited marketing terms, with new ones being added monthly.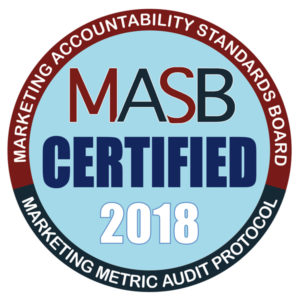 After completing the rigorous Marketing Metric Audit Protocol, MASB metric certifications were awarded to the following new entrants in the MMAP Metric Catalog:
BrandEmbrace – Behavioral Science Lab
TouchPoint – MSW•ARS Research
The Meaningfully Different Framework – Kantar Millward Brown

On the loss side was the unexpected passing of our leader and driving force, Margaret Henderson Blair, who was serving as Chair of the Marketing Accountability Foundation following ten years as Founding President and CEO of MASB. Meg received numerous accolades from her colleagues and her remarkable contribution to the movement will be honored through the annual Blair Award for Marketing Accountability. Nominations are now being accepted.
Here's to a HAPPY, PROSPEROUS and ACCOUNTABLE NEW YEAR for ONE and ALL!