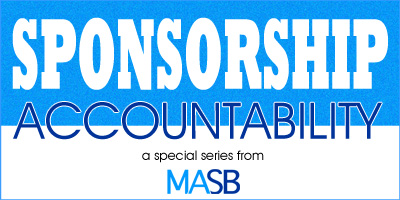 Part 1 provides an overview of the current state of sponsorship use and management.
Part 2 explores the long-term nature of sponsorship relationships and the resulting importance of fit between properties and brands.
Part 3 establishes the importance of developing the business case for sponsorship as well as contractual considerations.
Part 4 sets forth best practices in sponsorship stewardship and activation.
Part 5 provides an examination of the measurement of sponsorships.
Part 6 explores eSports as a fit for a brand's sponsorship portfolio.
Part 7 addresses the COVID-19 pandemic and complements the previous installment on eSports.
Part 8 examines the role social media plays in managing and measuring sponsorships.
Part 9 reviews the emerging opportunity brought about by student-athlete "rights to publicity" decisions.
Part 10 looks at what we learned from the first year of college athlete sponsorship.
A means to achieving the brand's long-term ambition
Just as brand ambitions may take years to realize, so should sponsorships be allowed to seed, grow and flourish. Ideally, the sponsorship will synch with the brand's evolution in achieving key milestones along its trajectory. It's important to identify specific markers or goals the brand is trying to achieve and align key performance indicators (KPIs) for the sponsorship with those of the brand.
By aligning the multi-year efforts of both the business plan and sponsorship strategy, a roadmap for accountable sponsorship can be accomplished. Sponsorship strategy determines how specific business challenges can be uniquely addressed. Internal buy-in for sponsorship is typically enhanced as is clarity around success criteria. Creative guidance for activation and resultant measurement expectations also improve. As the business strategy evolves, the roadmap for sponsorship is modified, having implications for stewardship and renewal, as well as the sponsorship portfolio. Fear of "missing out" (FOMO) as a reason for sponsorship declines with alignment.
Highly effective sponsorship strategies can be found for single brands and multiple brands as well as corporate brands. The best strategies incorporate a big idea for activation that allows the sponsor to stand out, fulfill its business objectives, and be seen as genuine and authentic by consumers because there is a logical reason for the sponsor's presence.
The Common Language Marketing Dictionary defines an authentic brand as one "that delivers on its promises in a sincere and engaging way. It is clear and consistent about what that brand stands for and is culturally relevant to its target market." According to a survey of 1,000 consumers cited in an August 2014 Marketing Week article, the eight values that make up an authentic brand are "the abilities to be genuine, original, unique, expert, visionary, passionate and honest, and finally integrity."
BRAND FIT IS IMPORTANT, THOUGH INSUFFICIENT
Much has been written about the criteria for determining if a sponsorship is a good fit for a brand, with many cases illustrating how a lack of congruity between the sponsoring brand and the property can create suspicion around the sponsor's motives and result in negative consumer perceptions.
What is meant by 'sponsorship fit'?
Sponsorship fit is the compilation of consumers' subjective assessments of how well a sponsor and the sponsored property/entity (e.g. sports, entertainment or non-profit event or organization) match or fit together.
In an August 2019 MSI webinar titled, "Fit and Authenticity in Sponsorship and other Horizontal Marketing Partnerships," Dr. Bettina Cornwell invokes a construct for fit in a two-by-two matrix of functional and image attributes for the sponsor and the property as follows: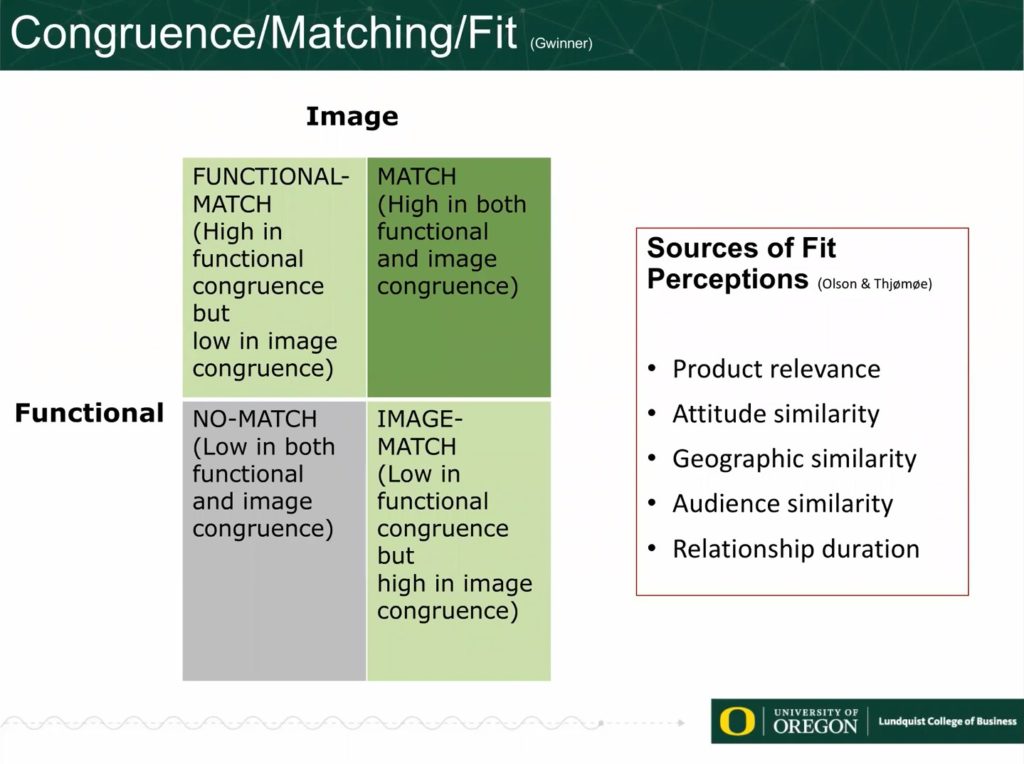 Professor Cornwell notes that even a high match in both functional and image attributes between the sponsor and the property may be insufficient, since it is possible for the sponsor brand to be confused with that of a competitor if authenticity is lacking in the activation.
Notably, if a brand is looking to engage customers more deeply, a sponsorship allows for that. A brand that associates itself with a property's avid fans, supporters and participants can forge emotional connections by tapping into the passions of priority audience segments when activation is seen as genuine, not opportunistic.
A sponsorship provides a platform for interactive, experiential engagement with customers and the opportunity to entertain key stakeholders, both business-to-consumer and business-to-business. [1]
Let's look at three examples of multi-year sponsorship strategies that aligned with the brand's business plans, had a good fit between the sponsor and the property, activation was authentic, and resultant business impact was achieved.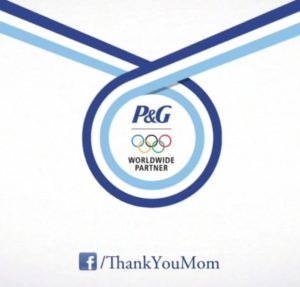 To drive sales across its brands and categories, Procter & Gamble (P&G) in 2010 leveraged its Winter Olympics sponsorship in Vancouver with a campaign that linked the corporate brand and global scale to its 34 product brands. Thanking Moms for the role they play in helping their Olympic Athletes, the unique stories that comprised its "Proud Sponsor of Moms" campaign were genuine (and highly shared), driving corporate equity measures and sales.
In 2010 alone, "Thank You, Mom" was the biggest and most successful campaign in P&G's 175-year history and was attributed with $500 million in incremental sales for P&G. [2] The sponsorship and activation campaign have continued to evolve over subsequent Olympics venues, both summer and winter games.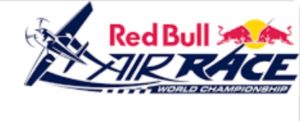 Another example of developing a sponsorship strategy that supports the multi-year business plan is that of Red Bull, a brand that needed to quickly increase global consumer awareness and understanding of the high adrenaline qualities of its product. What better way to do so than to align with a high adrenaline sport that was global, unique, and uncluttered by multiple sponsors?
In 2003, instead of shopping for an existing property to sponsor, Red Bull GmbH proactively created its own series of international air races where competitors navigate an air obstacle course in the fastest time. For the last 16 years, the winner is selected based on the most points at the end of the series and becomes Red Bull Air Race World Champion (Source: Wikipedia). Notably, Red Bull is the Top Global Energy drink, with sponsorship contributing to its awareness, imagery, popularity and sales.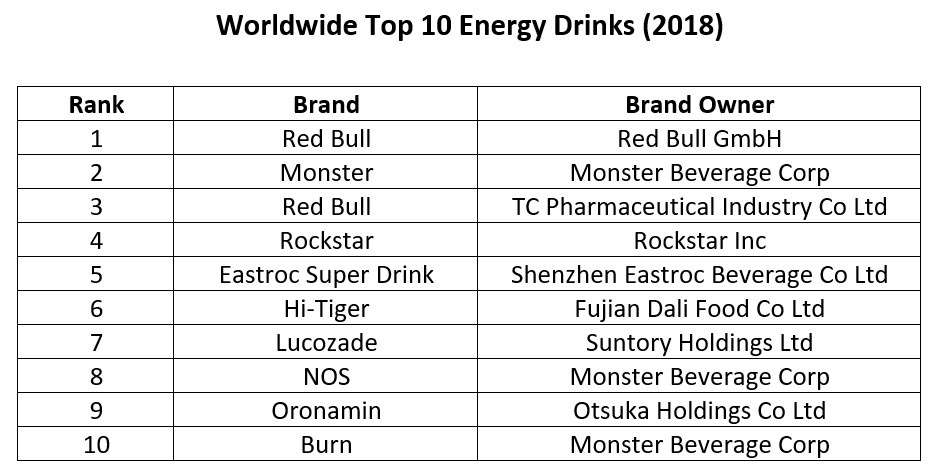 Sponsoring Entertainment
Turning to entertainment sponsorship, Mastercard's decades-long alignment with The Recording Academy as one of the GRAMMY Awards' marquis partners is a noteworthy and sustained example of a brand leveraging one of the world's biggest pop-culture events. MasterCard's multi-year GRAMMY "Priceless" activation strategy has continually evolved by delivering engaging experiential opportunities to reward cardholders, reinforcing the idea that a relationship with MasterCard is "Priceless."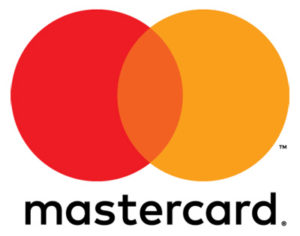 At the 2019 MASB Winter Summit, Evan Greene, then CMO of the Recording Academy, participated in a session focused on customizing sponsorship assets to maximize marketer return. In it, he emphasized the importance of ensuring an appropriate brand fit, and to making the sometimes difficult decision "to turn a relationship down if there is not a clear strategic fit and if the parties haven't established the right storyline or 'permission' to be connected to each other." He further highlighted the relationship with Mastercard as an example of what can be achieved when brand partners have worked together to define their collaborative roadmap to success.
"The GRAMMYs are an anchor to MasterCard's global marketing platform and has become an indispensable and annually recurring high-profile demonstration of its long-standing 'Priceless' positioning," said Greene. [3]
P&G's Olympic sponsorship, Red Bull's air races and Mastercard's The Grammy Awards sponsorship are examples of properties with high degrees of brand fit resulting from rigorous strategy development. Another type of property, cause marketing, is now rising in popularity. When engaging with a cause, a brand must carefully consider credibility and authenticity due to the emotional resonance of many causes. Moreover, the brand must be sincere and realistic about making an enduring commitment to the cause, and not be swayed by FOMO, or the strategy could backfire.
A brand in a highly competitive product category might find itself in a dilemma when wanting to sponsor a property when the best fitting one is unavailable due to being tied up with a competing brand. Rather than settling for the second- or third-best fit, strategic rigor and patience become paramount in those situations. In the interim, consider another category of sponsorship such as entertainment if the ideal sports venue is unavailable. Alternatively, consider assessing non-sponsorship opportunities that support the business plan. Playing the long game – and waiting till an optimal sponsorship opens for negotiation – may be the best.
Effective Sponsorship Marketing Strategy
Sponsorship strategy is most effective when it supports the brand business plan, across multiple years, and when KPIs align directly with those of the brand. A mere match along functional or imagery dimensions is not enough as the sponsorship also needs to be authentic for the brand. An umbrella strategy for a 'house of brands' as well as development of a dedicated property are effective ways to deliver authenticity as illustrated by the cases here.
Going forward, it is critical to recognize that sponsorship strategy is the foundation upon which other aspects of marketing accountability are based. In our five-part series on sponsorship accountability, we've so far illuminated the sponsorship imperative, strategic considerations and brand fit. In the coming installments, we'll discuss business case and contractual considerations for sponsorships, activation and stewardship of sponsorships and, last but not least, best practices for sponsorship measurement.
References
[1]Improving Sponsorship Accountability Metrics, ANA and MASB, July 2018
[2]P&G: Thank You, Mom; Wieden+Kennedy, July 2010
[3]MASB Spotlight Interview with Evan Greene by Tony Pace, Customizing Sponsorship Assets to Maximize Marketer Return. MASB Winter Summit, 2019
---
About the Authors

Tony Pace is President/CEO of MASB. He brings extensive experience from across the marketing spectrum, in roles of increasing responsibility at advertising agencies and as a marketing leader. At Young & Rubicam and McCann-Erickson, he led brands such as KFC, Coca-Cola and Capital One. In addition to his client leadership responsibilities, Tony oversaw both revenue generation and P/L responsibility as General Manager of McCann Southwest and co-founder of Momentum, IPG's global experiential marketing firm. As CMO of Subway, he grew that brand to #2 in market share in the U.S. and #1 in locations worldwide. During his tenure, Subway's brand value, as tracked by Millward Brown's Brand Z assessment, rose from unranked to #40 (over $22 billion). Tony's goal with MASB is to raise the profile and influence of the organization to the benefit of the marketing community. He earned his undergraduate degree at the University of Notre Dame and MBA in Finance from The Wharton School at the University of Pennsylvania

Karen Ebben, MASB Director, is President of Global Marketing Impact, LLC. An award-winning Fortune 100 Marketing and Advertising executive with 20+ years of global analytics, research & consumer insights experience, she is a consultant specializing in improving marketing effectiveness. Previously, she was Director of Global Advertising & Marketing Effectiveness for General Motors, where she accelerated improvements in marketing accountability. Her work has earned Cannes, AME, DMA and Effie recognition. Karen's sponsorship experiences span negotiation, strategy, activation & measurement of Olympics, Golf, Fashion Week, Motorsports, Disney Test Track and other entertainment and cause related venues. She co-leads MASB's Sponsorship Accountability Metrics (SAM) and Marketing Metric Catalog (MMC) initiatives.

Henrik Christensen, MASB Advisor, is the former VP Global Insights, Foresight and Analytics at Molson Coors where he led a team that created enterprise-wide capabilities on advanced analytics, shopper and consumer insights. Key responsibilities included global insights partnerships, consumer/sales testing tools, marketing mix modeling and other advanced analytics. He stewarded Molson Coors' global insights and analytics ambition and was a member of its enterprise growth team. He's a member of MASB's Sponsorship Accountability Metrics (SAM) team and drives best practices in sponsorship from inception of strategy to implementation of measurement protocols.
MASB Sponsorship Accountability Series edited by Frank Findley and Erich Decker-Hoppen