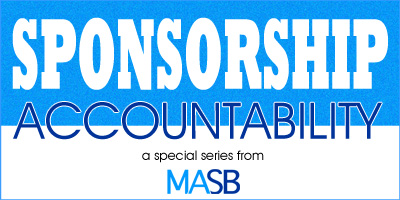 Part 1 provides an overview of the current state of sponsorship use and management.
Part 2 explores the long-term nature of sponsorship relationships and the resulting importance of fit between properties and brands.
Part 3 establishes the importance of developing the business case for sponsorship as well as contractual considerations.
Part 4 sets forth best practices in sponsorship stewardship and activation.
Part 5 provides an examination of the measurement of sponsorships.
Part 6 explores eSports as a fit for a brand's sponsorship portfolio.
Part 7 addresses the COVID-19 pandemic and complements the previous installment on eSports.
Part 8 examines the role social media plays in managing and measuring sponsorships.
Part 9 reviews the emerging opportunity brought about by student-athlete "rights to publicity" decisions.
Part 10 looks at what we learned from the first year of college athlete sponsorship.
eSports – An emerging sponsorship opportunity as great as the Super Bowl?
The Super Bowl is unrivaled as a sponsorship opportunity. It has been the number one program in the U.S. for decades.[1] In recent years, it has boasted in-stadium audiences of 100 thousand and at-home audiences of nearly 115 million. Surrounding this is massive coverage in other touchpoints: print, radio, in-store and digital. The conversation around the Super Bowl starts months before and lasts  weeks after the event.
It is an incredible opportunity for brands to interact with prospects and customers in a naturally engaging environment. The excitement is so great that the sponsoring brands' ads themselves generate their own audiences, with hundreds of millions of views prior to the game.[2] The Super Bowl is the tentpole of tentpoles in the annual marketing budgets of its sponsors.
Now there is an emerging sponsorship opportunity which might, over time, grow to become such a tentpole on a global scale, eSports. While not as established as the Super Bowl within the U.S., eSports is growing quickly. The largest eSports events already rival Super Bowl views on a global basis. For example, the 2018 League of Legends World Championship soared to over 200 million concurrent online viewers and over 40 thousand in person at just one of its stadiums.[3] While this event was primarily viewed in China, over a million individuals also tuned in from the U.S. and Europe. And as demonstrated by its opening ceremony presented by Mastercard, they aren't lacking in putting on a show that generates excitement!
But eSports shouldn't be viewed through the lens of a singular event. Rather, it is a continuous presence in the lives of those who participate, especially among the screenager[4] generation. Unlike other sports in which majority of those involved are only viewers, the accessibility of video games invites direct participation across all socio-economic groups and even eliminates language differences and physical challenges.
It is this potential to build deep, daily brand experiences that is driving many marketers to investigate the eSports opportunity. But is it too early to invest in eSports sponsorship or is now the time to experiment so as to not be on the outside looking in? Should immediate ROI be the goal or should it primarily be to learn how to engage with this audience and integrate the brand within these experiences? Is eSports currently a replacement for other sponsorship opportunities or is it best viewed as an adjunct to an existing sponsorship portfolio? And will participation now give the brand a role in shaping where eSports itself heads?
This article is an extension of the MASB Sponsorship Accountability Series in response to MASB member desire for a greater understanding of the eSports sponsorship landscape and perspective on evaluating eSports as a fit for a brand's sponsorship portfolio. Part 1 provides an overview of the current state of sponsorship use and management. Part 2 explores the long-term nature of sponsorship relationships and the resulting importance of fit between properties and brands. Part 3 establishes the importance of developing the business case for sponsorship as well as contractual considerations. Part 4 sets forth best practices in sponsorship stewardship and activation. Part 5 provides an examination of the measurement of sponsorships.    Request information on MASB
The eSports Portfolio Opportunity
eSports has surpassed its proverbial tipping point with weekly industry headlines touting sponsorship deals with the likes of global name brands such as Nike, Burger King, Lenovo, Kia Motors and Bud Light. Fueling the fan and amateur player fire are rags to riches stories of eSports athletes winning million-dollar prize pools, becoming Internet famous off the blend of gaming skill, daily self-publishing and the development of huge community followings on social networks. Private equity, traditional sports team and high net worth individual investment are quickly jumping on the bandwagon to own or support events, leagues, teams and players. To put emphasis on this, recently Division I sports universities have started adding varsity eSports teams to their rosters.[5]
Video game properties have long been valued as sponsorship and media opportunities for brands that seek to engage this attractive audience demographic that is increasingly eschewing traditional media for games and digital based entertainment options. Although the eSports business model seems distinctly familiar to traditional sports, the digital native aspect of the gaming landscape adds a variable that demands additional rigor to understand the opportunities and risks. This makes the rapidly emerging eSports category a rich territory to discuss Sponsorship Portfolio Management and provide a primer on the eSports landscape writ large.
After laying a foundation of the eSports history, business model and sponsorship landscape, this article will frame the Portfolio discussion relative to reach, longevity and opportunity with articles one through five as reference points. The portfolio approach holds true not only within sponsorships but across the entire marketing mix as the roles and efficacy of media, promotion, retail, publicity and omni-channel digital touchpoints should be considered to understand where a brand may be over- or under-indexed in the delivery of awareness and engagement to a given audience segment within a class of trade or market. This holistic portfolio approach serves to shape the levers of the business case and eventual contract as it provides direction as to where a brand may derive the most value out of the relationship relative to their marketing portfolio.[6]
An eSports Primer
Given today's headlines, it's hard to imagine eSports with a humble origin story. That said, eSports tournaments have been around since October of 1972 when Stanford's Laboratory for Artificial Intelligence organized a tournament for the game SpaceWar! among 24 players. The tournament was dubbed The Intergalactic Spacewar Olympics. Even then, it had a connection to traditional media with its grand prize an annual subscription to Rolling Stone magazine. In the 80's, clubs began to form in Europe compete on the Atari platform and later the first, networked multi-player game inspired by Star Trek, called Netrek, emerged to pave the way as the first, internet-based team game that, in turn, had several leagues for competition.
Fast forward to the 90's where gaming platforms (e.g. Nintendo, PlayStation, Xbox) entered the eSports fray and Nintendo held its first championships. The concept of gaming teams evolved from their "clans" in the 80's to form teams in the US, Europe and Asia. During this same time, networked gaming and multi-player games began to mature with the launch of Counter Strike which is still one of the most popular eSports games today.
As the clans, tournaments and popularity began to scale, prize money followed. Cyberathlete Professional League and its CPL World Tour was the first eSports event in 2005 funded with $1 million, it took place across 10 cities and the finals were broadcast on MTV. In time, lower costs of PCs, proliferation of broadband households, game platforms along with games themselves soon generated hundreds of millions of players across the globe. As the timeline of gaming has endured, its players have aged with it and brought along generations behind them. Below are some key metrics across revenue, audience and investment that indicates the burgeoning maturity.
Revenue – Projections range from just under $1billion to over $1.5 billion in 2019 and accelerating up to $3B by the most bullish estimates.[7]
Audience – Total esports viewership is expected to grow at a 9% compound annual growth rate (CAGR) between 2019 and 2023, up from 454 million in 2019 to 646 million in 2023. [8]
Investment – Investments were up to $4.5 billion in 2018 from just $490 million the year before, a staggering YoY growth rate of 837%. [9]
Tournaments – While 2019 is still being tallied, 2018 saw nearly 18,000 players play in 3,500 tournaments going after total prize value of over $1.5 billion.[10]
Video games have come a long way from the mall-based arcades where competition meant trying to beat the high score on a coin-operated game of Asteroids or Donkey Kong.
The eSports Ecosystem
Today, eSports emulates the traditional sports model with revenue derived from venue ticket sales, merchandise licensing, media rights, advertising and sponsorship sales along with league and team franchises in some instances. Added to this are the unique aspect of in-game purchases and exclusive digital goods. Sponsorships also mirror many of the traditional sports facets of investment, albeit on the more progressive side, a la FIFA or the Tour de France versus the more conservative NFL or MLB in that nearly every piece of real estate – players, teams, tournaments and venues, in addition to digital assets – are available for sponsorship or promotional leverage for brands.
The content or media that is eSports has a unique combination of accessibility both online in the form of live-streaming platforms in addition to its live stadium tournaments and terrestrial TV sports coverage through the likes of ESPN and FOX. As an example of its scale, leading platform Twitch streamed over 800 million hours of gaming in December 2019. [11] As this article was drafted, it had over 2 million concurrent viewers. Not all of this viewing is professional eSports competition, but it does illustrate both the massive popularity and a possible entry point for brands that want to test the eSports marketing waters.
To the point of the streaming platforms, like TV shows and sports events, gaming content can be consumed both in real time as a synchronous 'must see' event like the NFL playoffs, a linear TV finale or an awards show. Again, like a DVR'ed program, Twitch and its streaming cousins are the proverbial DVR for eSports and contain millions of hours of gaming that can be called up as an asynchronous viewing experience on PC or mobile anywhere in the world. While the 800-pound gorilla in the game-streaming space, Twitch is vulnerable to talent defections, shifts in live tournament streaming deals and competitive behavior from new entrants with established audiences such as Mixer, YouTube and Facebook.[12]
Different from the TV show or past Super Bowls, both the live and asynchronous video-game-driven events provide an organic conduit of amplification through social-media-enabled streaming channels. While a person that watches The Bachelor finale can certainly live Tweet during the show, multitudes of live-streaming eSports fans are commenting as they watch in real time or stream after the fact, posting comments both to the streaming channel and to their social media followers while tagging others in their friend/fan circles along with eSports athletes, teams, games and sponsors.
Adding to its uniqueness is the global reach of mature games along with the rapid adoption of new games. While the NFL is hard at work trying to become a presence in London and new franchisees are purposely limited to maintain exclusivity, the eSports marketplace has had a worldwide footprint since nearly its inception.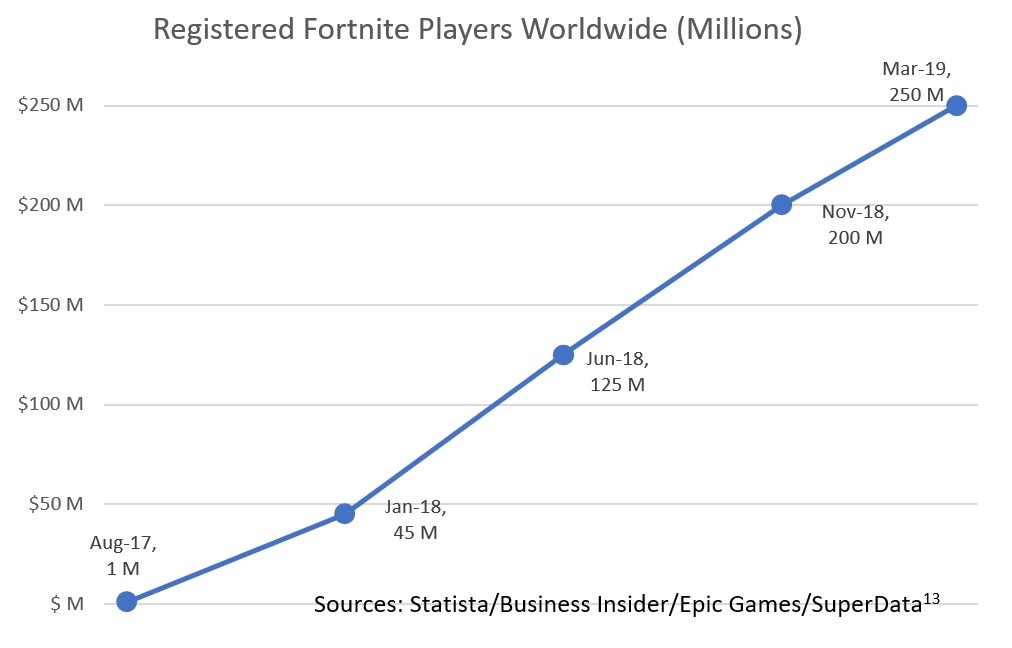 Though games each have regional strengths, the digital nature of the game play, the worldwide distribution of the underlying game IP and the streaming content make eSports a global phenomenon.
There's no better example of how a game can launch and quickly gain global traction on the eSports world stage than Fortnite. Having launched less than 3 years ago, this game now has over 250 million players around the globe, including more than 100 professionally ranked players who have won over $80 million in prize money across more than 500 tournaments. [13]
Finally, one of the most dynamic aspects of the eSports ecosystem may be the flexibility of the gaming platform itself. While in-game advertising and product placement have existed for some time and are a staple of many immersive, digital media campaigns, the gaming environments have become much more brand friendly, attributable and real time in their delivery. The in-game economy of earned, promotional and purchased digital assets has elements of behavioral economics – retail gamification for skills or achievements. With its agile "season" release format, Fortnite has notched some of the most notable tie-ins with the World Cup, NFL and an Avengers movie in 2018 and John Wick, Nike and Star Wars in 2019. As brand stewards contrast these digitally native game environments with static, physical stadium signage, the possibilities for portfolio management are as broad as the creative imagination.
To understand the playing field, a review of the stakeholders within the industry will provide a backdrop. The eSports ecosystem consists of a value chain from intellectual property development through to the game delivery and fan experience.
Publishers & Game Developers – These are the folks that develop or hire development firms to create games and then market and distribute or publish the games themselves.
Leagues and Tournaments – Almost too numerous to list for the purposes of this article but feels, in a way, like how mixed martial arts, boxing and other leagues have numerous local, regional and global events. Often, these are underwritten by publishers themselves to further promote games to the amateur audiences to scale the sale of the game and in-game purchases.
Teams – Similar to eSports origins, teams or clans have formed for training, social media amplification and scale for sponsorship and endorsement.
Players – These are the professional eSports athletes. Rigorous training, coaching, game strategy and competitive scouting all play a role in the success and durability of a player.
Streaming Platforms – These play a vital role in the live and delayed consumption of content and consist of Twitch, YouTube, Mixer, Facebook Games.
Fans – A demographic blend of gender, age, income and interest in games that range from casual to hard core.
Brands – At first, endemic to game play with tech heavy, evolving to adjacent energy drink and now non-endemic sponsors are rapidly entering the category.
For a more complete articulation of the value chain, see Appendix.
With a dynamic ecosystem as a backdrop, Sponsorship Accountability Part 5 posits that managing sponsorships within a brand should aspire and evolve to do so as a portfolio. Considerations within the portfolio are audience reach, longevity of a given relationship and the opportunity the sponsorship represents to add value to a brand.
The Sponsorship Portfolio – Audience Reach
Often, the emerging partnership and sponsorship calculus first involves a conversation of scale. Like traditional sports that have league play, tournaments, playoffs and media deals, eSports follows this model on a regional and global basis. As live event, live-streaming and asynchronous viewing are combined with league, team and player sponsorship, both audience reach and frequency build to meaningful levels. Considering TV in a context of shrinking TV audiences, cable channel and show fragmentation along with digital delivery and ad skipping, the imperative for brands to seek alternatives to reach and engage audience has never been higher.
On a single-event basis, eSports has sold out venues on the order of 45,000 seats in 2017 at a Riot Games event held at National Stadium in Beijing. A 2018 four-weekend event in Adlershof, Germany, and Paris, France, drew 24 million concurrent viewers and over 2 billion hours of viewing in total. This was for an event – not a league championship. Keep an eye out for the 2020 Shanghai Stadium-based League of Legends event that may break records for viewership across any sport. In 2018, the finals had 200 million people tuning in. [14]
Considerations for Audience Reach within eSports
Audience Fit – While the eSports audience numbers are high growth and at scale, they do not represent an all-encompassing four-quadrant reach that appeals to all ages and demographics. Careful examination of brand audience targets should sync with eSports event, league, team and player following.
Audience Fragmentation – The combination of games, tournaments and consumption methods (platform, synchronous versus asynchronous) creates challenges for brands seeking large scale or rapid reach and frequency in a compressed time frame.
Data and Measurement – Cross-platform media consumption creates tracking and attribution challenges for agencies and the brands they support.
Emerging Brands – Many eSports leagues, teams, players and events are akin to new businesses with little brand name recognition.
Event attendance, event growth and media distribution are key components to drive audience reach, but they're nothing without validation of video views and attribution of impressions. For eSports to legitimize its presence in the sports marketing, sponsorship and promotional space, measurement and validation are foundational components to attract the brand and agency end of the stakeholder value chain.
To this end, streaming platform leaders such as Twitch and Mixer are providing more transparency into their traffic on a granular level and providing access to their native data. Firms such as SocialBlade, TwitchTracker.com and MixerStats have sprung up with near real-time dashboards for brands and agencies to support planning and measurement.
While this is a good start, independent third parties are demanded by mature brands and marketplace leaders to justify material investments in emerging sponsorship categories. Given the rapid scale and investment, it's no surprise that industry media measurement leaders Nielsen and Comscore have begun to enter the market through acquisition, resource and research IP.
Below are quick references to some resources for brands to evaluate fit.
As brand relationships evolve within eSports, firms should also seek to include other metrics such as pre- and post-impact on awareness, brand favorability, purchase intent and brand preference. Where possible, outcomes that influence meaningful moments within the customer journey such as cues for research and consideration, conversion and, on a longer term basis, average revenue per user (ARPU), which could be translated into a lead score to influence further investment in the eSports space.
The Sponsorship Portfolio – Longevity
For brands actively managing their sponsorship portfolio on the longevity dimension, eSports provides an opportunity to enter relationships early in an emerging sector. While eSports have been around since 1972, many teams and leagues are forming while new athletes or "stars" are emerging by the week and digital broadcast channels within each platform are proliferating.
As brands consider eSports for their portfolios, they should recognize that the foundational component to eSports – the game itself – has a product lifecycle that's more like a physical product versus traditional sports franchises with decades-long, generational followings. Video games tend to have an annual to bi-annual release cycle with interim patches, break fix and updates like a software product.
This agile evolution of the product lends itself to more dynamic brand integration but also introduces some risk to the underlying customer experience and professional gamer playing field in addition to the brand environment that the contractual language should consider. Imagine the football field goal posts changed dimension mid-season along with the stadium signage.
In this quickly evolving market, upstarts can gain a quick following and take share of mind and time away from more enduring titles. Again, Fortnite's meteoric rise had an impact on enduring games in eSports like Defense of the Ancients 2,  League of Legends and Counter-Strike Global Offensive. And, while professional sports have their seasons, gaming and the eSports viewing audiences will have seasonality that impacts viewing patterns and can impact longevity.
Considerations for Longevity
Leagues, teams and players are new businesses – Massive investment in leagues and teams creates a risk that the payout will meet projected estimates over reasonable time horizons. Management is often unseasoned and governance is evolving. Expect or anticipate mergers and acquisitions during this period that could impact exclusivity.
Investment as a signal – The eSports industry has attracted over $4.5 billion in investment in 2018 (Deloitte eSports Observer report) across a diverse range of investor options. This investment signals stability and will lead to more mainstream media distribution.
Sponsorship Momentum – The shift to non-endemic sponsors is an indication of maturity and scale that even the most conservative of brands can't ignore.
The question brands often ask when evaluating sponsorship opportunities is "how to de-risk?" If it's a large, global brand with an appetite and budget for the eSports space, investment in established properties, leagues and teams that can endure high-profile player defection is a wise choice. The placement of bets on new games requires evaluating those that come from established publishers with interest from tenured players and leagues.
When seeking out player sponsorship deals, player values are directly correlated to their social media communities. While stand-out players such as Ninja have done a great job cultivating relationships with brands and non-game celebrities to broaden their appeal, most accomplished players are joining forces to form teams that cross-promote to build market power and attractiveness for A-level sponsors. eSportsearnings.com has a comprehensive list of team, members and earnings across games.
A longevity play can be diversified by supporting a mix of new and mature teams that have regional, global and a cross-section of game talent.
The Sponsorship Portfolio – Opportunity
To balance a sponsorship and marketing mix portfolio, brands should cultivate a pipeline of opportunities that offer a range of marketing solutions for the audience segments they serve. To execute, brand stewards should advocate for a planning and budgeting process that allows for an element of innovation or experimentation in the marketing portfolio. This allocation could be anywhere from 5% to 20% of the total budget to explore and test new media, sponsorship, promotional and digital properties.
Similar to the strategic approach for a product portfolio that relies on the evaluation of risk relative to new markets and new products, [15] evaluating eSports relative to the opportunity it presents can rely on a similar framework to assess a brand's current portfolio on the dimensions of Audience Reach and Longevity.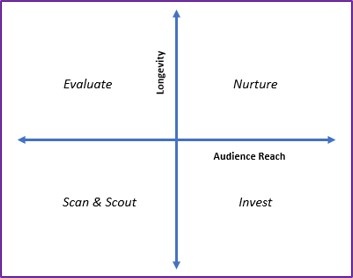 The adjacent figure uses a simple 2 x 2 matrix to map out existing partnerships based on their organizational longevity and potential for audience reach to help determine where a brand may have gaps and vulnerabilities.
Evaluate – Sponsorships in the Evaluate quadrant have lower reach over a longer horizon and warrant an evaluation to determine if the value to the brand is being met.
Nurture – Sponsorships that have endured with larger reach require a monitoring for signals of decay in end customer relevance, acquisitions, and/or opportunities to refresh.
Invest – Sponsorships with lower longevity but high reach offers an opportunity to invest in to further extend the relationship over time.
Scan & Scout – Finally, the lower left quadrant is the test-and-learn opportunity. If a brand seeks to reduce risk, this is the environment to understand a new category, begin to diversify its sponsorship portfolio and seek out potential replacements for floundering Evaluate quadrant partners or Nurture partners that are past their prime.
Considerations for Opportunity
A Sellers' Market – Massive brand interest has created a sellers' market and may have created a premium value from which it is difficult to create a reasonable ROI payout. To reduce this risk, invest in a range of games, teams and players that include up and coming as well as established.
Brand Recognition – Teams are still building name recognition and may not have the appeal as a standout player or event. Teams may be a good portfolio play for regional and global diversity as well as demographic appeal.
Global but Local – While eSports have a global appeal, game, tournament and team followings vary by region. Local events may be a good space for Scan & Scout testing.
Brand Safety –As with any brand association, risks to the brand must be considered and managed through contractual and governance process. With the heavy emphasis on social-media-driven talent and media, extra care should be considered when vetting these relationships.
In Summary
Scale, range of investment and diversity of engagement are a rich opportunity for brands to engage in eSports as an addition to their sponsorship portfolios. While it's understandable for businesses to get caught up in a FOMO (fear of missing out) mindset when it comes to a white-hot space like eSports, one should carefully consider options before jumping into the deep end of any emerging market.
Measurement, emerging eSports brands and a literal shifting playing field are reasons to proceed with caution. As this hasn't stopped some of the world's largest brands from entering the market, consider their deep pockets and robust portfolios as the opportunity to make bets that could pay off for this often hard to reach audience.
Brands should be armed with consumer insights and an understanding of brand metrics as well as the competitive landscape to allow businesses the ability to address current and future gaps as they seek strategic partners. Reliance upon a rigorous portfolio framework that includes the dimensions of Audience Reach, Longevity and Opportunity will inform the strategy, business case and contractual elements. Further recognition of marketing mix levers should include an emphasis on digital assets as this category over-indexes on digital delivery and should play a role in assessing eSports as a portfolio partner.
Is eSports ready to challenge the Super Bowl for its sponsorship crown? Not quite – but for the right brand and audience segment, it may be a better fit and value for a business to consider for their sponsorship portfolio.
The Author

Mike Wokosin, MASB member, is a 20+ year marketing veteran with deep expertise in digital marketing, analytics and omni-channel customer engagement across retail, media & entertainment and CPG industries. He currently helps Fortune 500 businesses navigate rapidly evolving customer journeys through measurable digital engagement. As an Adjunct Lecturer at the University of Iowa's Tippie College of Business, Mike delivers coursework in digital strategy and new product development. He earned his undergraduate degree at Tippie College and his MBA in Marketing and Operations from the University of Chicago Booth School of Business. A member of MASB's Sponsorship Accountability Metrics Project, he drives best practices in sponsorship from inception of strategy to implementation of measurement protocols.
MASB Sponsorship Accountability Series edited by Frank Findley, Erich Decker-Hoppen, Karen Ebben and Henrik Christensen
Footnotes
[1] Source: https://en.wikipedia.org/wiki/List_of_most_watched_television_broadcasts_in_the_United_States
[2] 2019 Super Bowl Ads Were Viewed Massively Online Before And After The Game, Nelson Granados; Forbes February 8 2019
[3] Source: https://escharts.com/blog/worlds-2018-final
[4] Definition: https://marketing-dictionary.org/s/screenagers/
[5] Oakland University first D-1 school to add varsity esports team in Michigan, Oakland University News, December 6, 2019
[6] Sponsorship Accountability Part 3: The Business Case for the Business Case, MASB November 2019
[7] Esports Ecosystem Report 2020: The key industry players and trends growing the esports market which is on track to surpass $1.5B by 2023. Business Insider, Dec 18, 2019
[8] Esports Ecosystem Report 2020. Business Insider, Dec 18, 2019
[9] The rise of esports investments. A deep dive with Deloitte Corporate Finance LLC and The Esports Observer; April 2019.
[10] eSportsEarnings.com
[11] TwitchTracker.com Stats dashboard.
[12] Twitch's loss of top streamers impacts hours watched and streamed in Q4 2019, report says. TechCrunch, January 16, 2020.
[13] The Incredible Rise of Fortnite, Statista October 15, 2019 https://www.statista.com/chart/16239/number-of-registered-fortnite-players/ and eSportsEarngings.com
[14] Source: https://escharts.com/blog/worlds-2018-final
[15] Using the Ansoff Matrix to Develop Marketing Strategy; Oxford College of Marketing.
References
2019 eSports Survey (Foley & Lardner, LLP)
The Keys to eSports Marketing: Don't Get Ganked (McKinsey)
eSports ecosystem market report (Business Insider)
eSports Viewership v Sports in 2019. (RoundHill Investments)
The History of the Origin of eSports (IPSO.com)
The Rise of eSports Investments (Deloitte & The eSports Observer)
Using the Ansoff Matrix to Develop Marketing Strategy (Oxford College of Marketing)
eSports Ecosystem
Publishers – These are the folks that develop or hire development firms to create games and then market and distribute them. Below is a partial list of the developers and their related eSports games.
Activision – Call of Duty. First person shooter with a history of successful releases.
Blizzard – Starcraft, Warcraft and Overwatch
Capcom – Street Fighter.  One of the earliest and longest-running professional games.
Epic Games – Fortnite. The meteoric free to play game with over 200 million players around the globe.
Microsoft – Halo
Riot Games – League of Legends
Nintendo – Melee and Super Smash Bros.
Valve – DOTA 2 and Counter Strike
Hi-Rez Studios – Smite
Leagues and Tournaments – Almost too numerous to list for the purposes of this article but feels, in a way, like how mixed martial arts, boxing and other leagues have numerous local, regional and global events. Often, these are underwritten by publishers themselves to further promote games to the amateur audiences to scale the sale of the game and in-game purchases.
Leagues
Overwatch League – A global team-based league.
Call of Duty World Championship
League of Legends Championship Series
Rocket League World Championship
PUBG Global Championship
Tournaments
The International – They are the premier Dota 2 tournament that attracts teams from around the world.
Intel Extreme Series – A global, multi game tournament.
CS:GO Majors (Counter Strike: Global Offensive) – Bi-annual esports tournaments sponsored by the game's developer, Valve Corporation.
Overwatch World Cup – Players represent their countries rather than their teams in this global tournament.
Fortnite World Cup Finals – A weekly qualifying series and a huge $40MM prize pool brought this onto a world stage in 2019.