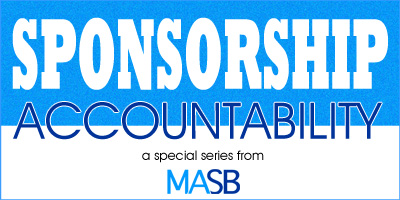 Part 1 provides an overview of the current state of sponsorship use and management.
Part 2 explores the long-term nature of sponsorship relationships and the resulting importance of fit between properties and brands.
Part 3 establishes the importance of developing the business case for sponsorship as well as contractual considerations.
Part 4 sets forth best practices in sponsorship stewardship and activation.
Part 5 provides an examination of the measurement of sponsorships.
Part 6 explores eSports as a fit for a brand's sponsorship portfolio.
Part 7 addresses the COVID-19 pandemic and complements the previous installment on eSports.
Part 8 examines the role social media plays in managing and measuring sponsorships.
Part 9 reviews the emerging opportunity brought about by student-athlete "rights to publicity" decisions.
Part 10 looks at what we learned from the first year of college athlete sponsorship.
In Part 6 of the Sponsorship Accountability series, we explored the benefits and challenges of adding eSports to a sponsorship portfolio. This article is an extension of that work covering the growing opportunity of eSports amid the COVID-19 pandemic.
Recent global events may be the catalyst that accelerates the eSports industry to become a mainstream sport property for brand sponsorship and promotion investment. As thousands of hours of live sports programming are sidelined this spring within a demographic range that aligns with the video gaming audience, [1] the broadening of eSports viewership may be an additional means by which brands can reach them.
eSports Deftly Pivots from Live to Virtual Events
eSports' emergence as a live spectator event in the last 3-7 years has fueled sponsorship dollars, broadcast deals and fan growth but is not immune to event cancellation during a pandemic. Like its mainstream counterparts (NBA/NCAA/MLB/The Masters), eSports' biggest name leagues, games and events have pressed the pause button out of precaution for spectators and players. With a large core of audience, teams and events based out of China, the eSports industry was early on postponements and cancellations [2] of live events. Most recently, Overwatch League and Call of Duty announced a change to virtual events in partnership with YouTube. [3]
Unique from analog sports, eSports is well positioned to nimbly shift from in-person venues and events to online ones, providing an opportunity for brands to pivot their sponsorship activation. While the logistics and timing are still evolving for the resumption of professional video game physical events, eSports team and athlete streaming continues at a rapid pace with a 37% increase in average numbers of viewers per tournament in the first quarter of 2020 versus a year ago. [4]
For those savvy and capable, it makes a great deal of sense to control one's own destiny by using online-only gatherings to replace venue-structured tournaments and game play to bring their brands to life. This is particularly true for brands that have been early adopters of eSports as part of their sponsorship portfolio.
How Pandemic Disruption Accelerates the Growth of eSports
Four critical factors will determine how the disruption from COVID-19 further accelerates the development and growth of eSports:
1. Expansion of viewers and participants. While growth in individual viewers may not initially offset the decline of viewers from live events, this is rapidly changing. A quick look within social media like Twitch and YouTube reveals a higher level of team video activity within the last month. Further reporting indicates a new record high of 20MM concurrent users on the Steam game platform, [5] notable given there were no new game releases. This is 20% higher than the average NFL football game generated in 2019. [6] Additionally, given the dearth of live traditional sports, some eSports are being broadcast on television, evidenced by NASCAR's ratings success with its eSports Sunday on Fox Sports One and the rollout of a weeklong event on NBC Sports Network. [7] As the industry continues transitioning from live to virtual events, it's expected that the audiences will adjust and adapt to the new user experience.
2. Heightened need for social contact. Social Distancing has heightened consumer need for social connection. As a way of "connecting," screenager, millennial and Gen X consumers are currently spending more time developing and uploading their own videos on platforms. Twitch reported new records across concurrent viewers and channels in addition to total time watched. Production of videos made a step change leap from February to March with active streamers growing from 3.7MM to over 5MM. [8] Given this, brands might consider sponsoring the relevant content of gamers that aligns with their brand, much like that of influencers.
3. eSports Infrastructure development. eSports requires some "infrastructure" development. For better or worse, the pandemic has exposed some weaknesses of the high-growth eSports marketplace. With the multitude of teams, leagues and game platforms on a global basis, casual fans of eSports have had difficulty keeping track of shifts in events. As the complexity of audience engagement options continues to evolve, there is an opportunity to aggregate where, when and how (devices/channels) potential consumers learn the status of planned and cancelled events outside of niche industry publications and social media influencers.
4. Earning continuing place in marketing budget. Business priorities are shifting as the economic impact of COVID-19 reverberate around the globe. Among those facing pressure on marketing budgets are some smaller brands which were among the earliest eSports sponsors. The question remains as to whether these early adopters of the space will be able to stay the course or instead back out considering the economic challenges. If they reduce investments, this could create a shift to larger brands changing the character of the eSports sponsorship space. This may provide a short-term affordable opportunity for other brands, especially larger ones, to add an eSports position to their sponsorship portfolio.
Amateur Game Play and Social Behavior
As work-from-home and school closure precautions become the norm for some time, multi-player games, connected consoles and mobile apps have become a social outlet for those displaced from the everyday routine of meeting with friends and coworkers. By example, Counter-Strike: Global Offensive recently topped 1 million concurrent users with rapid growth from January to March this year. [9] Social media site Snapchat has reported a 50% increase in video calls during this lockdown period. [10] Consumers are seeking social outlets across several platforms.
While the gaming industry has often been the subject of criticism for distracting youth with too much screen time and erroneously cited as a source of violent behavior, it's recently been endorsed by the World Health Organization, [11] the very same organization that cautioned the public about gaming addiction. In a moment of self-awareness, gaming brands have coalesced around the concept of gaming as a social outlet with a messaging campaign called #PlayApartTogether. Altogether, 18 companies in the game industry, including Activision Blizzard and streaming platform Twitch, are partnering through the #PlayApartTogether campaign to disseminate WHO guidance on how to slow the spread of COVID-19.
When internet users were surveyed to determine how their entertainment habits are being modified due to the COVID-19 outbreak, along with more television viewing, about a quarter indicated they are spending more time on video games. [12] Forbes reports that internet usage is up 70% and streaming up 12%, [13] while TechCrunch reported video game usage up 75% during peak hours as most Americans spent their first week home. [14]
The Brand Opportunity
In times like these, smart brands should revisit their brand's purpose, position and affinities to understand how to thoughtfully and responsibly apply it to the circumstances. If there is a fit, now is the time to more broadly apply these for the social good and help disseminate valuable and correct information to alleviate fear. In particular, brands that already partner with and sponsor eSports and gaming are in a unique position to reach a younger demographic that may be skeptical that social distancing, hand washing and staying at home makes a difference to combat the COVID-19 pandemic.
The messaging and delivery need to be carefully managed. Brands can adjust promotional messaging relative to a sponsorship and shift to a more public-service messaging framework. Brands already engaged with the spectrum of eSports properties can leverage the #PlayApartTogether to further deepen the connection with gaming.
A recent survey by marketing and communications firm Edelman [15] indicates an opportunity for not only educating the public on prevention but also on coping with pandemic-related life changes such as isolation, change in routine and the stress of economic impact. Brand safety can be more challenging for those leveraging programmatic media buys for delivery because of the lack of control for media placement. Consideration for the context of the message is critical to ensure a brand doesn't come off as "tone deaf."
Positioning Brands for Future Success
Successful brands are always planning how to position themselves for future success, regardless of the challenge of current circumstances. As traditional sports sponsorship opportunities built around the routine gatherings of 20,000- to 100,00-person stadiums within baseball, basketball, hockey, motorsports and football, there may be a question as to when and to what extent the public is willing to gather in such spaces for the next one to three years. While these relationships typically involve a media component, one can't deny the value of the in-person, tactile element of the sponsorship activation. As such, the dynamic of the contract and the sponsorship position in the marketing portfolio should be reviewed. If the brand and business determine the value equation falls short of expectations, then augmenting the traditional sports sponsorship portfolio with virtual eSports sponsorships should be considered as a hedge against the short-term lower audience participation in physical team and league events. Apart from teams and leagues, another growing sponsorship opportunity is eSports veteran players who have increased their followings by as much as 800,000 in the month of March. [16]
An example of player opportunity is professional athletes turning to eSports to engage with fans, stay relevant and explore the sport. The NBA 2K Players Tournament on ESPN and ESPN2 demonstrate how professional athletes in the real world can foster audiences in the virtual one.   In addition, athletes playing crossover games such as COD: Warzone, Fortnite and others have gained momentum during this period of isolation and will further serve to broaden the appeal of eSports.
Summary
There are many unknowns with respect to the impact of this pandemic on lifestyle, work environments and the economy. This is clearly a tipping point for virtual engagement including eSports. While consumption of eSports content has been quickly growing, its acceleration is indicative of the future. There is little expectation that this trend will reverse post pandemic.
While it is too early to fully quantify the benefit to marketers, there are two sources of evidence from which to draw parallels:
Marketers who find ways for their brands to continue to engage with consumers during times of uncertainty tend to outperform those who don't. [17]
Brands which play early in media where consumers are moving tend to win.
In real time, eSports is a brand opportunity for both. The eSports industry should take full advantage of this moment in history to capitalize on the new consumer pipeline of trial activity. Certainly, the players and teams will benefit from the continued massive acquisition of new fans and followers, providing nimble marketers a unique window of opportunity for sponsorship deals.
Virtual participation for brands going forward will be less about contingency planning and more about integrated audience engagement regardless of audience location. As brands re-evaluate their brand purpose, assess the competitive marketplace and determine which levers in the marketing portfolio are best driving awareness, brand preference and conversion to purchase, they should be looking to both the near- and long-term horizon for opportunities to differentiate themselves and efficiently impact their target audience. At this time, many brands will find value in leveraging eSports to build out and rebalance their sponsorship portfolios.
About The Authors

Henrik Christensen, MASB Advisor, is the former VP Global Insights, Foresight and Analytics at Molson Coors where he led a team that created enterprise-wide capabilities on advanced analytics, shopper and consumer insights. Key responsibilities included global insights partnerships, consumer/sales testing tools, marketing mix modeling and other advanced analytics. He stewarded Molson Coors' global insights and analytics ambition and was a member of its enterprise growth team. He's a member of MASB's Sponsorship Accountability Metrics (SAM) team and drives best practices in sponsorship from inception of strategy to implementation of measurement protocols.

Karen Ebben, MASB Director, is President of Global Marketing Impact, LLC. An award-winning Fortune 100 Marketing and Advertising executive with 20+ years of global analytics, research & consumer insights experience, she is a consultant specializing in improving marketing effectiveness. Previously, she was Director of Global Advertising & Marketing Effectiveness for General Motors, where she accelerated improvements in marketing accountability. Her work has earned Cannes, AME, DMA and Effie recognition. Karen's sponsorship experiences span negotiation, strategy, activation & measurement of Olympics, Golf, Fashion Week, Motorsports, Disney Test Track and other entertainment and cause related venues. She co-leads MASB's Sponsorship Accountability Metrics (SAM) and Marketing Metric Catalog (MMC) initiatives.

Mike Wokosin, MASB member, is a 20+ year marketing veteran with deep expertise in digital marketing, analytics and omni-channel customer engagement across retail, media & entertainment and CPG industries. He currently helps Fortune 500 businesses navigate rapidly evolving customer journeys through measurable digital engagement. As an Adjunct Lecturer at the University of Iowa's Tippie College of Business, Mike delivers coursework in digital strategy and new product development. He earned his undergraduate degree at Tippie College and his MBA in Marketing and Operations from the University of Chicago Booth School of Business. A member of MASB's Sponsorship Accountability Metrics Project, he drives best practices in sponsorship from inception of strategy to implementation of measurement protocols.
MASB Sponsorship Accountability Series edited by Frank Findley and Erich Decker-Hoppen
REFERENCES
[1] Average gamer is 34, 70% over 18 and 45% women techjury while March Madness is a four quadrant media event viewed increasingly online. PCMag & Cadent
[2] Esports events delayed, cancelled as coronavirus spreads. GameIndustryBiz
[3] Call of Duty and Overwatch League shifting to online-only games. The Verge
[4] Source: Stream Hatchet as reported by CNN.
[5] Steam Hits All-Time concurrent user peak over the weekend. The Verge.
[6] Source: NFL as reported by CNBC
[7] NBC eSports Short Track iRacing Challenge to debut Monday. NBC
[8] TwitchTracker
[9] Counter-Strike Global Offensive Breaks 1M Concurrent Player Mark. THE ESPORTS OBSERVER
[10] Snapchat Sees Higher Usage Amid COVID-19 Lockdowns, Outlines Key Trends of Note. SocialMediaToday
[11] Video games can be a health social pastime during coronavirus pandemic. USA Today
[12] GlobalWebIndex Coronavirus Research April 2020 Series 4: Media Consumption and Sport GWI
[13] COVID-19 Pushes Up Internet Use 70% and Streaming More Than 12%, First Figures Reveal. Forbes
[14] Despite pandemic, gaming is well positioned to withstand recession. TechCrunch
[15] Trust Barometer Special Report. Edelman
[16] Follower Growth. TwitchTracker
[17] Marketing's Vital Role in Tackling the Covid-19 Pandemic, MASB