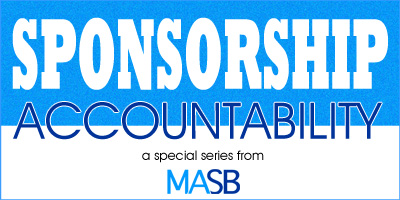 Part 1 provides an overview of the current state of sponsorship use and management.
Part 2 explores the long-term nature of sponsorship relationships and the resulting importance of fit between properties and brands.
Part 3 establishes the importance of developing the business case for sponsorship as well as contractual considerations.
Part 4 sets forth best practices in sponsorship stewardship and activation.
Part 5 provides an examination of the measurement of sponsorships.
Part 6 explores eSports as a fit for a brand's sponsorship portfolio.
Part 7 addresses the COVID-19 pandemic and complements the previous installment on eSports.
Part 8 examines the role social media plays in managing and measuring sponsorships.
Part 9 reviews the emerging opportunity from student-athlete "rights to publicity" decisions.
Part 10 looks at what we learned from the first year of college athlete sponsorship.
Introduction
In August 2020, MASB released Part 9 in its Sponsorship Accountability Series on the emerging opportunity of college athlete sponsorship. Titled Name, Image, Likeness AND Influence – What Brand Owners Need to Know About Sponsoring Student-Athletes, it sought to prepare brand owners to take full advantage of initial NIL+I opportunities. As the first major industry investigation of the topic, it provided educated predictions of how the area would develop. These included the role each student-athlete's sphere of influence would play in the sponsorship deals, the breadth of sponsorship across divisions and sports, and the possibility of first mover advantages for brands. Now that one academic year has completed, it is appropriate to look back at what has taken place and document the lessons learned.
NIL Compensation Greenlit by Courts, States and NCAA
As nearly 500,000 NCAA athletes returned to campus in Fall 2021, they had a new subject to master – name, image and likeness. A mid-summer Supreme Court decision created the opportunity for student athletes to build a personal brand, create value over time and monetize their social media following by getting paid for their influence. For institutions, agencies and marketers, new business opportunities and risks emerged to expand their marketing footprint through this strong influencer community.
The unanimous June 21st Supreme Court ruling upheld the lower court's decision that NCAA restrictions on "education-related benefits" for college athletes violated antitrust law. A fast follow NCAA Division I Board of Directors policy on June 30th provided guidance for name, image and likeness (NIL) as an interim policy for all NCAA Division I, II and III student-athletes to be compensated for their NIL beginning July 2021. This policy came into effect whether their state had a NIL law in place or not. It is now legal for any brand, business or person to pay an athlete to endorse or represent them. Personal appearances for a business to draw awareness and traffic in exchange for cash or barter was suddenly in step with NCAA policy and not a violation putting athlete eligibility at risk. Any form of advertisement was also made legal.
Given this landscape, significant uncertainty and even chaos were bound to emerge. Wall Street Journal reporter Jason Gay recently summed up the NIL situation by stating, "In the meantime, it's going to be a roller coaster. Is it going to get messy? You bet. Will there be scandals? Of course. Will there be regulation? Of course, there will be regulation. A better question is: Will there be enforcement?" [1]
"Wild" Kickoff to NIL Sponsorship Deals
Like professional athletes and actors, a collegiate player can now use his/her "celebrity" at a school to make money. Athletes can also sell their own merchandise or personally branded clothing freely and independently of the schools. Or as in the case of Marshall's Will Ulmer, who has some talent as a musician, they can now be paid to perform as such. Ulmer was not able to earn money using his own name under previous NCAA regulations. He had been going by "Lucky Bill" to avoid NCAA eligibility regulation, but now he can book gigs using his real name.
Michael Zoerb, Opendorse Vice President of Brand and Channel Partnerships, discussed the potential for a "very wild start to the NIL era" in a June 2021 MASB Expert Panel. [2]
Zoerb's premonition has proved true as the combination of court ruling and limited NCAA guidance kicked off the intersection of land grab and gold rush for compliance/athlete-brand deal-making platforms and NIL management services. At the same time, some schools were left flat-footed while others were poised with education and training infrastructure to support returning athletes. Some universities, such as Rutgers [3] and Purdue, [4] [5] quickly implemented educational programs to not only help their collegiate athletes manage NIL engagements but also to foster the development of lifelong entrepreneurial skills.
As exhibited by attention-grabbing headlines, many athletes had also prepared for this moment in the summer of 2021. On June 30, Sports Illustrated reported that Antwan Owens, a Jackson State defensive end, became the nation's first athlete to sign an NIL deal. At a midnight announcement in NYC, he signed the deal with Three Kings Grooming, a black-owned hair product shop. [6] On August 31, ESPN reported that Quinn Evers, a quarterback recruit for Ohio State, signed a massive $1.4 million NIL deal after skipping his senior year of high school to attend the Buckeye school. [7] The deal has a three-season duration with GT Sports Marketing, an agency that creates sports-centric events featuring current and former athletes for the purposes of fan photographs, autograph signings and appearances. The GT Sports Marketing deal, while Evers largest, follows on the heels of a Columbus, OH based automobile dealer delivering a tricked-out Ford F-250 Tremor to him in exchange for endorsement. [8] Another example is Master P's son, Hercy Miller, an incoming freshman for Tennessee State. Miller reportedly inked a $2 million deal [9] with tech company Web Apps America, making his contract the largest at that time.
Sponsorship Deals Diversify in Size, Scope and Division Level
While these early headlines brought a lot of attention to the NIL topic, they did not paint a complete picture of the types of deals being made.  This led to some early criticism suggesting that NIL deals only benefited a small number of college athletes in the most popular team sports at the largest universities. But as the 2021 NCAA season got underway, it became clear that there was a broad range of additional deals, large and small, as athletes, their NIL agents, and brands became more comfortable with the collegiate athlete sponsorship landscape.
At the MASB Fall Summit on November 11, 2021, Michael Zoerb provided a summary of NIL deals through their platform for the first three months. [10] Through September 2021, 50,000 collegiate athletes had joined the platform. These athletes hailed from over 500 educational institutions and participated in competition at all three NCAA divisions. Of those, 20 percent had already executed NIL deals.
In contrast to the handful of the largest deals prominent in news stories, the data showed a much broader distribution with a preponderance with lower deal sizes – the average for NCAA Division I athletes being approximately $500, NCAA Division II $80 to $100 and Division III $30 to $50. These deals were typically tied to some type of social media interaction, indicating the importance of the athlete's influence playing a key role in sponsorship deals.
More recent data released by Opendorse suggests that this growth continues with the platform now serving over 70,000 student athletes with similar compensation levels. [11] Driven by these trends, marketing engagements for NCAA athletes collectively was estimated in March 2022 to have become a $500 million business that continues to expand. [12]
Compliance Solutions are Now a Major Focus Along with Need to Recognize Compensation Streams and Measure Student Athlete Influence
This large volume and broad range in compensation has brought more unanswered questions on compliance, athlete support, and the deal structure for these new sponsorship opportunities. Compliance solutions have quickly emerged as athletes are required to disclose all NIL deals to their athletic compliance department to ensure that each deal follows state NIL law (or, in the absence of a state NIL law, the school's own developed NIL policy). Many schools are now utilizing apps like Opendorse, Dreamfield and INFLCR which act as streamlined portals for athletes to upload their NIL contracts so they can be reviewed and approved by school compliance departments. With no federal regulation yet, a patchwork of restrictions (e.g., no promoting alcohol) vary by state, and compliance policies (e.g., how athletes report NIL deals) remain largely up in the air as only 25 states have passed NIL bills.
Education and training for athletes have continued to innovate as is the case in the University of Nebraska's Ready Now [13], the University of Iowa's NIL Flight Program [14] and Florida State's APEX NIL program [15] among others. Programs like these are extremely useful for athletes and organizations navigating the complexities of intellectual property issues that may impact the athlete's branding. NCAA college athletes also need to consider their commercial use of university logos, trademarks or other copyrighted materials. Programs such as these are helping create a safer, more fluid marketplace for brands to participate. With these guiderails in place, some universities are now even allowing their logos to be used by athletes within the context of NIL deals. Other universities have created separate NIL intellectual property augmenting the lines created by the athletes themselves.
The opportunity for clothing brands to do joint projects directly with student athletes is burgeoning. A prominent example of this is Iron Joc's NIL brand ambassador deal with Wisconsin Badgers running back Braelon Allen. The Wisconsin-based sportswear company featured Allen prominently in their television, radio and digital marketing that highlighted their expanded lineup of performance gear. In numerous pieces on social media, Allen explained the strong brand fit inherent in this partnership.
According to search and social media metrics from Kantar Digital (Dx) Analytics, Allen registered over 22.5K social mentions and 244K branded searches from October through December 2021. [16][17] Iron Joc owner and founder Paul Hanson has credited Allen with tripling their sales since signing on. [18]
Braelon Allen wasn't the only collegiate athlete putting up organic branded search numbers in the hundreds of thousands. Other examples from the same time period are McKenzie Milton, 115K; Graham Mertz, 115K; Cade York, 293K; Quinn Ewers, 972K; Travis Hunter, 1.1M; and Caleb Williams, 1.2M. Across these same individuals, net sentiment scores ranged from 55% to 79% with an average of 69%. This suggests that early worries of NIL deals being viewed negatively by the public were misplaced. In fact, some collegiate athletes such as Kevin Coleman, Hanna Cavinder and Haley Cavinder have regularly hit net sentiment scores over 90% during the past year.
On the deal front, arriving at the right relationship structure and fair market value are always challenging in negotiating sponsorship and endorsement agreements. Emerging marketplaces and nascent celebrity value present more risk for athletes and brands.
Over time, the value or pricing risk will be mitigated as the NCAA-NIL guiding principle requires that athlete earnings for each deal must fit within the bounds of "fair market value." It will take time and deal volume to allow market forces to establish these norms across local and national brands and among athletes with varying appeal and notoriety. Compliance platform reporting and transparency will need to become more readily available to establish de facto rate cards.
Among this same group of marketers, agents and athletes, there is growing consensus that an athlete's influence via social media will be one of the core drivers of market value. A potent example of this has been seen in women's basketball. According to Opendorse, 18.5 percent of NIL dollars went to women basketball players, ahead of the 15 percent for men basketball players and second only to football players. [19] Mit Winter, a Kansas City-based sports attorney, observed that "many of the women's players have large social media followings that are demographically desirable to brands. As brands become more comfortable with doing NIL deals, many of them will gravitate towards women's basketball players for this reason."
Given this, it is critical that brands assess the brand fit with the athlete and their organization as outlined in Part 2 and define the right business case as articulated in Part 3 of the MASB Sponsorship Accountability Series.
Local and Regional Brands Led Way with Some National Brands Experimenting with Leveraging Student Athletes' Influence
Since this market opened at the end of June, local and regional brands have been quick to enter into agreements, while national brands have tended to tread more lightly in the student athlete sponsorship space. The combination of brand risk, uncertain value assessment, and market-based influence are factors at play. Four notable exceptions to national brands not engaging in large-scale NIL campaigns come from KraftHeinz's Velveeta, Arby's, Unilever's Degree, and PetSmart.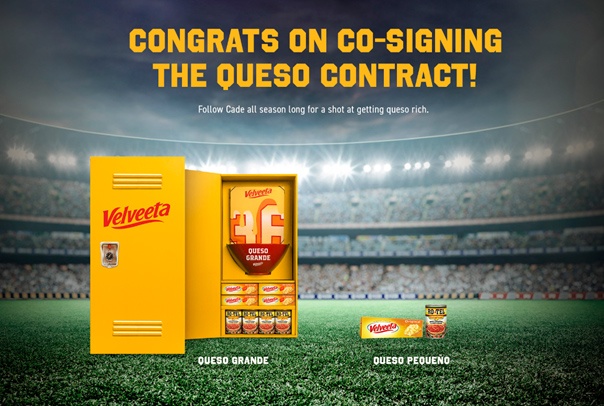 Velveeta, represented by Publicis and supported by Collegiate Sports Management Group's managed service, was able to generate a reportedly sizable ROI from its endorsement deal with LSU junior kicker Cade York. York was featured prominently within the Velveeta marketing campaign for its "Queso Contract" contest.
Based on York's performance, participants had the opportunities to win a jersey, a Queso Grande serving bowl, 12 blocks of Velveeta cheese and 12 cans of RO*TEL® tomatoes. York, who Velveeta calls "the king of clutch," excelled through the first half of the 2021 season, concurrent with the campaign. He twice broke the longest field goal record in Tiger Stadium on September 11 during LSU's victory over McNeese; with a 55-yarder in the second quarter and a 56-yarder in the fourth quarter. He also made all 13 of his point-after-touchdown (PAT) attempts. York continued to post on social media throughout the season about his Velveeta endorsement deal and has garnered over 2 million views of his endorsement video.
Another popular campaign is Arby's RBs for Arby's which invited running backs from all NCAA Division I schools to receive their sponsorship through a streamlined process.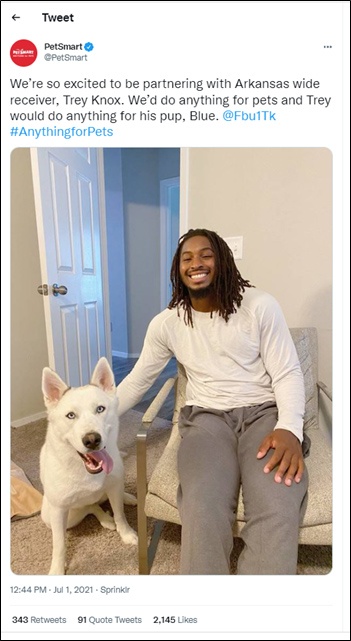 PetSmart partnered with junior wideout Trey Knox for a social media advertising campaign. Highlighting the relationship between him and his dog Blue, Trey found a strong fit with his sponsoring brand. "I have always been proud to be a student-athlete and an Arkansas football player, but I am just as proud to be a dog dad to Blue… It was a clear fit to work alongside PetSmart in this game-changing opportunity showcasing my love of Blue and how PetSmart fills all her needs." [20]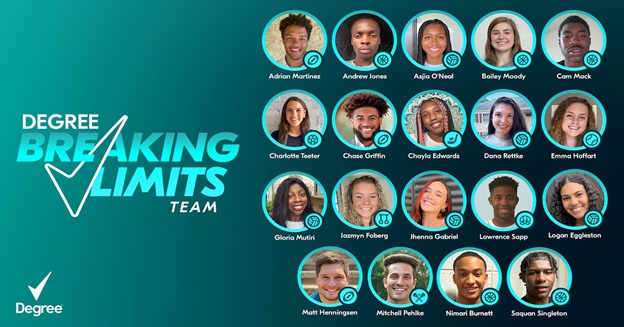 A Unilever program utilized NIL+I as part of a wider purpose-led initiative. [21]  Committing more than $5 million to "inspire more people to move beyond their limits" by supporting "those who face the biggest barriers to being active and provides them access to coaches and mentors, along with safe spaces to move." As part of this, they formed the Degree Breaking Limits Team featuring college athletes from a variety of sports.
Supporting Societal Causes Proves a Natural Fit for Student Athletes
Collegiate athletes have also used their endorsements to fuel contributions for societal causes. A prominent example of this was collegiate athletes using their "NIL voices" to raise money for victims of the tornadoes that devastated much of western Kentucky. Athletes at the University of Kentucky collectively raised over $4 million through a telethon. [22]
Another exemplar of this is J. J. McCarthy, a University of Michigan freshman, who pledged to donate a large portion of his NIL earnings to charity. He quickly made good on the pledge through his J. J. for the Kids Foundation. [23]
Emerging Branding Opportunities and Challenges
As this marketplace expands and matures, athletes, institutions and businesses will gain comfort with process and will see outcomes with which to base future discussion. At the same time, athletes will become more sophisticated at building their brands, and both find new and unique ways to leverage this newfound influence. One of the most interesting aspects of this new dynamic is group-vs.-individual sponsorship and co-branded agreements with institutions.
In the win-win-win category (win for the athlete, win for the university, win for the sponsoring brands) is the groundbreaking BYU Built Bar agreement. [24] The agreement positions the brand as an educational partner by taking care of every walk-on's tuition in exchange for social media and promotional participation. The deal also offered a brand ambassador role to every player on the team (136 Cougars) for $1,000 in exchange for Built branding on their helmets and participation in company events. The walk-ons will also do additional social media posts and other promotions. Some institutions like North Carolina are still putting the structures in place to allow athletes to benefit from their NIL in conjunction with UNC's official trademarks and logos through a voluntary group licensing program. [25] It will be up to the athletes themselves to manage the possible brand conflict and/or exclusivity.
While some marque players are generating million-dollar attention, offensive lines are signing group deals with regional restaurants. [26] Yoke Gaming, in the meantime, has signed 4,000 athletes to an app platform that allows fans to pay to play video games with college and professional athletes. [27] In the longer term, institutions with large fan followings will have greater potential to create enduring relationships with video game platforms that will benefit their brands and provide other possible revenue sources for athletes, creating a more viable NIL+I platform at the university/college level. Deals like these are unique as they position the athlete as a partner of the university instead of its Saturday athlete.
An interesting dynamic here is that NIL+I further complicate brand decision-making and may well lead brands to pay more attention to schools outside the Power 5 conferences. It will be more economically viable for a brand to secure the rights, marks and logos, along with media and athletes from these alternatives. This will enable brands to build a moat around their marketing program and keep competitors at bay.
Collegiate Sports Management Group is a company which focuses outside the Power 5 and brings expertise and proprietary relationships in NIL. CSMG Chief Operating Officer Ray Katz, an author of this article, provides this example of a diverse athlete approach: "My observation to date related to brand execution of NIL is that marketers have had an unwise reliance on signing up 'big name' athletes and hoping they perform well and get exposure and publicity. A wiser approach might be focusing on female and male athletes who have huge social followings and may not be superstars but exert great influence on brand choice by thousands if not millions of people. For example, if I am representing a financial services company, I might want to sign up the team captain of all men's and women's teams across sports and levels to communicate the presumption of being the leader in this service category."
Another example of broad opportunity may come from DEI. As brand-based Diversity, Equity and Inclusion programs become more consumer-facing, we may expect more engagements like MaximBet's statewide NIL deal available to every NCAA Division I, II and III female athlete over the age of 21 in Colorado. [28] Both the CSMG and MaximBet examples illustrate exceptions to the decades old formula of using standout football and basketball stars in what has overall been a surprising lack of creativity so far for NCAA NIL+I agreements.
One potential challenge to brand engagements with student athletes is the rise of booster collectives. These are alumni and fans who pool resources to compensate student athletes, presumably to influence talented players to choose to play for the university they support. A charge levied against these organizations is that they are using NIL to skirt longstanding NCAA restrictions on pay-to-play. [29][30]
These arrangements have the potential of displacing brand sponsorships and boost claims that student athletes are employees. The end result could be the replacement of hard-fought NIL rights with federal regulations that convert student athletes into unionized workers – an effort which has been fought against for a decade. [31][32] This is a reminder that the NIL landscape is still evolving and that compliance with the guiderails will play a growing role in stabilizing the marketplace going forward.
The Rise of the Entrepreneur Athlete
A beyond-the-books opportunity for student-athletes is that they now control their own branded businesses fueled jointly by their social media savvy and their success on the field, court or mat. Careful consideration for the value of their personal brand, protection via trademark, thoughtful crisis management, and appropriate tax considerations are sure to be placed in the domain of the NIL+I management suite.
The more entrepreneurial athletes have already formed their own apparel brands and co-branded merchandise. Wisconsin QB Graham Mertz became the first college athlete to release a trademarked personal logo. [33] University of Miami Hurricanes D'Eriq King may be the leader here with the first NCAA student-athlete to sign an NIL+I deal with a major pro sports team. As part of the deal, King will appear at Panthers games and events, and will be featured on the team's social media channels. The deal also includes co-branded merchandise and a personalized concession item at home games. Still others are experimenting with the emerging non-fungible token (NFT) marketplace. For example, Florida State quarterback McKenzie Milton has released digital trading cards. [34] To be sure, many other college athletes will soon follow Milton's lead.
How will the Marketplace Develop Further?
The question remains as to what this marketplace will become as it matures. Four aspects impact the brand decision process:
Timing – Even in the best of economies, brands tend to carefully plan and execute on an annual basis. Budgets and marketing operations structures have limitations for movement in the 3rd and 4th quarters.
Risk Management – The combination of little-known student athletes representing brands, unknown business outcomes and potential compliance pitfalls present risk to brands.
Portfolio Management – National, sponsorship savvy brands evaluate opportunities on a portfolio basis. In addition to the business case and brand fit, these new partnerships will need to have strategic purpose in the brand portfolio. [35] This thoughtful analysis takes time and, in many cases, a trade off with existing relationships.
Measurement – If the lynchpin to NIL value becomes only social media impressions, brands seeking revenue accountability rather than media equivalency for their sponsorship investment [36] may stay on the sidelines (pun intended). Clear outcomes tied to business value will spur more growth. There is already movement in this direction as demonstrated by the earlier cited Kantar research.
Attention to the above four aspects, as well as utilizing the resources of both software platforms and managed service providers, will be crucial for brands and their agencies to succeed in the NIL+I landscape. With investment in supporting systems and prudence in decision making, they can avoid the numerous landmines inherent in NIL, while capitalizing on the power of college athletics through the influence of a portfolio of college athletes exhibiting strong brand fit.
---
FOOTNOTES
[1] Wall Street Journal, Nick Saban, Jimbo Fisher and the Comedy of College Football's 'Chaos' Coaches are agitated and lashing out about NIL. The sport only has itself to blame; May 20, 2022.
[2] MASB, NIL for College Athletes – Is there a first mover advantage for sports marketers? Jun. 30, 2021.
[3] SBNation On The Banks, Rutgers announces partnership and NIL platform, Jun. 30, 2021.
[4] Teamworks.com, Purdue Athletics Launches EMPOWER, Powered by INFLCR Verified, May 19, 2021.
[5] PurdueSports.com, Purdue Athletics to Develop Comprehensive NIL Program with Altius Sports Partners, Sep. 21, 2021.
[6] Sports Illustrated, Jackson State DE Signs Historic Midnight Endorsement Deal as NIL Floodgates Open, Jun. 30, 2021.
[7] ESPN, Ohio State Buckeyes QB Quinn Ewers has NIL deal for $1.4 Million, source says,  Aug. 31, 2021.
[8] Outkick,, OSU QB Quinn Ewers Lands Supercharged F-250 in NIL Deal, Aug. 28, 2021.
[9] Sports Illustrated, Hercy Miler, Master P's son, signs $2 Million Deal after NIL Law Change, Jul. 2, 2021.
[10] MASB 2021 Fall Summit, Sponsorship Accountability Panel Name, Image, Likeness + Influence, Nov. 11, 2021.
[11] Opendorse, NIL Insights, Apr. 30, 2022.
[12] Bloomberg Business Week, Bloomin' Onions, Dodge Durangos, and Six Figure Paydays: College Athletes Finally Make Some Cash; Ira Boudway and Kim Bhasin, Mar. 18, 2022.
[13] Huskers.com, Nebraska to Launch Industry-Leading NIL Program: #NILbraska, Jun. 3, 2021.
[14] HawkeyeSports.com,  Iowa Announces NIL Program: Flight, Jun. 25, 2021.
[15] Seminoles.com, Athletics Announces Comprehensive APEX NIL Program, Apr. 12, 2021.
[16] Analysis based on Kantar Digital (Dx) Analytics covering nineteen collegiate athletes over 2021.
[17] Methodology: Social Mentions on Twitter, Forums, Blogs, News and Google Branded Search were gathered for nineteen college athletes in 2021 using Kantar Dx proprietary tools. Net Sentiment was used to understand how positive (100%) or how negative (-100%) an athlete was viewed.  Branded Searches include measured searches that included the student athlete's recognized name.
[18] Brandon Kinnard NBC26 Green Bay, Sensational season turns Braelon Allen into big business, Feb. 25, 2022.
[19] On3, With NIL, women's basketball players doing better than male counterparts, Apr. 1, 2022.
[20] 24-7-Sports, Arkansas WR Trey Knox lands promotional deal with PetSmart, Jul. 1, 2021.
[21] PR Newswire, Unilever Lays Groundwork for Purpose-Led Approach to Working with College Athletes with First Campaign from Degree Deodorant, Jul. 1, 2021.
[22] Larry Vaught, The State Journal, UK Athletics help raise over $4 Million for western Kentucky tornado victims, Dec. 23, 2021.
[23] SI.com, JJ McCarthy Donates Large Sum of NIL Money, Christopher Breiler, Wolverine Digest, Dec. 2021.
[24] BYUCougars.com, Football Touts Groundbreaking NIL Agreements with Built Brands, Aug. 25, 2021.
[25] GoHeels.com, UNC and the BRANDR Launch Group Licensing Program for Current Student Athletes, Jul. 20, 2021.
[26] Fighting Irish Wire USA Today, Notre Dame's offensive linemen find perfect NIL partnership, Jul. 7, 2021.
[27] Yahoo News/GatorsWire, Several more Florida student-athletes announce NIL deals, Jul. 2, 2021.
[28] Forbes.com, MaximBet Offers NIL Deal to Every NCAA Female Student Athlete in Colorado, Sep. 28, 2021.
[29] CBS Sports, Inside the world of 'collectives' using name, image and likeness to pay college athletes, influence programs, Jan. 26, 2022.
[30] CBS Eye on America, NCAA Athletes Navigating NIL Rules, May 15, 2022.
[31] CBS Evening News, Federal agency says college athletes have right to unionize, Mar. 26, 2014.
[32] Forbes, Why Congress Should Pass A Bill Granting College Athletes The Right To Unionize, Jan. 3, 2021.
[33] Buckys5thQuarter, Graham Mertz has a logo now, like a damaged super hero, Jun. 28 , 2021.
[34] ESPN Andrea Adelson, Florida State's McKenzie Milton, Miami's D'Eriq King join in on NIL platform Dreamfield, Jun. 30, 2021.
[35] TheMASB.org, Sponsorship Accountability Part 4: Driving Sponsorship Value with Stewardship and Strategic Activation, Nov. 20, 2019.
[36] TheMASB.org, Can Social Media Drive Accountable Sponsorship?, June 29, 2020.
Further References
Liberty University Law Review, An All-Encompassing Primer on Student-Athlete Name, Image, and Likeness Rights and How O'Bannon v NCAA and Keller v. NCAA Forever Changed College Athletics, Jan. 2015.
MASB, Sponsorship Accountability Pt 9: Name, Image, Likeness AND Influence What Brand Owners Need to Know About Sponsoring Student-Athletes, Aug. 2020.
---
The Authors

Mike Wokosin, MASB member, is a 20+ year marketing veteran with deep expertise in digital marketing, analytics and omni-channel customer engagement across retail, media & entertainment and CPG industries. He currently helps Fortune 500 businesses navigate rapidly evolving customer journeys through measurable digital engagement. As an Adjunct Lecturer at the University of Iowa Tippie College of Business, Mike delivers coursework in digital strategy and new product development. He earned his undergraduate degree at Tippie College and his MBA in Marketing and Operations from the University of Chicago Booth School of Business. A member of MASB's Sponsorship Accountability Metrics Project, he drives best practices in sponsorship from inception of strategy to implementation of measurement protocols.

Ray Katz, MASB member, is Co-Founder and Chief Operating Officer of Collegiate Sports Management Group, a college sports properties group that drives the business performance of college athletic conferences and schools. Founded in 2014, CSMG represents 22 conferences encompassing over 225 colleges and universities, as well as the Eastern College Athletic Conference (ECAC) and National Junior College Athletic Association for traditional sports and esports. Ray is a sports business, media, and marketing luminary with over 25 years of experience, having negotiated deals for multiple blue-chip clients across the college sports ecosystem. He has had leadership roles working for leagues (NFL), networks (The Football Network), teams (NY Knicks, NY Rangers) and agencies (Young and Rubicam, OMD/Optimum Sports). He is also distinguished professor of sport business at the undergraduate and master's levels at Columbia University since 2009. He previously taught at NYU and CUNY with heavy focus on sports media and analytics.

Tony Pace (deceased) was President/CEO of MASB. He brought extensive experience from across the marketing spectrum, in roles of increasing responsibility at advertising agencies and as a marketing leader. At Young & Rubicam and McCann-Erickson, he led brands such as KFC, Coca-Cola and Capital One. In addition to his client leadership responsibilities, Tony oversaw both revenue generation and P/L responsibility as General Manager of McCann Southwest and co-founder of Momentum, IPG's global experiential marketing firm. As CMO of Subway, he grew that brand to #2 in market share in the U.S. and #1 in locations worldwide. During his tenure, Subway's brand value, as tracked by Millward Brown's Brand Z assessment, rose from unranked to #40 (over $22 billion). He earned his undergraduate degree at the University of Notre Dame and MBA in Finance from The Wharton School at the University of Pennsylvania.

Frank Findley is Executive Director of MASB, the Marketing Accountability Standards Board, where he represents the U.S. in the creation of international (ISO) marketing standards. His previous work at ARS group, comScore, and MSW Research resulted in improvements to copytest, tracking, media, and competitive intelligence systems. He is a co-inventor of the patented Outlook media planner. His research has been featured in publications including Forbes, Quirk's, and Accountable Marketing and at ARF, AMA, ANA, IIR and CASRO conferences. He holds a BS in Physics from Purdue University and a MS in Industrial Administration from the Krannert Graduate School of Management.
---
Dedication
The authors dedicate this article to the memory of Tony Pace. Before his untimely passing, Tony contributed significantly to the content of this article and to the general establishment of NIL+I practices.
---
Contributors
The authors would also like to thank the following individuals for their inspiration for, contributions to, and/or review of this article:
Karen Ebben, Global Marketing Impact
Jim Meier, MASB Trustee/Treasurer
Michael Zoerb, Opendorse
Satya Menon, Kantar
Erich Decker-Hoppen, MASB