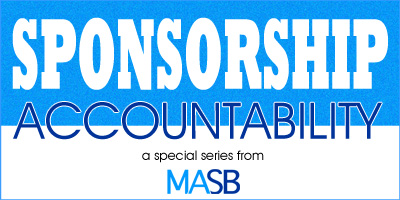 Part 1 provides an overview of the current state of sponsorship use and management.
Part 2 explores the long-term nature of sponsorship relationships and the resulting importance of fit between properties and brands.
Part 3 establishes the importance of developing the business case for sponsorship as well as contractual considerations.
Part 4 sets forth best practices in sponsorship stewardship and activation.
Part 5 provides an examination of the measurement of sponsorships.
Part 6 explores eSports as a fit for a brand's sponsorship portfolio.
Part 7 addresses the COVID-19 pandemic and complements the previous installment on eSports.
Part 8 examines the role social media plays in managing and measuring sponsorships.
Part 9 reviews the emerging opportunity brought about by student-athlete "rights to publicity" decisions.
Part 10 looks at what we learned from the first year of college athlete sponsorship.
In this fourth part, we examine the stewardship and activation aspects of sponsorship.
Stewardship
When there is an over reliance on "auto pilot," the result is often inadequate monitoring with negative consequences. This lesson has been learned many times over in the airline industry. While it may be tempting to assume the bulk of the work has already occurred in getting a sponsorship deal done, neglecting to monitor and modify sponsorship tactics with great stewardship and activation can decrease its value and business impact.
Successful stewardship requires management of the sponsorship relationship to maximize the value delivered and improve its influence among target consumers. As with any good relationship, this entails open and frequent communications, as well as give and take between the sponsoring brand and the sports, entertainment or cause-related property.
Many companies have organizational ambiguity regarding the people, processes and systems that are in place to manage sponsorships. For example, a beverage company may be sponsoring the Dallas Cowboys and the National Hockey League, while a local field team manages the Cowboys sponsorship and the corporate engagement team handles the NHL sponsorship. This may in turn lead to different philosophies and criteria for how to deliver the most value of these sponsorships, individually and collectively. Below is a summary of critical factors that can inhibit or foster excellence in stewardship.
Factors that INHIBIT excellence in stewardship

Factors that FOSTER excellence in stewardship

Indirect or limited relationship with sponsored entity.
Siloed contracts, budgets and measurement, (e.g. media, personal appearances, geographic, wholesale/retail responsibilities).
Lack of tools to track budgets & assets.
Limited business processes to track progress; review results.
Inappropriate behavior by leadership of either entity.

Direct, collaborative working relationship at senior levels between property and sponsor.
Both parties committed to continuous improvement.
Interim business updates on how the sponsorship is performing relative to objectives.
Sponsor has single point of contact or cross-functional team with budget transparency, common objectives, tools to track assets and metrics.
Established business processes to assess and report performance to senior leaders.
Of these, a single empowered point of contact from both the sponsor and property, responsible for the relationship success, is oftentimes the most impactful best practice. When in place, it enables quick, nimble and responsive actions with both parties focused on ensuring success and continuous improvement.
"It is no accident that State Farm's NBA Sponsorship is viewed as a best-in-class major property effort. State Farm's collaborative culture, organizational structure and the fact that sponsorship and media meet under the auspices of an industry thought leader, Ed Gold, a member of the CMO's staff, contributes to the effectiveness, impact and strong ROI of the NBA partnership in particular and all State Farm sponsorships in general. With respect to the NBA, Ed oversees all assets including NBA All-Star Saturday Night, Naming Rights of the Atlanta Hawks arena, content creation for social media, all media buys/announcer desk sponsorship, and athlete/agent commercials such as Chris Paul. The brand's hard work is paying off. According to a survey by Sports Business Journal, fan awareness of State Farm has increased for five straight years."
Ray Katz, Chief Operating Officer, Collegiate Sports Management Group
If it is not possible to have a single point of contact, stewardship success has been demonstrated by sponsors that appoint a cross-functional team – with clearly defined roles – and tools that aid transparency on the budget/costs and performance of the sponsorship.
Take for example the experience of Canada's largest bank, Royal Bank of Canada. [1] They aimed to reach different customer segments across the country through different partnerships, but their existing sponsorship monitoring system made this difficult. Before embarking on a unification program, different criteria and reports were used to evaluate the relationships based on sponsorship fee and geography. Both proposals and partnerships were managed by different stakeholders.
Using Sponsorium's PerforMind™ technology, this was replaced with a streamlined system where all data is in one place in a unified format. This has allowed the Global Marketing Team, all regional marketing managers, and agency partners to collaborate seamlessly when evaluating sponsorships.
"PerforMind has truly been a game-changer. Our entire company, which ranges from local retail bankers to wealth management specialists across the globe, has been able to shift procedures and create measurable results because of this tool."
Director, Brand Marketing Enterprise Sponsorship Strategy, RBC
Aside from making it easier to manage the sponsorship, great stewardship can result in improved impact. Because most sponsorships have multi-year commitments, it is inevitable that unexpected circumstances, unknown at contract signing will occur. Great stewardship can mitigate risk by making such events opportunities. Here are some examples:
Contractual obligations by the property are not being met, while the sponsor needs to deliver value and results.
Changing out underperforming assets (in stadium signage, electronic on-site billboards, print event programs, digital ads, etc.) for those that have higher visibility, traffic and engagement.
When there is a delay in activation due to unforeseen circumstances (weather, construction delays, labor disputes, etc.), alternatives such as make goods, changes in contract length, lead generation, or interim means of engaging consumers can be pursued.
A competitor attempts to ambush the sponsoring brand's efforts and the remedy may be outside the bounds of existing contract language.
A team, player or entertainer temporarily has a set-back. Here, reassurance of the commitment on the part of the sponsor can go a long way towards building trust and flexibility with the property.
Lastly, great stewardship is vital to managing a portfolio of sponsorships—identified as one of the biggest challenges of marketers.
In many cases, a single sponsorship property/entity may not fully deliver on all objectives for the sponsoring brand. Therefore, it is common for a marketer to have multiple sponsorships. When this is the case, however, audience overlap can lead to over-investment on specific target customers. The best approach could then be to sign multiple sponsorships and manage them as one would a portfolio of other assets – diversifying investments across them for the greatest return, both short- and long-term across customer audiences.
A simple criterion for evaluating the sponsorship portfolio is audience reach. However, this has proven limitations since reach does not equal engagement. A more advanced approach is to align the sponsorship investments with the marketing objectives for each audience. To do this, each sponsorship should be assigned a role based on these objectives.
Take for example a marketer with objectives to both acquire new customers and retain existing customers for its brand. For each of these objectives there are specific messaging approaches. A brand team facing this situation would take each of its sponsorship properties and assign investment proportions to them based on how they support each of these objectives. This process considers both the reach to these respective audiences and the ability to engage consumers to achieve the desired behaviors. This can be organized into a Sponsorship Portfolio Investment Decision Matrix and monitored over time based upon the success in engaging the audiences. More details on this will be provided in a future installment on sponsorship measurement.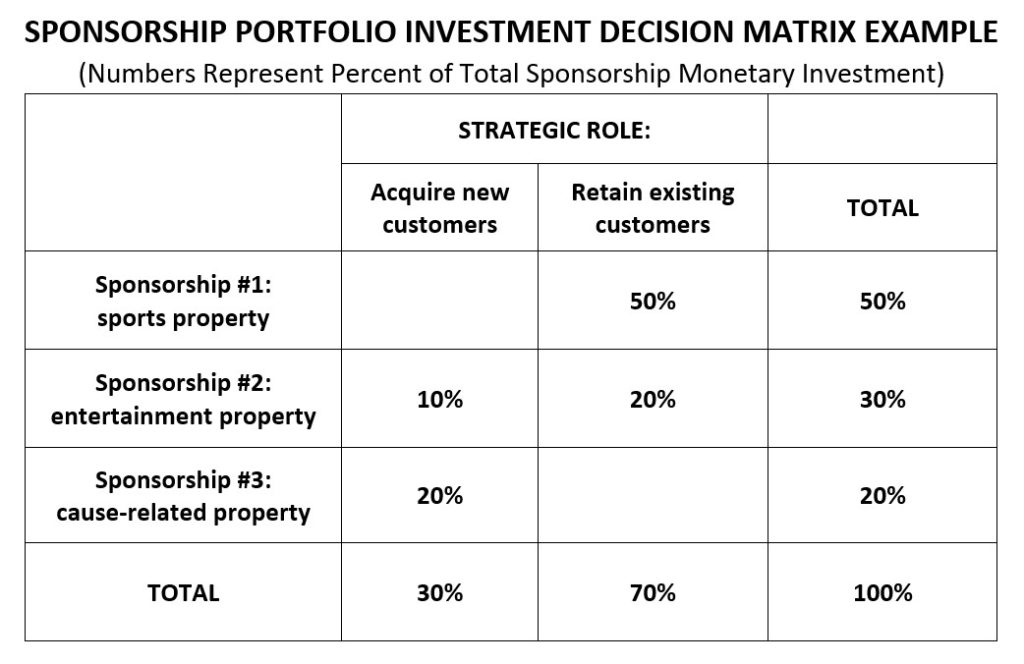 Activation
Much has been written about the coolest, most entertaining, experiential activations. Like a moth attracted to light, a sponsor's excitement about being the first or only brand to deliver such engagement can be quickly copied by another brand if the acid test of successful activation is not met.
Think about this as a brand activation that happens to be within a sponsorship, not a sponsorship that happens to have a brand(s).
What is the acid test? A brand story that is brought to life by the activation and can only be uniquely associated with the sponsoring brand. (If another brand could copy or pay a higher price for the sponsorship, then there has likely not been enough work done in development of the activation story.)
In a worst-case scenario, if the brand story is not fully developed, there is a higher likelihood that consumers will misattribute the sponsoring brand, citing a competitor instead. For a number two or three contender in a given product category, this is particularly acute as sponsorship association may default to the leading brand even when it's not a sponsor at all. Clearly, this represents activation failure.
Through custom consumer research, it is possible to estimate which activation concepts have the best potential to positively influence consumer attitudes and behaviors, as well as correct brand attribution. For this reason, a best practice includes concept testing activation alternatives.
Put into practice, GM's sponsorship of the first test track at Disney World involved great stewardship, due to the delay in the attraction opening, and brand activation concepts that supported the unique contributions of the firm to automotive testing and safety.
Below is a summary of the factors that either suboptimize or optimize brand activation:
Suboptimal Brand Activation Factors

Optimal Brand Activation Factors

Potential misattribution to another brand
Lack of story-telling.
Primary objective of sponsorship is awareness.
Sponsorship decisions based on 'rights fees' that provide access, though not business outcomes.
Lack of activation budget
Activation "ROI" separate from rights and media.
Least expensive activation takes priority without testing appeal, ability to positively change consumer attitudes and behaviors.

Uniquely demonstrates why the brand is involved.
Tactics that enhance the overall value of the sponsorship by fully bringing the brand to life.
Breaks through clutter of other sponsors.
Budget for activation established when sponsorship commitment is made.
Pretesting activation concepts to optimize potential benefit.
Nimbly capitalizes on opportunities to evolve the brand story and why it is there.
Activate social team while event is in progress.
Deploy social and digital to extend the length of the sponsorship, decrease activation costs, and create content as a means of engaging consumers.
Excellence in stewardship fosters agile activation
Example – Keeping the Torch Burning Bright in Hearts and Minds
The value of a sponsorship association and consumers' experience with that sponsorship may last well beyond the initial communication of the association or its activation. Part of stewardship is maximizing the occurrence of these "magic moments."
A case in point is the Coca-Cola sponsorship of the Olympic Torch Relay in 1996. That summer, the Olympics were taking place in Atlanta, the site of Coca-Cola headquarters. The process of transporting the Olympic flame from Greece to the Olympic venue had been used to build excitement and awareness for the upcoming Games for years.
During the lead up to the Los Angeles Games in 1984, the most recent occasion the Games were in the U.S., the torch was featured in several commercials including a well-received spot for Bud Light. That commercial featured two farm workers taking a break from their tasks to acknowledge, observe and cheer the passing torch.
Working with several Olympic organizing bodies, Coca-Cola decided to take the Torch Relay to another level to truly welcome the torch and the Olympics to its hometown. Doing so would not only be hospitable, it would also further deepen the linkage of the Coca-Cola brand to the Olympics. Coca-Cola had been a proud Olympic sponsor since the 1920s. It worked to spread the Olympic message around the world. Generating anticipation and awareness of the upcoming Games was mutually beneficial because greater interest would increase the Olympic audience.
To engage as much of the U.S. population as possible, the strategy was to bring the torch to the people. A complex route was created to move it from its initial port of U.S. entry in Los Angeles to its ultimate destination at the Olympic stadium in Atlanta where it would light the Olympic flame as the culmination of the opening ceremonies. That complex route took the torch to all major population centers and within a two-hour drive of more than 80% of the U.S. population.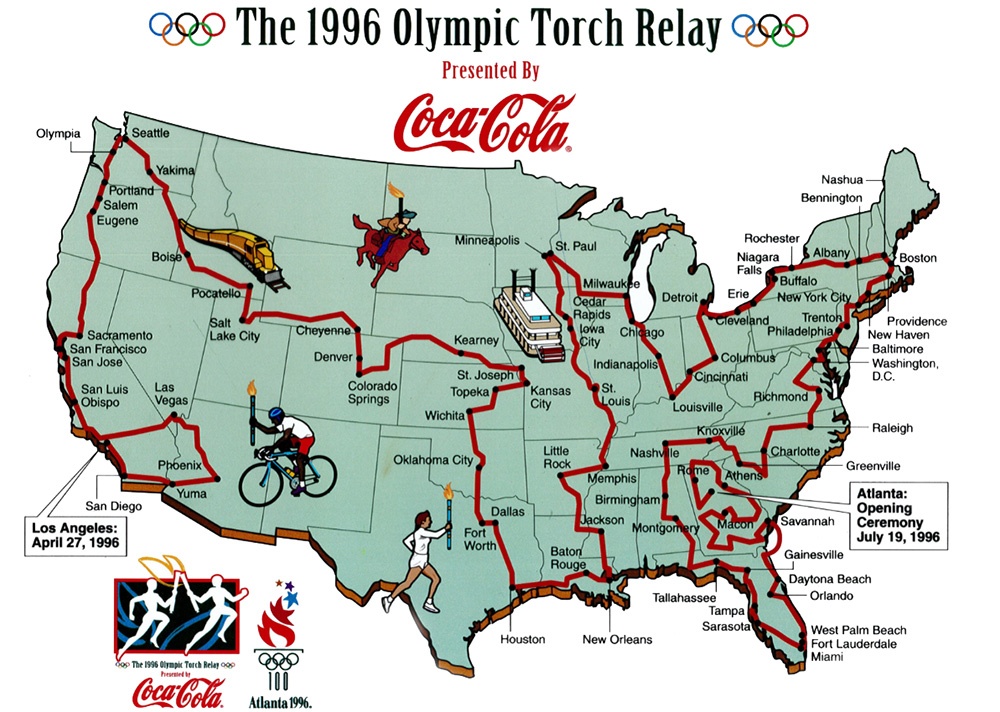 To further make the torch journey a noteworthy local event, local dignitaries, luminaries, media personalities and celebrities were invited to carry it for a short distance, most running a quarter mile. The torch was welcomed by municipalities, businesses and other establishments in multiple ceremonies each and every one of the 84 days the torch traversed the country.
Coordinating these activities, executing the day's events and confirming tomorrow and the next day and next day plans required a team of roughly 70 people. This team was created and managed by Momentum, an upstart experiential marketing firm. The Momentum team made sure the torchbearer slots were filled with good and worthy candidates and the multiple daily events were executed as planned and on schedule.
Importantly, they also created a "bubble of red" around the torch with signage, retail displays and other communications so that the role Coca-Cola was playing in bringing the torch to the people could not be missed.
Despite the success of all these endeavors, there was some debate about the marketing value of the impressions created by the local presence of the Torch Relay to that of advertising about the torch or the Olympics.
That debate shifted based on an experience as the Torch Relay entered Manhattan. Tony Pace, co-Founder of Momentum, had visited the team traveling with the torch several times on its journey. As it entered Manhattan, he journeyed to the upper end of the island so he could welcome the torch and the team. Even in what were considered rough neighborhoods in those days, crowds of more than five deep lined the route.
Wearing an official Torch Relay polo shirt, Pace received many comments from the crowd. Not only were the comments predominantly positive, several had a remarkable message. In the span of a few blocks, three different teens said almost the same thing upon seeing the Torch Relay logo on Pace's shirt. "Mister, thanks for bringing the torch here because nothing good ever happens here."
That changed the debate about marketing value. The question became "How many commercials would it take to create the same brand memory, as expressed by those teens, of Coca-Cola bringing something good and worth lining up to see to their often challenging neighborhood?"
Looking back at that event and its likely lasting effect, Pace says today, "If we could find those teens or others who were in that vicinity when the torch came through, I believe it would still be recalled and continue to be a driver of brand preference for Coca-Cola."
Further evidence of the long-lasting marketing value of the Olympic Torch Relay awaited Pace at Subway where he was later recruited to be CMO. Subway Co-Founder and President Fred DeLuca was one of the high profile torchbearers and his torch and a photo of him running with it is displayed prominently at Subway Headquarters.
"Fred looked back on his participation in the Torch Relay fondly and he recounted his experience many times when asked about it. That response is very representative of torchbearers' sentiment, even all these years later," said Pace. "Those brand memories are powerful, and therefore valuable, but they are also difficult to measure and precisely value."
Stewardship at its best, as demonstrated by Coca Cola's Olympic Torch Relay, seizes opportune circumstances with flexible activation, connecting the sponsoring brand to an audience.
The next installment of MASB's series on Sponsorship Accountability will cover best practices in measurement.
References
RBC invests in Sponsorship evaluation,

sponsor.com/client-case/rbc
About the Authors

Tony Pace is President/CEO of MASB. He brings extensive experience from across the marketing spectrum, in roles of increasing responsibility at advertising agencies and as a marketing leader. At Young & Rubicam and McCann-Erickson, he led brands such as KFC, Coca-Cola and Capital One. In addition to his client leadership responsibilities, Tony oversaw both revenue generation and P/L responsibility as General Manager of McCann Southwest and co-founder of Momentum, IPG's global experiential marketing firm. As CMO of Subway, he grew that brand to #2 in market share in the U.S. and #1 in locations worldwide. During his tenure, Subway's brand value, as tracked by Millward Brown's Brand Z assessment, rose from unranked to #40 (over $22 billion). Tony's goal with MASB is to raise the profile and influence of the organization to the benefit of the marketing community. He earned his undergraduate degree at the University of Notre Dame and MBA in Finance from The Wharton School at the University of Pennsylvania

Karen Ebben, MASB Director, is President of Global Marketing Impact, LLC. An award-winning Fortune 100 Marketing and Advertising executive with 20+ years of global analytics, research & consumer insights experience, she is a consultant specializing in improving marketing effectiveness. Previously, she was Director of Global Advertising & Marketing Effectiveness for General Motors, where she accelerated improvements in marketing accountability. Her work has earned Cannes, AME, DMA and Effie recognition. Karen's sponsorship experiences span negotiation, strategy, activation & measurement of Olympics, Golf, Fashion Week, Motorsports, Disney Test Track and other entertainment and cause related venues. She co-leads MASB's Sponsorship Accountability Metrics (SAM) and Marketing Metric Catalog (MMC) initiatives.
Henrik Christensen, MASB Advisor, is the former VP Global Insights, Foresight and Analytics at Molson Coors where he led a team that created enterprise-wide capabilities on advanced analytics, shopper and consumer insights. Key responsibilities included global insights partnerships, consumer/sales testing tools, marketing mix modeling and other advanced analytics. He stewarded Molson Coors' global insights and analytics ambition and was a member of its enterprise growth team. He's a member of MASB's Sponsorship Accountability Metrics (SAM) team and drives best practices in sponsorship from inception of strategy to implementation of measurement protocols.
MASB Sponsorship Accountability Series edited by Frank Findley and Erich Decker-Hoppen