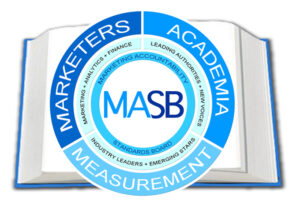 Despite the challenging circumstances, 2020 was a productive one for MASB and its project teams. Numerous pioneering articles were published, including an article in the new JAR and a continuation of the momentous, well-received Sponsorship Accountability series on the MASBNEWS blog. Thanks to all of our contributors! Curl up near the fire with a cup of hot cocoa, peruse this pivotal prose, and let visions of accountable marketing dance through your head!
Journal of Advertising Research: Effectiveness and Efficiency of TV's Brand-Building Power: A Historical Review • Findley/Johnson/Crang/Stewart December 2020  SUMMARY POST
Forbes: Sponsorship Valuation Enters A New World (Tony Pace interview) • Talbot Oct 2020
WARC: Why TV ads need persuasion rating points • June 2020 
ISO Focus: What's in a Brand? featuring Bobby Calder • Calder Mar/Apr 2020
Forbes: Proving The Financial Contribution Of Sponsorships To The Business • Diorio Feb 2020
MA

SB

NEWS
Marketing's Vital Role in Tackling the Covid-19 Pandemic • Findley Apr 2020
Brand Valuation vs. Brand Evaluation – What's the Difference? • Decker-Hoppen Jul 2018
     This article from 2018 continues to be popular and now has an accompanying VIDEO.
SPONSORSHIP ACCOUNTABILITY
Part 9 Name, Image, Likeness AND Influence • Katz/Pace Sep 2020
Part 8 Can Social Media Drive Accountable Sponsorship? • Wokosin July 2020
Part 7 Social Distancing – A Boon for eSports? Christensen/Ebben/Wokosin April 2020
Part 6 eSports – An emerging sponsorship opportunity as great as the Super Bowl? • Wokosin Jan 2020
And let us not forget the Common Language Marketing Dictionary with its 15,000+ monthly users!
Stay tuned in 2021 for more marketing accountability from MASB!