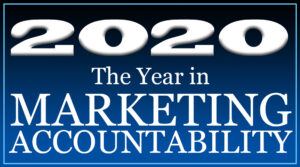 Despite the challenges brought by the Covid-19 pandemic, 2020 was a productive one for MASB and its project teams. Besides all of the output detailed below, we successfully pivoted from our traditional biannual summit in-person event to a multi-session Zoom webinar format. Watch for more online events in 2021, starting with MASB Winter Summit, scheduled for February 25 and April 8, 1–4 PM ET.
Publications
The December 2020 edition of the Journal of Advertising Research features Effectiveness and Efficiency of TV's Brand-Building Power: A Historical Review by MASB members Frank Findley, Kelly Johnson, Douglas Crang and David W. Stewart.
MASB's Sponsorship Accountability Metrics Project continued the Sponsorship Accountability Series, now nine in-depth articles that share recommendations to improve the accountability of sponsorships, identifying practices across this continuum that improve value. A tenth article for the series is under way..
Also published on the MASBNEWS blog was Frank Findley's timely and well-received article, Marketing's Vital Role in Tackling the Covid-19 Pandemic. For a complete list, see Marketing Accountability Best Reads of 2020.
Media
The Common Language Marketing Dictionary has exceeded 15,000 monthly users, with more than 20 new terms added by the project team led by Notre Dame University's John Gaski and the University of Virginia's Paul Farris. Check out Top 10 Marketing Terms 2020.
The MASB Channel on YouTube featuring the FINANCE in MARKETING Library, produced by the University of Georgia's Neil Bendle and MASB's Erich Decker-Hoppen, now has more than 60 topical and educational videos with more than 7,500 views. It also features several interviews of MASB President/CEO Tony Pace, including his recent appearance on Wharton's Markets in Motion podcast.
Check out Top 10 FINANCE in MARKETING Library Videos 2020 to see which ranked.
New Project Team
MASB's Brand Investment and Valuation Project and Financial Reporting of Customer and Brand Project teams have reorganized as the Financial Value of Brands Project, which emphasizes the importance of valuing brands monetarily on at least an annual basis.
Awards
Dr. Paul Farris, Landmark Communications Professor of Business Administration–Emeritus at the University of Virginia was presented the Joseph Plummer MASB Trailblazer Award, which recognizes individuals who embody the spirit of marketing accountability and have been instrumental in carrying out MASB's mission – establishing marketing measurement and accountability standards for continuous improvement in financial performance.
Brand strategy consultant Joanna Seddon received the 2020 Margaret H. Blair Award for Marketing Accountability for her contributions to marketing measurement and accountability.
BEST WISHES FOR A HEALTHIER, SAFER AND MORE ACCOUNTABLE NEW YEAR!