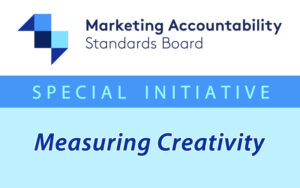 WHY THIS IS A PRIORITY
Creativity is the magic that lies at the heart of marketing and is the source of its special power. This was brought out emphatically by the most recent inductees to the Marketing Hall of Fame, who spoke of creativity as "vital to marketing" and "the oxygen for growth."
In the new era of economic, social and geopolitical uncertainty, pressure on marketing budgets is intensifying. This forces a focus on promotional marketing activities whose ROI can be easily measured but are most often not at all creative. Investment in creativity is the first thing to be sacrificed when times get tough because there is no standard way of quantifying creativity's impact on business results.
All marketers know intuitively how important creativity is but are not equipped to talk about this in ways that are persuasive with CFOs. They lack the language and type of evidence that is needed. For these reasons, the Association of National Advertisers (ANA) is partnering with MASB on an initiative to design a robust yet easily applied methodology to measure the impact of creativity on sales. This methodology will provide both the language that illustrates the financial impact of creativity and a measurement model that quantifies it.
WHAT WE PLAN TO DO
We are putting together a team of academic experts who have studied creativity, top creatives from agencies who spend their lives developing creativity, marketers who implement creative executions and finance executives who assess the impact. The team will shape, define and prototype a new methodology for quantifying the relationship between creativity and revenue growth.
Our initial thoughts on structuring the workstream are as follows:
1. Define "creativity."
The first step is to define what we mean by creativity—something generally taken for granted in existing studies on the subject, often identified with Cannes awards winners. This work component will involve input from leading academics as well as consultation with top creatives. The goal is to fully understand "what creativity is" from a theoretical sense so a standard can be applied to tactical executions.
Output: A clear definition of "great creative" and a benchmark for inclusion on what is and is not great creative.
2. Identify campaigns which meet the definition.
We will then examine award-winning creative and creative generally accepted as high-quality to determine which campaigns fit the definition. The assessment will include the goals each campaign was designed to achieve, available information on consumer behavior impact, buzz generated, brand activations, etc.
Output: A list of 50-100 campaigns which fit the definition of "great creative."
3. Select the metrics to be used.
The focus then turns from creative excellence to financial impact. It will be important to involve experienced finance executives from major brands. The objectives will be to identify the most appropriate benchmarks to define the financial impact of campaigns. Is it over time – or is it award winners to non-award winners? The optimal output metrics must be selected: Is it revenue growth over a certain number of years – or growth in brand financial value? Is it ROI? Is it revenues? Is it profits? Or both?
We need to think about the metric as the CEO would define it, because that's the sticking point. To facilitate this, we need a representative sample of CEOs & CFOs.
Output: A set of metrics and a methodology for quantifying the financial impact of creative.
4. Quantify the financial outcomes.
The next step will be to select two groups of brands/campaigns and apply the methodology to quantify their impact on our selected metrics. One group will consist of brands and/or campaigns that meet the creative excellence criteria we've established. The other will be a control group of brands whose creative work does not match up. We will develop a research brief for this with input from participating research agencies.
Output: Robust validation of the relationship between creative excellence and financial impact in the format of an objective third-party study that will carry conviction with the finance function.
5. Establish a model for brands to use.
Summarize the findings from the study into a methodology for marketers to adopt and a process which can be applied to their brands and campaigns.
Output: A MASB/ANA model and principles to follow to ensure that creative generates financial value.
PARTICIPATE!
We are looking for a small number to add to the MASB/ANA team, people who are interested in the topic of measuring the revenue impact of creativity and will be excited to work with us.
We will consider:
academics with a background in the study and philosophy of creativity – to take the lead in crafting the definition
top creatives who have devoted thought to the meaning and essence of creativity
company marketing and finance executives with extensive and varied experience with investment in creative
research agencies with a specialty in measuring creative
For more information or to schedule a meeting to discuss participation, please contact MASB Executive Director Frank Findley, [email protected].