According to Tina Moffett, marketers will begin proving their business value when they stop relying on click-through rates and embrace metrics tied more closely to costs and revenue. Moffett, a senior analyst for B2C Marketing Professionals at Forrester Research, authored the recently released paper, Collaborate With Finance To Prove Marketing's Business Value.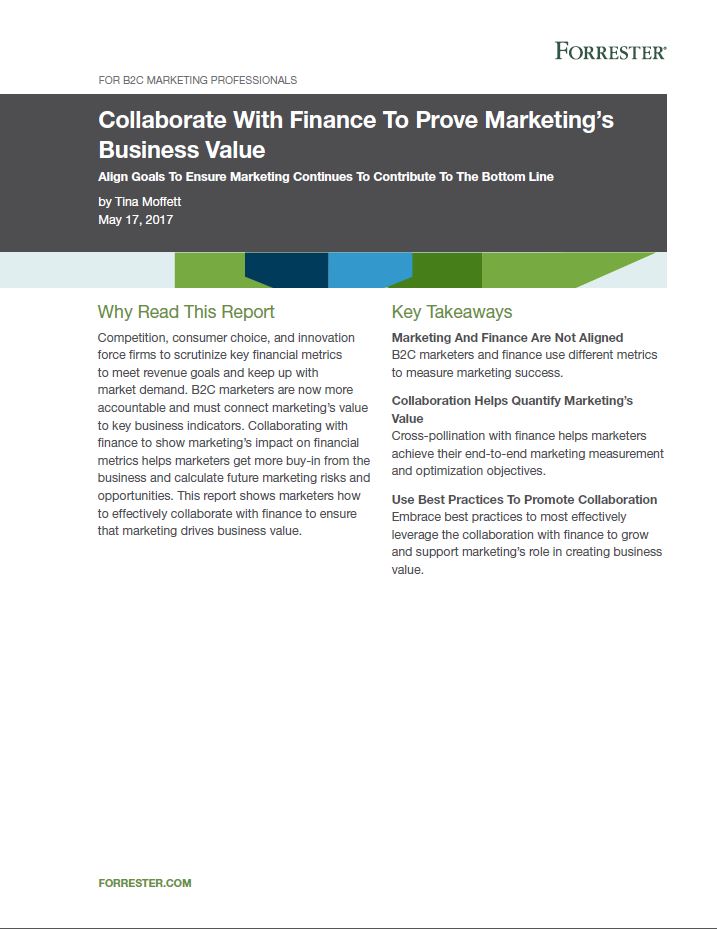 To be on the same page as finance, marketers need to use data to connect marketing performance with financial metrics and create marketing goals that align with financial performance goals. One best practice recommended is organizing a collaborative marketing and finance team, like that of MillerCoors.
MASB Director Jim Meier, MillerCoors' Senior Director of Marketing Finance, said that his primary role is "ensuring that the firm translates measured marketing success into business outcomes."
To develop cross-channel acumen, marketers must understand core financial metrics and how they are calculated. Moffett recognizes the work of MASB in setting metrics and analytics standards.
"[MASB] helps marketers gain more influence in the C-suite by offering marketing and financial courses, educational support, and peer exchanges on how to better calculate marketing's impact. Its goal is to provide a common marketing language dictionary and metrics to help marketers measure more effectively."
Moffett attended MASB Winter Summit 2017, where she presented the report, Winning in the Connected World: How Aligning Finance and Marketing Drives Business Success.
Meier will lead a marketer panel discussion on "The Accountability Journey" at MASB Summer Summit 2017, Aug. 10-11 in Boston. Contact [email protected] to request an invitation.