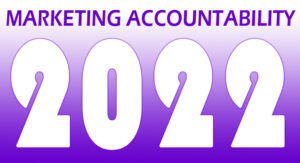 The Year 2022 was a tumultuous one for the Marketing Accountability Standards Board, with the unexpected passing of President/CEO Tony Pace and new leadership in the form of CEO Joanna Seddon, whose vision is marketing elevated to its rightful position.
"Accountability is demonstrating the tangible business impact that marketing brings, which means demonstrating how marketing drives revenue, profit, and financial value growth for companies," says Seddon. "And this should be easy. It's important because what CEOs and investors care most about is driving profitable growth."
HONORS
Marketing and advertising executive Karen Ebben received the Joseph Plummer MASB Trailblazer Award, announced by Joe Plummer himself at MASB Spring Summit in April.
MASB recognized two winners of the 2022 Margaret H. Blair Award for Marketing Accountability, presented annually to a marketing executive or academic who has implemented the principles of marketing accountability to 1) drive business growth through continuous improvement in Marketing ROI, and 2) prove the contribution of Marketing to enterprise value.
Brand Finance founder David Haigh's innovative work on techniques for financial brand valuation helped lay the foundation for brands to be treated as valuable corporate assets.
Venkatesh "Venky" Shankar's pioneering works on marketing mix models and attribution techniques have advanced the state-of-the-art in ROI measurement at TAMU-Mays Business School.
MEDIA
MASB Trustee Jim Meier published Impact of Financial Value of Brands Verified, a follow-up to The Financial Value of Brands Imperative. "Not surprising to us at MASB, the passage of time has only further reinforced our positions and conclusions in the original publication."
MASB Director of Communication Erich Decker-Hoppen wrote his 300th edition of Marketing Term of the Week for the newly rebranded Universal Marketing Dictionary. The lexicon has grown to 1,800+ cross-referenced marketing terms and definitions and is achieving 40K+ monthly pageviews organically.
The Sponsorship Accountability Metrics Project published Part 10 of the Sponsorship Accountability Series: Name, Image, Likeness and Influence – What Have We Learned from the First Year of College Athlete Sponsorship?
EVENTS
In April, MASB Spring Summit was held via Zoom. In October, Columbia Business School hosted MASB Fall Summit 2022 at its new Manhattanville Campus in New York City.
Many summit sessions are available for viewing on the MASB Channel.
---
Make 2023 the year your organization joins our forward-thinking community of top-tier marketers, measurement providers, industry associations and business academics in setting the agenda for the future of Marketing!  Request Membership Info